Sabine Ulmer
Junior Project Manager
Peace Education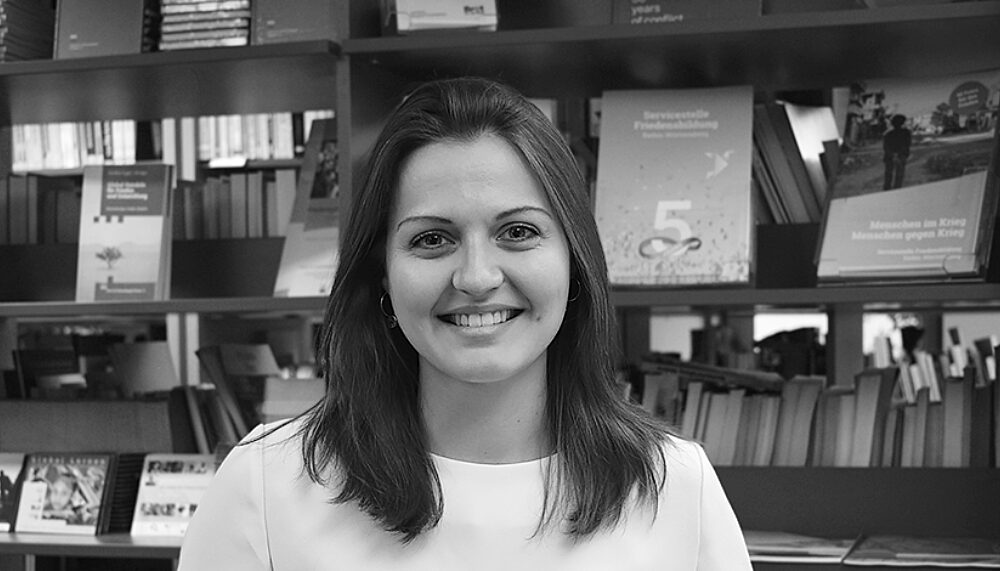 Tübingen, Germany
---
email hidden; JavaScript is required
Sabine Ulmer works as a Junior Project Manager on the projects "#vrschwrng – An interactive toolkit against conspiracy theories" and "Digital.Truth".
Sabine holds an M.A. in Peace Research and International Politics from the University of Tübingen and the Institut d'études politiques de Paris. She obtained her B.A. in Political and Social Studies and French at the University of Würzburg. During her studies, Sabine completed an internship at the German Federal Ministry for Economic Cooperation and Development in the Central Africa division. As intern at IB Volunteers' Abroad Programs in the city of Kassel she gained practical experience in the field of educational work and Global Learning and supported a partner conference in Cameroon.
Deutsch
Sabine Ulmer arbeitet als Junior Project Manager in den Projekten "#vrschwrng – Ein interaktives Toolkit gegen Verschwörungstheorien" und "Digitale.Wahrheiten".
Sabine verfügt über einen Masterabschluss in Friedensforschung und Internationaler Politik der Universität Tübingen und des Institut d'études politiques de Paris. Sie erlangte ihren Bachelorabschluss in Political and Social Studies und Französisch an der Universität Würzburg. Während ihres Studiums absolvierte Sabine ein Praktikum im Referat Zentralafrika des Bundesministeriums für wirtschaftliche Zusammenarbeit und Entwicklung. Als Praktikantin bei IB Volunteers' Abroad Programs in Kassel sammelte sie Erfahrungen im Bereich Bildungsarbeit sowie Globales Lernen und unterstützte eine Partnerkonferenz in Kamerun.