Maria Paula Unigarro Alba
Student Assistant
Sub-Saharan Africa Unit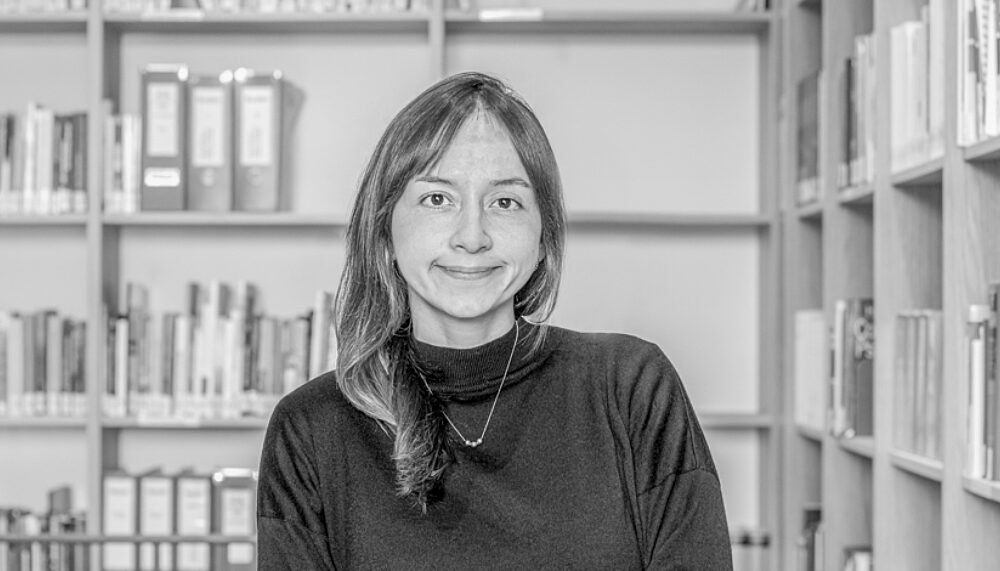 Berlin, Germany
---
email hidden; JavaScript is required
Maria Paula Unigarro joined the Berghof Foundation in September 2022 as a Student Assistant for the "Supporting Multi-Track Dialogue in Ethiopia" project.
Her interests revolve around peacebuilding and gender equality. Previously, she assisted the coordination of the Unidas Women's Network, which unites women from Germany, Latin America and the Caribbean, who work to foster equal opportunities for women and men. In Bolivia, Maria Paula designed pedagogical resources on conflict transformation for indigenous communities and conducted research on gender-based violence. Further, she was research assistant for the citizen participation mechanism for the Colombian Peace Process (2012-2016). She also has experience coordinating trainings on conflict resolution methods.
Maria Paula is currently studying a Master in Public Policy at the Hertie School. She holds a Master's Degree in Political Science from Universidad de los Andes and a Bachelor's degree in Political Science from Pontificia Universidad Javeriana.
Deutsch
Maria Paula Unigarro arbeitet seit September 2022 bei der Berghof Foundation als studentische Hilfskraft für das Projekt "Supporting Multi-Track Dialogue in Ethiopia".
Ihre Interessen liegen im Bereich der Friedensförderung und der Gleichstellung der Geschlechter. Zuvor unterstützte sie die Koordination des Frauennetzwerks Unidas, das Frauen aus Deutschland, Lateinamerika und der Karibik vereint, die sich für die Chancengleichheit von Frauen und Männern einsetzen. In Bolivien entwarf Maria Paula pädagogische Ressourcen zur Konfliktbewältigung für indigene Gemeinschaften und führte Forschungen zu geschlechtsspezifischer Gewalt durch. Außerdem war sie Forschungsassistentin für den Bürgerbeteiligungsmechanismus im kolumbianischen Friedensprozess (2012-2016). Sie hat auch Erfahrung in der Koordination von Schulungen zu Konfliktlösungsmethoden.
Maria Paula studiert derzeit einen Master in Public Policy an der Hertie School. Sie hat einen Master-Abschluss in Politikwissenschaft von der Universidad de los Andes und einen Bachelor-Abschluss in Politikwissenschaft von der Pontificia Universidad Javeriana.

Español
María Paula Unigarro se incorporó a la Fundación Berghof en septiembre de 2022 como asistente estudiantil para el proyecto "Apoyo al diálogo multidireccional en Etiopía".
Sus intereses giran en torno a la construcción de la paz y la igualdad de género. Anteriormente, ayudó a la coordinación de la Red de Mujeres Unidas, que reúne a mujeres de Alemania, América Latina y el Caribe, que trabajan para fomentar la igualdad de oportunidades para mujeres y hombres. En Bolivia, María Paula diseñó recursos pedagógicos sobre la transformación de conflictos para las comunidades indígenas y realizó investigaciones sobre la violencia de género. Además, fue asistente de investigación del mecanismo de participación ciudadana para el Proceso de Paz de Colombia (2012-2016). También tiene experiencia en la coordinación de capacitaciones sobre métodos de resolución de conflictos.
Actualmente, María Paula estudia una Maestría en Políticas Públicas en la Escuela Hertie. Tiene una maestría en Ciencia Política de la Universidad de los Andes y una licenciatura en Ciencia Política de la Pontificia Universidad Javeriana.