Leadership and governance
The Berghof Foundation is a Germany-based not-for-profit organisation. The Executive Directors head the staff, and report to a Board of Trustees. Find more about our leadership and governance below.
---
Strategic priorities 2021-23
While continuing to work in our three main fields of activity – Practice, Learning and Research – the Berghof Foundation is also responding to a shifting global context. Learn more about our current and emerging focal areas for the coming three years.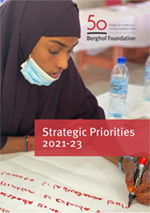 Executive Directors
Andrew Gilmour is the Executive Director of the Berghof Foundation.
Board of trustees
The board of trustees supervises our work. Its members are: