Leadership and governance
The Berghof Foundation is a Germany-based not-for-profit organisation. The Executive Director heads the staff, and reports to a Board of Trustees. Find more about our leadership and governance below.
---
Strategic priorities 2022-25

While continuing to work in our three main fields of activity – Practice, Learning and Research – the Berghof Foundation is also responding to a shifting global context. Learn more about our current and emerging focal areas for the coming three years.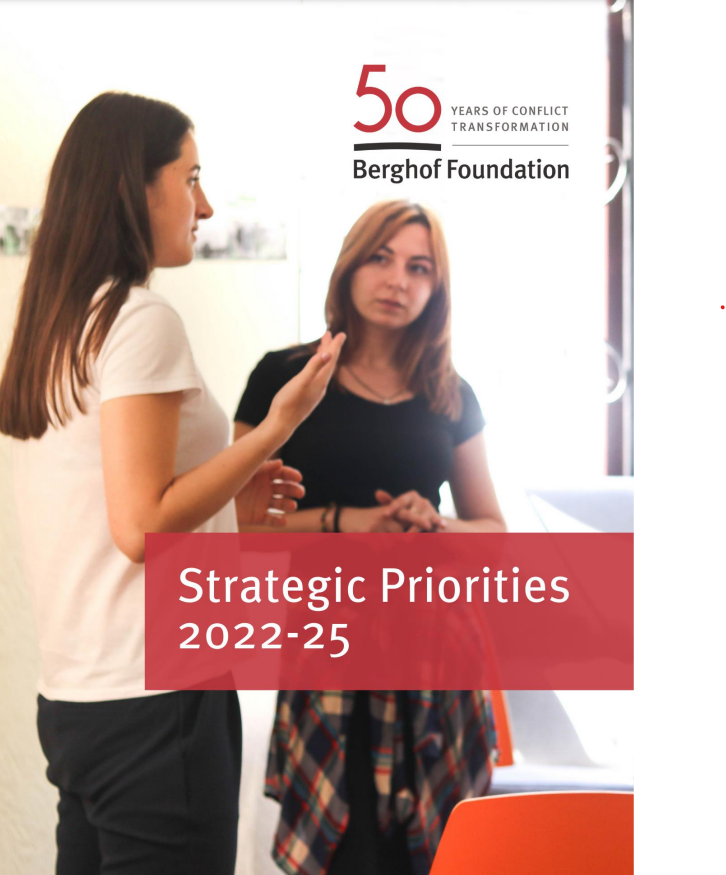 Executive Director
Andrew Gilmour is the Executive Director of the Berghof Foundation.
Board of Trustees
The Board of Trustees supervises our work. Its members are:
Advisory Council
The Advisory Council is consulted by our leadership with their expertise on current trends and issues.
Alex Rondos
Former Special Advisor to Prime Minister of Greece; former EU Special Envoy to the Horn of Africa
Aydan Özoğuz
Vice-President of the German Bundestag
Caspar von Blomberg
Head, Public and Social Sector, Egon Zehnder
Günther Baechler
Former Head of Swisspeace; former Ambassador of Switzerland
Hannah Neumann
Member of the European Parliament
Jeff Feltman
Former US Assistant Secretary of State; former UN Under-Secretary-General for Political Affairs
Kyung-wha Kang
Former Foreign Minister of Korea; former UN Under-Secretary-General
Monica McWilliams
Former Chief Commissioner of the Northern Ireland Human Rights Commission; author of Stand Up Speak Out
Omid Nouripour
Member of the German Bundestag, spokesman of The Greens on Foreign Affairs
Staffan de Mistura
Former Head of UN in Lebanon, Iraq, Afghanistan, and Syria; former Deputy Foreign Minister of Italy
Baroness Valerie Amos
Former UK Secretary of State for International Development; former UN Emergency Relief Coordinator; Master of University College, Oxford
Prince Zeid Ra'ad Al Hussein
Former UN High Commissioner for Human Rights; President and CEO of International Peace Institute, New York