Claudia Cruz Almeida
Junior Project Manager
Negotiation and Mediation Support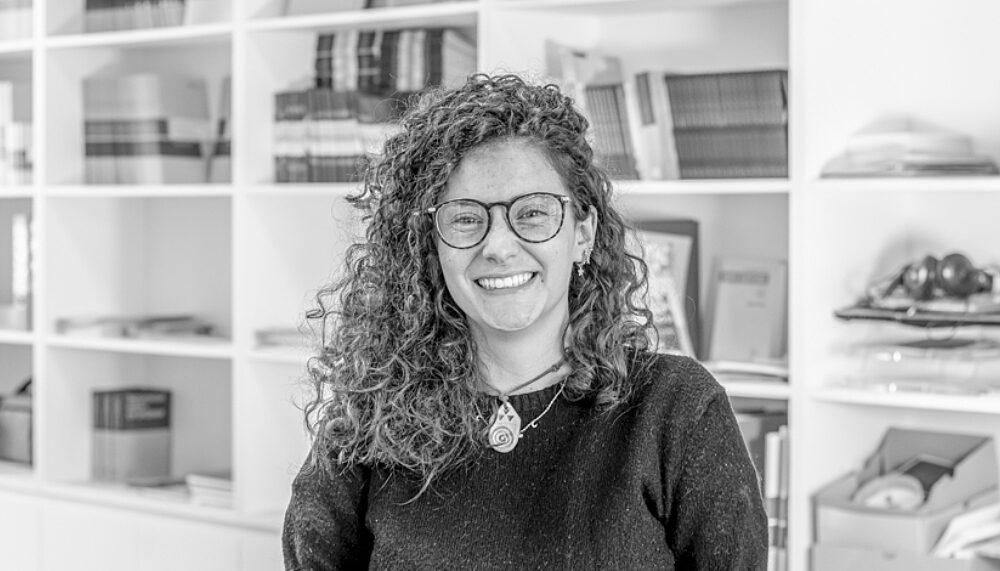 Germany
---
email hidden; JavaScript is required
Claudia Cruz Almeida is a Junior Project Manager in the Negotiation and Mediation Support Department. She previously supported the Conflict Transformation Department as an intern.
Prior to joining Berghof, Claudia gained experience in the field of peacebuilding by completing in 2019 an internship at the Permanent Mission of Spain to the United Nations Office at Vienna and in 2020 an internship at the Peace Action Training and Research Institute of Romania. In her work and research, Claudia focuses on post-conflict transitions and nonviolent movements adopting a gender-sensitive lens.
Claudia holds a Double Bachelor's Degree in International Business and International Relations from the European University of Madrid and she enjoyed exchange experiences at the Europa-Universität Viadrina and the London School of Economics and Political Science (LSE). She has also already completed a first Master's Degree in Development Cooperation and Emancipatory Education from the University of the Basque Country and she is currently pursuing her Master's degree in Peace and Conflict Studies at the Otto-von-Guericke Universität Magdeburg.
Deutsch
Claudia Cruz Almeida ist Junior-Projektmanagerin in der Abteilung Negotiation and Mediation Support. Zuvor unterstützte sie die Abteilung Konflikttransformation als Praktikantin.
Bevor sie zu Berghof kam, sammelte Claudia Erfahrungen im Bereich der Friedensförderung, indem sie 2019 ein Praktikum bei der Ständigen Vertretung Spaniens bei den Vereinten Nationen in Wien und 2020 ein Praktikum beim Peace Action Training and Research Institute of Romania absolvierte. In ihrer Arbeit und Forschung konzentriert sich Claudia auf Post-Konflikt-Übergänge und gewaltfreie Bewegungen, wobei sie eine geschlechtersensible Linse einsetzt.
Claudia hat einen Doppel-Bachelor-Abschluss in Internationaler Wirtschaft und Internationalen Beziehungen von der Europa-Universität Madrid und genoss Austausch-Erfahrungen an der Europa-Universität Viadrina und der London School of Economics and Political Science (LSE). Außerdem hat sie bereits einen ersten Master-Abschluss in Entwicklungszusammenarbeit und emanzipatorischer Bildung an der Universität des Baskenlandes erworben und absolviert derzeit ihren Master-Abschluss in Friedens- und Konfliktforschung an der Otto-von-Guericke-Universität Magdeburg.

Español
Claudia Cruz Almeida es Coordinatora de Proyecto Junior en el Departamento de Aprendizaje Global para la Transformación de Conflictos. Anteriormente apoyó al Departamento de Transformación de Conflictos como becaria.
Antes de incorporarse a Berghof, Claudia adquirió experiencia en el campo de la consolidación de la paz al realizar en 2019 una práctica en la Misión Permanente de España ante la Oficina de las Naciones Unidas en Viena y en 2020 una práctica en el Instituto para la Acción, Capacitación e Investigación de Rumanía. En su trabajo e investigación, Claudia se centra en las transiciones post-conflicto y los movimientos no violentos desde una perspectiva de género.
Claudia posee un Doble Grado en Negocios Internacionales y Relaciones Internacionales por la Universidad Europea de Madrid y ha disfrutado de experiencias de intercambio en la Europa-Universität Viadrina y en la London School of Economics and Political Science (LSE). Además, ya ha realizado un primer máster en Cooperación al Desarrollo y Educación Emancipadora por la Universidad del País Vasco y actualmente cursa un máster en Estudios de Paz y Conflictos en la Otto-von-Guericke Universität Magdeburg.