Abass Kassim Sheikh
Senior Project Manager
Sub-Saharan Africa Unit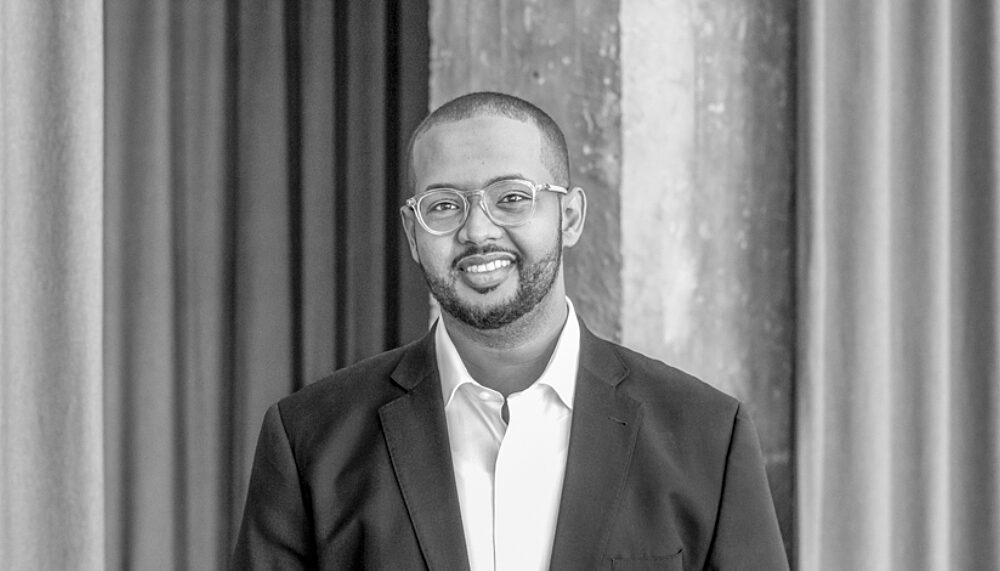 Mogadishu, Somalia
---
Abass Sheikh has been working as a Senior Project Manager for the Berghof Foundation since 2017, where he is responsible for the implementation of conflict transformation projects in Somalia. Based in Mogadishu, he is currently managing a project in the state of Galmudug, which supports the stabilization and social cohesion of the state through multitrack dialogues. He previously co-managed a project in the State of Hirshabelle, which specifically supported mediation and dialogue processes in Hirshabelle through the establishment of an 'Insider Peacebuilders Network' and the implementation of large community dialogues. Together with other team members, Abass has led a detailed analysis of the conflict dynamics in both states and produced comprehensive reports, which support the Berghof Foundation's goal of supporting conflict transformation in Somalia.
Abass has many years of experience in program design and delivery, gained both in non-governmental organizations and consultancies. In the past, Abass has held a number of technical and managerial roles on research and policy analysis, monitoring and evaluation, institutional capacity building, governance, and community-led reconstruction with organizations such as the National Democratic Institute and the Heritage Institute for Policy Studies. Abass has worked in hard-to-access and challenging areas within Somalia and has conducted a number of research projects in various countries including Kenya, Somalia and Syria/Jordan. In addition, Abass has also evaluated Somali Stability Fund (SSF)'s overall youth portfolio, which was implemented across Somalia. Abass holds a Master's degree in Post-war Recovery Studies from the University of York, UK.
Deutsch
Abass Sheikh arbeitet seit 2017 als Senior Project Manager für Berghof Foundation und ist dabei verantwortlich für die Implementierung von Konflikttransformationsprojekten in Somalia. Wohnhaft in Mogadishu managt er derzeit ein Projekt in Galmudug welches die Stabilisierung und den sozialen Zusammenhalt des somalischen Bundesstaates mithilfe von Mehrebenendialogen unterstützt. Zuvor arbeitete Abass an einem Projekt im Bundesstaat Hirshabelle, welches Mediations- und Dialogprozesse durch die Gründung eines "Insider Peacebuilders Network" und die Implementierung von großen kommunalen Dialogveranstaltung förderte. Zusammen mit anderen Teammitgliedern führte Abass detaillierte Analysen der Konfliktdynamiken in beiden Bundesstaaten durch und veröffentlichte umfangreiche Berichte, welche Berghof Foundation in der Unterstützung von Konflikttransformation in Somalia helfen.
Abass hat viele Jahre Erfahrung in Programmdesign und –durchführung, die er sowohl in Nichtregierungsorganisationen als auch Beratungsunternehmen sammelte. Abass hat bereits in verschiedenen Funktionen, sowohl im technischen Bereich als auch im Management, in Policy-Analyse, Monitoring and Evaluation, institutionellem Capacity Building und Governance gearbeitet – unter anderem mit dem National Democratic Institute und dem Heritage Instiute for Policy Studies. Er hat Arbeitserfahrung in schwer zu erreichenden und herausfordernden in Somalia und hat bereits einige Forschungsprojekte in Ländern wie Kenia, Somalia, Syrien und Jordanien durchgeführt. Abass hat zudem zum Jugend-Portfolio des Somalia Stability Fund (SSF) beigetragen, welches landesweit implementiert wurde. Abass hat einen Masterabschluss in Post-war Recovery Studies von der Universität York in Großbritannien.