FEATURE | 19 Jul 2021
Yemen – A multi-track approach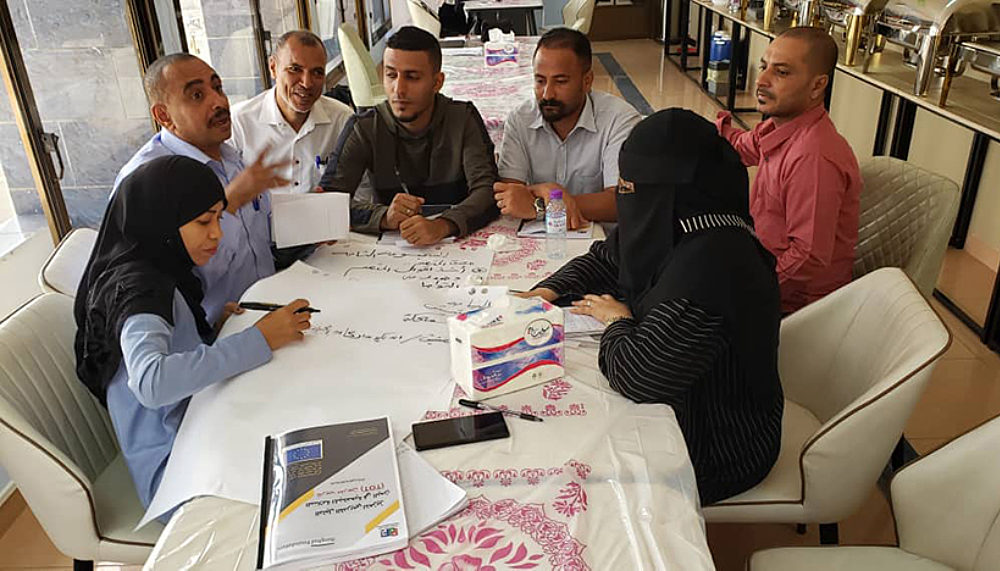 We support the peace process in Yemen through a multi-track approach, engaging national, regional, and local actors to overcome divisions through inclusive dialogue.
---
At the request of Yemenis involved in the National Dialogue Conference (NDC), the Berghof Foundation and the Political Development Forum – Yemen (PDF-Yemen) started providing technical and process-related support to the National Dialogue in Yemen in February 2012. Following the outbreak of the current war, our support shifted to seeking a negotiated political solution to the conflict. Inclusive consultations with a broad range of interlocutors from across Yemen and our strong partnership with PDF-Yemen, have remained constants in our continued engagement in supporting the UN-led peace process in Yemen.

Conflict background
The conflict in Yemen has been in a state of open warfare since 2015. The formal peace process remains at a standstill. To facilitate the resumption of the formal peace negotiations supported by the United Nations, the drivers of the current conflict need to be addressed at local, national, and regional levels.
The reasons for the outbreak and continuation of war in Yemen are manifold. At the national level, various Yemeni elite actors are fighting over control of the apparatus of the Yemeni state. This conflict is compounded by deep and growing mutual mistrust between different regions of the country and an absence of accepted inclusive mechanisms and platforms that can support the resolution of conflicts. The conflict in Yemen also possesses an internationalised dimension, given the direct and indirect involvement in the country of regional actors, whose support is required for the realisation of sustainable peace.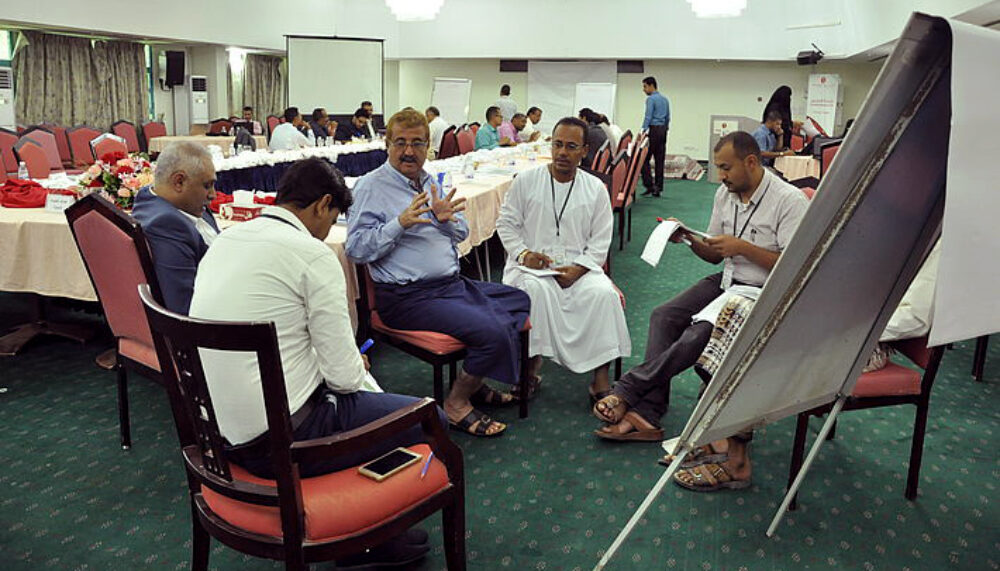 At the local level, unequal and insufficient service delivery, growing mistrust of local authorities, and increasingly fragmented and partisan security provision enabled and accelerated the descent into conflict. Restoring services, reducing competition between rival security actors, and rebuilding trust in local authorities and security providers will be essential to making any peace agreement workable.
Our approach
These root causes and contributing factors need to be addressed as part of a comprehensive and inclusive approach to ending the conflict in Yemen, either during the negotiations or during the subsequent political dialogue. The Berghof Foundation's dedicated Yemen Unit is committed to supporting Yemeni actors to identify possible steps forward while "keeping doors open in Yemen" through long-term multi-partial engagement and by helping to improve parties' technical, strategic and process-related capacity to engage in future negotiations.
Our Yemen programme consists of multi-level, integrated work across three thematic workstreams, engaging local, national and regional actors to support the peace process in Yemen.
Our work in Yemen has the following thematic focuses:
supporting Yemeni-led inclusive political dialogue on the peace process at national, regional and local levels;
supporting inclusive local governance and more effective service provision; and
improving citizens' sense of safety and fostering a relationship of trust and cooperation between citizens and local security forces.
We seek to mainstream inclusivity across our work, with the aspiration of strengthening the representation of women and youth and under-represented regions within the dialogue process. Across all tracks and thematic areas, we aim to ensure that local voices of all backgrounds feed into high-level national and regional negotiations.
Our work at multiple levels
Our work in Yemen addresses these thematic focuses on the local, national, regional and international tracks:
On the local level
The Berghof Foundation and PDF-Yemen support multi-party consultations and youth dialogues in several cities across Yemen that develop solutions to local challenges and develop locally grounded recommendations for the peace process.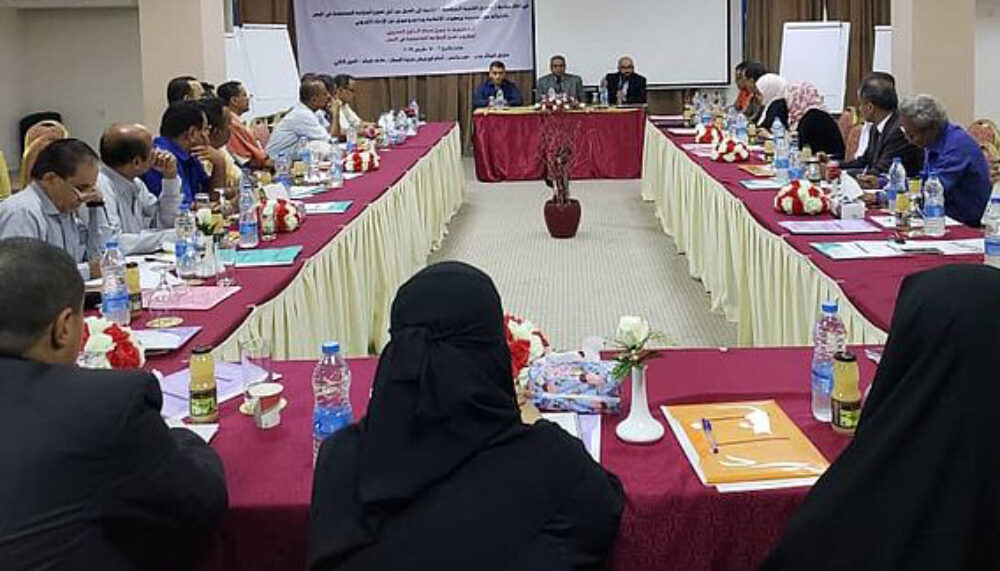 We also support consultative committees in three governorates that aim to improve local governance by advising the governor and local institutions, interfacing with local communities and civil society, and resolving conflicts around local development projects, thereby unblocking access to health, education, water, and other basic services.
In addition, we facilitate community dialogues on the topic of community safety and support capacity building efforts among local law enforcement actors. Since 2018, this work has comprised training programmes, capacity building and local dialogue activities focusing on building trust between communities and local actors and systems responsible for security and justice through joint Community Safety Committees in five pilot cities across Yemen. Where applicable, we pay particular attention to local concerns and conflicts connected to the environmental challenges faced by Yemeni communities.
Additional resources on local governance can be found here and on community safety in Yemen can be found here.
On the national level
The Berghof Foundation and PDF-Yemen are supporting high level Yemeni actors trying to identify a sustainable political solution to the conflict in Yemen and to resume an inclusive political dialogue. Through supporting political dialogue in Yemen we seek to aid the conflict parties to identify common ground and interests and to build confidence and consensus through dialogue and consultations both inside Yemen and in suitable locations outside the country. In addition, our local governance and community safety work comprises engagement with national-level decision makers, to build an enabling environment for positive local change and foster dialogue on future local governance and community safety arrangements in Yemen.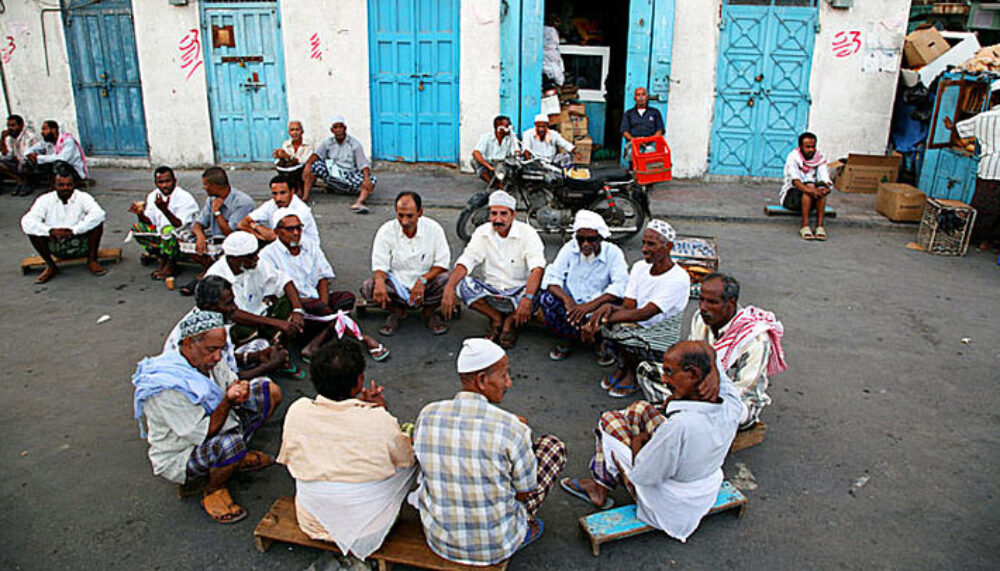 More information about our support for political dialogue in Yemen can be found here.
On the regional and international level
The Berghof Foundation and PDF-Yemen convene regular exchanges with policy influencers from Yemen's neighbours to support thinking about peaceful solutions to the conflict in Yemen in the region and help to facilitate an enabling regional environment to bring the conflict to a close. We also ensure that our local and national-level work and the evolving realities on the ground, inform the work of international mediators and special envoys, and especially the work of the Office of the Special Envoy of the United Nations Secretary General for Yemen (OSESGY). We also ensure our local work and mediation efforts are coordinated and complementary with other international efforts, including those which originate from regional actors, such as Oman and Kuwait.
Strengthening community safety in Yemen
This project aims to strengthen the safety of communities in Yemen through local dialogue.
Yemen Political Dialogue Support Programme (PDSP) (Yemen)
This project supports Yemeni and international efforts for a political solution that provides the basis to end the war, to resume an inclusive political dialogue, and to relaunch the political transition.
Yemen Political Dialogue Support Programme (PDSP) (Regional)
This project supports regional exchange on key elements of the peace process in Yemen to facilitate a conducive international environment for the peace process and for an inclusive Yemeni-led political dialogue.
Strengthening inclusive local governance
This project supports mediation, local consultation, and dialogue in four Yemeni governorates and seeks to include local governance issues in the peace process.
---
Media contact
Florian Lüdtke
Media and Communications Manager
+49 (0) 177 7052758
email hidden; JavaScript is required