1 Apr 2008
The Politics of Transformation: The LTTE and the 2002-2006 peace process in Sri Lanka
Transitions Series No. 4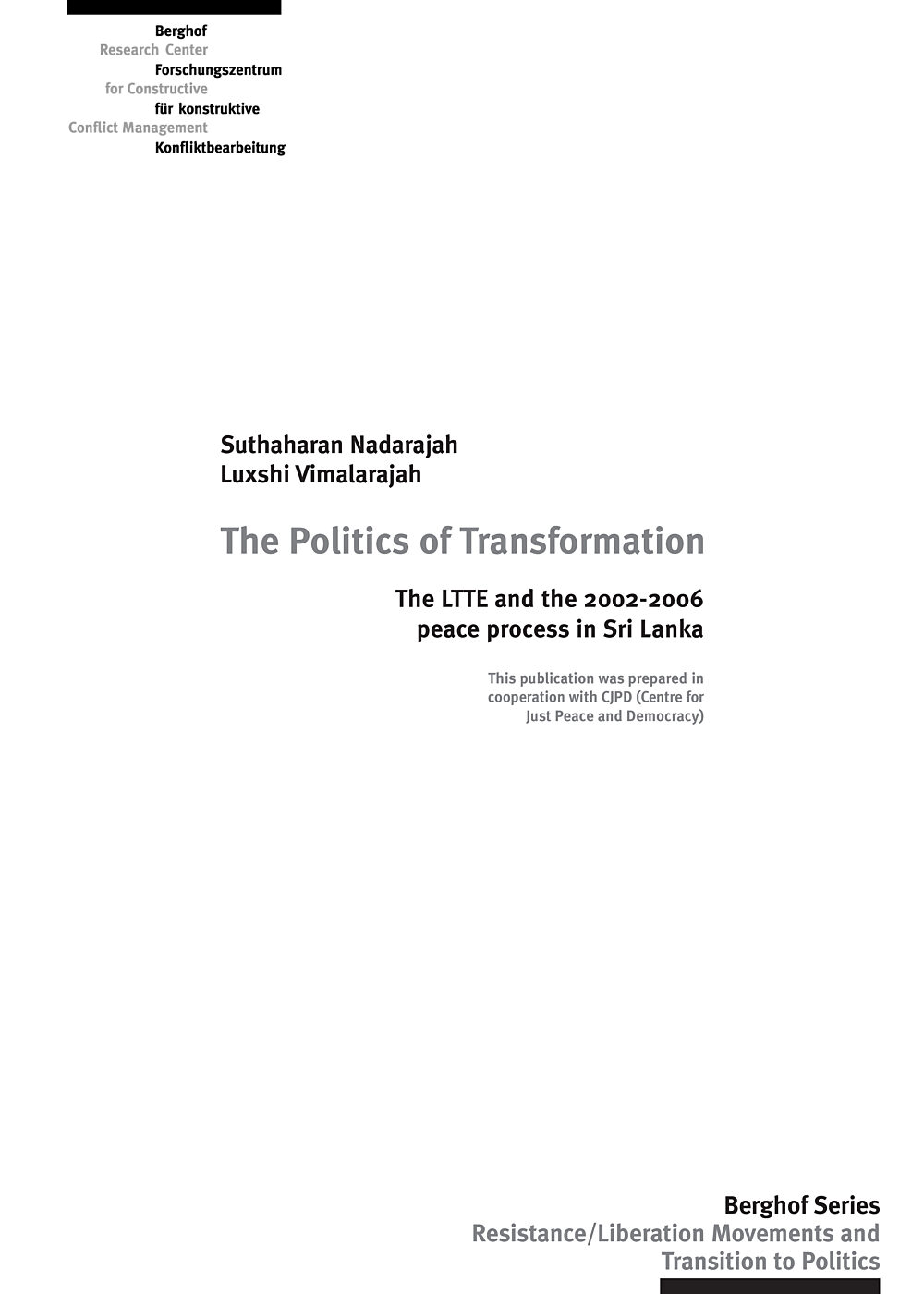 The conflict in Sri Lanka is one of the world's most protracted and multi-faceted. It has been aptly described as a conflict "where economic, political and cultural deprivation and grievances of a minority have provoked a violent rebellion against a state that has come to be seen as representative of only the majority ethnic group" (Orjuela 2003:198). Since long-simmering tensions between the island's Tamil community and the Sinhala-dominated state erupted into open confrontation between several militant groups and the Sri Lankan armed forces in the early 1980s, the conflict has grown in intensity and complexity. The Liberation Tigers of Tamil Eelam (LTTE), which emerged as the dominant Tamil protagonist following a number of early confrontations within the broader Tamil resistance movement, has since developed both a conventional military force and a substantial civil administrative apparatus in the parts of the island it has established control over. Since the conflict began, there have been five formal attempts to resolve it through negotiations. All, including the Norwegian-facilitated peace process which began in 2002, have proved abortive, with the fighting resuming with greater ferocity each time.
---
Authors
Suthaharan Nadarajah, Luxshi Vimalarajah
Editors
Véronique Dudouet, David Bloomfield
This study examines the substantial non-military activities of the LTTE since the internationally-backed Norwegian peace process began in 2002 against the wider foil of transition from war to peace. The possibilities for transforming or resolving a protracted conflict such as that in Sri Lanka cannot be discerned without understanding the evolving socio-political conditions in which armed political movements emerge, grow and function. For example, the label 'nonstate actor' when applied to the LTTE, which controls a clear and demarcated territory and has established a substantial governance structures in these areas, obscures significant aspects of the conflict and the organisation itself. A 'state within a state' (Kingston 2004) would seem a more appropriate term in this context and one we look at more closely below. More generally, a nuanced understanding of the LTTE that goes well beyond the nondescript label of 'armed group' or 'non-state actor,' and of the wider dynamics of the conflict in Sri Lanka, are essential to promoting peace there. This principle underpins this study. Such understanding, we also argue, requires a systemic approach to analysis. Piecemeal approaches – for example, focusing solely on the efficacy of electoral processes in Sri Lanka – which do not consider the historic trajectories or overarching context of Sri Lanka's politics, or the prevailing conditions, are futile. Intractable conflicts must be studied in their entirety.
About this Publication Series
This case study is one of a series produced by participants in an ongoing Berghof research project on transitions from violence to peace. The project's overall aim is to learn from the experience of those in resistance or liberation movements who have used violence in their struggle but have also engaged politically during the conflict and in any peace process. Recent experience around the world has demonstrated that reaching political settlement in protracted social conflict always eventually needs the involvement of such movements. Our aim here is to discover how, from a non-state perspective, such political development is handled, what is the relationship between political and military strategies and tactics, and to learn more about how such movements (often sweepingly and simplistically bundled under the label of non-state armed groups) contribute to the transformation of conflict and to peacemaking. We can then use that experiential knowledge (1) to offer support to other movements who might be considering such a shift of strategy, and (2) to help other actors (states and international) to understand more clearly how to engage meaningfully with such movements to bring about political progress and peaceful settlement.
Thanks for your interest
If you find this publication useful, please consider making a small donation. Your support enables us to keep publishing.