FEATURE | 22 Feb 2022
Protest Movements
Key drivers of conflict transformation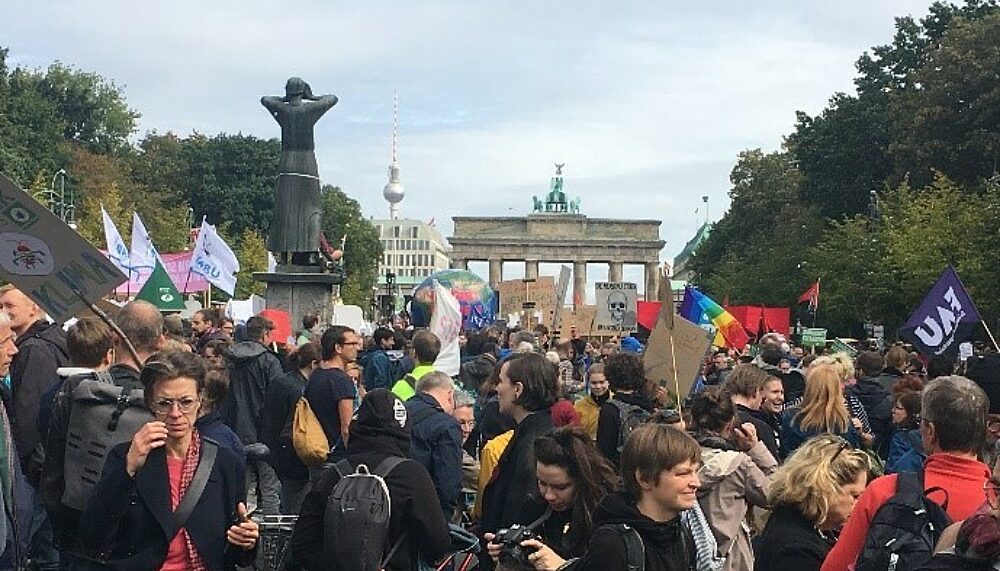 Nonviolent action by protest movements remains one of the most transformational forces in global politics today.
---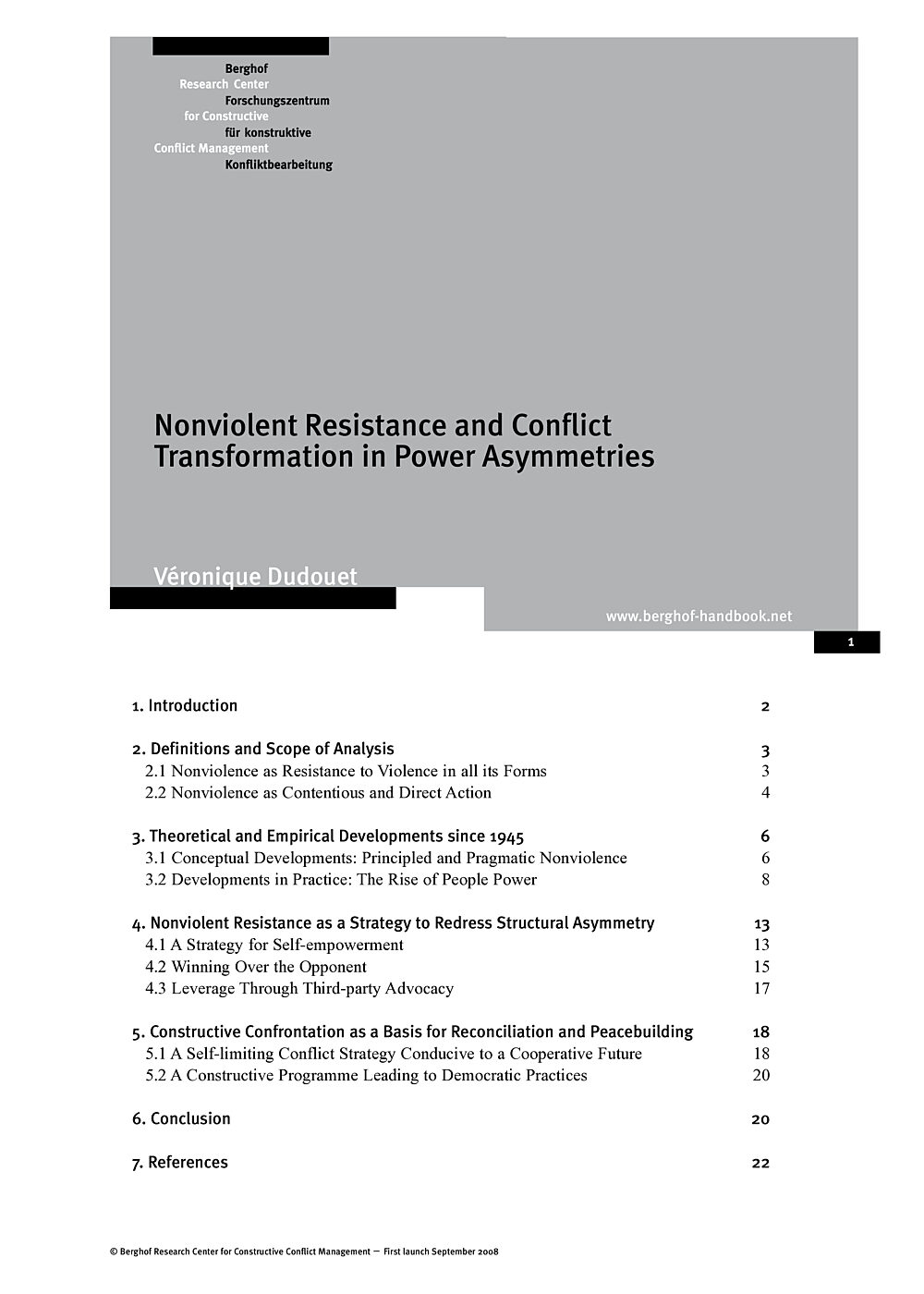 Recent years have seen a dramatic increase of mass movements protesting against injustice, oppression and abuse of power by various governments around the world. Even during the COVID-19 pandemic, activists and dissidents have planned, strategised, and adapted their activities to continue to peacefully push for peace, democracy, good governance and social justice.
At the Berghof Foundation, we understand civil resistance and peacebuilding strategies to be complementary facets of conflict transformation, especially in conflicts characterised by acute power asymmetries. Protest movements prioritise justice through the empowerment of marginalised groups, while peacebuilders prioritise peace by generating mutually acceptable solutions, with the use of dialogue, negotiation or reconciliation. When conducted successfully, peaceful protests can serve as effective violence prevention mechanisms. They can also be seen as pre-negotiation tools pressuring power-holders to engage in inclusive dialogue. Additionally, they promote accountability in the wake of peace accords and democratic transitions, by mobilising to oppose autocratic backlash or to demand full implementation of progressive state reform. These insights underline the importance of understanding peaceful protest movements in the context of conflict transformation work.

In 2021, our Senior Advisor Véronique Dudouet (co-)authored two studies published by the U.S. Institute of Peace, documenting the role of nonviolent movements during peace processes and political transitions. Based on statistical and case study evidence from Egypt, Tunisia, Ukraine, Kosovo, the Basque Country, Aceh, Nepal, Guatemala and Liberia, both studies demonstrate that although social movements represent powerful drivers of peaceful change, they are rarely included as rightful participants in dialogue and negotiation processes. When they do get a meaningful seat at the table, however, grassroots activists – and especially women – significantly contribute to democratisation and sustainable peace.

Practical challenges
Despite the relative successes of many 'people power' movements, mass protests often fail to meet their ambitious aspirations. Prominent cases such as the Arab Spring revolutions in Egypt and Syria and the 2014 Euromaidan revolution in Ukraine show that bottom-up peaceful transitions can lose momentum and ultimately result in a return to authoritarianism or even outbreaks of civil war. One reason for that is severely repressive states forcing protesters to leave the country or imprisoning them. Another reason is diffuse protest leadership allowing sections of a movement to change tactics and resort to polarisation or violence. An additional challenge for nonviolent movements is their marginalisation during formal negotiations or political transitions, leading to their exclusion from power or their co-optation by former political allies. In a number of recent or ongoing pro-democracy campaigns — e.g. in Sudan, Algeria, Hong Kong and Myanmar — protest movements have been very good at mobilising large social constituencies, but encounter serious limitations when it comes to engaging effectively in inter-party dialogue or reform processes.
There are multiple factors contributing to this gap, including movements' lack of strategic planning and readiness for inter-party dialogue. Protesters might be sceptical about negotiations and adopt uncompromising positions towards their opponents. Moreover, movements are often structured as heterogeneous coalitions that unite around demands for change, but lack a unified vision of what comes next, and hence fail to translate power gains won on the streets into concrete policy agendas. On the other side, governments may refuse to hold dialogues or may impose restrictions on who can represent movements.
International peacebuilding agencies and mediators also bear responsibility for side-lining grassroots movements in negotiation processes, and their decisions on process design shape the boundaries of inclusion and exclusion. They often lack understanding of grassroots movements and fail to engage them proactively, preferring to work with armed leaders, the formal political opposition or selected civil society leaders.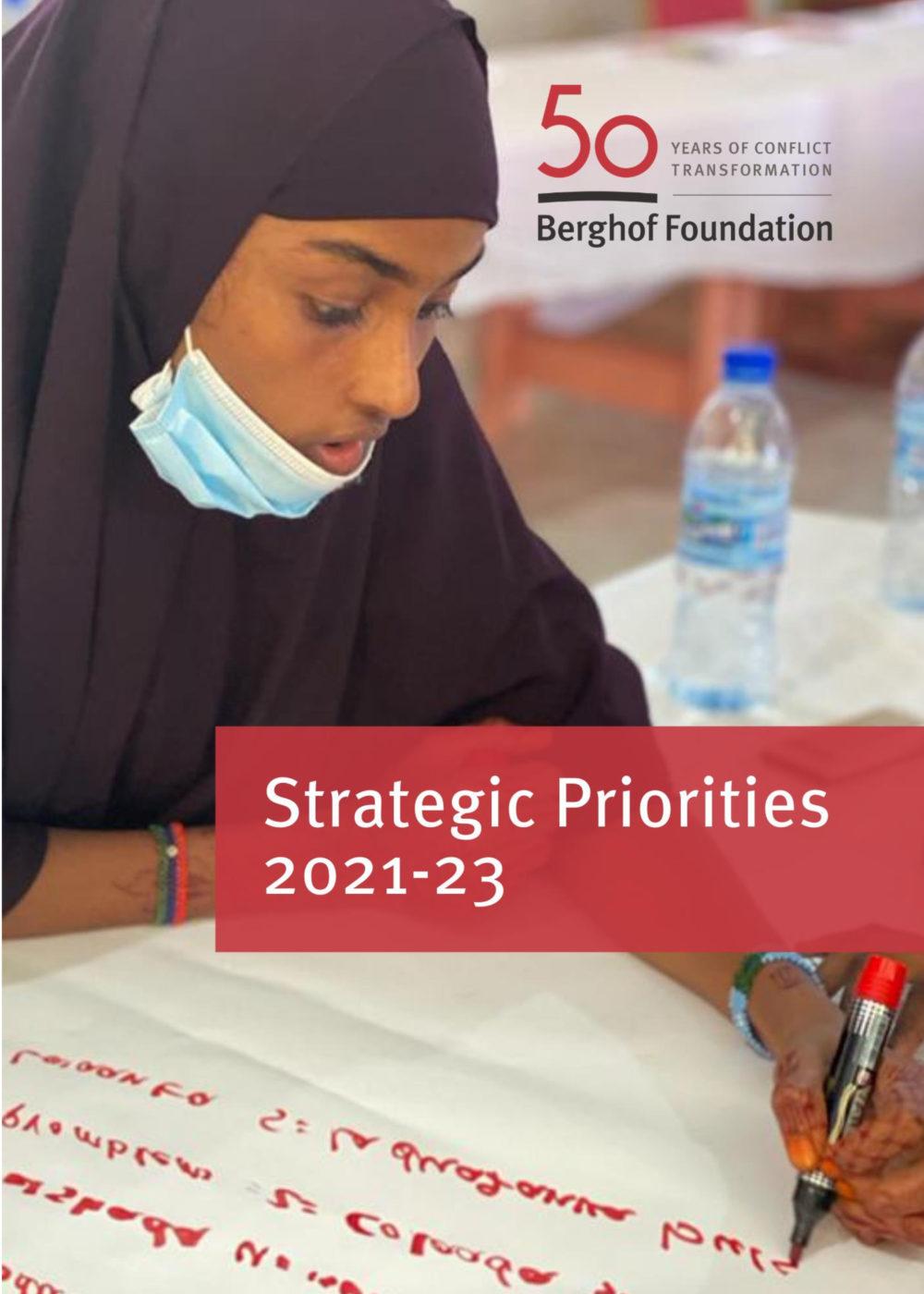 How to include protest movements in peace and transition processes?
Engaging with peaceful protest movements is one of our six strategic priorities for 2021-2023. Complementing our longstanding multi-track work on all levels of conflict transformation, we aim to better understand the peacebuilding roles and contributions of social movements that pursue nonviolent protest strategies. Our focus is considering demonstrations, strikes, boycotts and other more symbolic forms of resistance as an alternative to violent resistance or extremism. During our virtual public event on Protest Movements in the Arab World in May 2021, experts and activists examining current developments in the region highlighted the need for peacebuilding agencies to treat protest movements as conflict parties in their own right, and the importance of moving from protest to power through dialogue.
Looking ahead, we will use our experience in participatory research, capacity-building and dialogue facilitation to analyse and engage with protest movements as key drivers of conflict transformation. We will also foster multi-level communication channels with grassroots civil society that reach well beyond urban elites and professional NGOs. Where we have ongoing activities and trusted partners, we will engage with a broad range of movements advancing complementary facets of sustainable peace. This includes pro-democracy, human rights, environmental, social justice and anti-corruption movements. Particular emphasis will be placed on women and youth at the forefront of nonviolent mobilisations.

I believe that the ruling elite should engage in an internal dialogue with this emerging new power, as part of an ongoing processChadi Nachabe, Lebanese political writer and analyst
An example of this is being implemented in Lebanon, a country rocked by mass protests and street demonstrations since October 2019, within the context of two ongoing dialogue processes conducted by Berghof. One strand of our work engages with an inclusive group of young social media influencers in order to address polarisation and prevent conflict escalation. The second initiativesupports dialogue and strategy-building among female leaders in emerging political movements - as well as engaging separately with female leaders from traditional political parties - to support them in their efforts to develop constructive visions for the country.

As stated by Chadi Nachabe, a Lebanese political writer and analyst, in an interview by our Lebanese colleagues: "I believe that the ruling elite should engage in an internal dialogue with this emerging new power, as part of an ongoing process. Until that dialogue takes place, the emerging power should continue advocating for change to achieve its goals, all the while preparing to become a viable alternative in the future."
Through our engagement with peaceful protest movements, we aim to support their sustained commitment to nonviolence in the face of adversity, but also to foster a conducive environment for their effective inclusion in peace processes and political settlements. This entails the building of skills and resources to enable activists to engage in constructive dialogue and negotiation with their peers, with other sectors of society, and across the conflict divide. This will ultimately contribute to the broader goal of preventing violent conflict and building sustainable peace, by translating street pressure and abrupt transitions of power into long-term political change.

---
Media contact
Florian Lüdtke
Media and Communications Manager
+49 (0) 177 7052758
email hidden; JavaScript is required