CURRENT PROJECT
Non-state armed groups and political transformation
Re-thinking disarmament, demobilisation and reintegration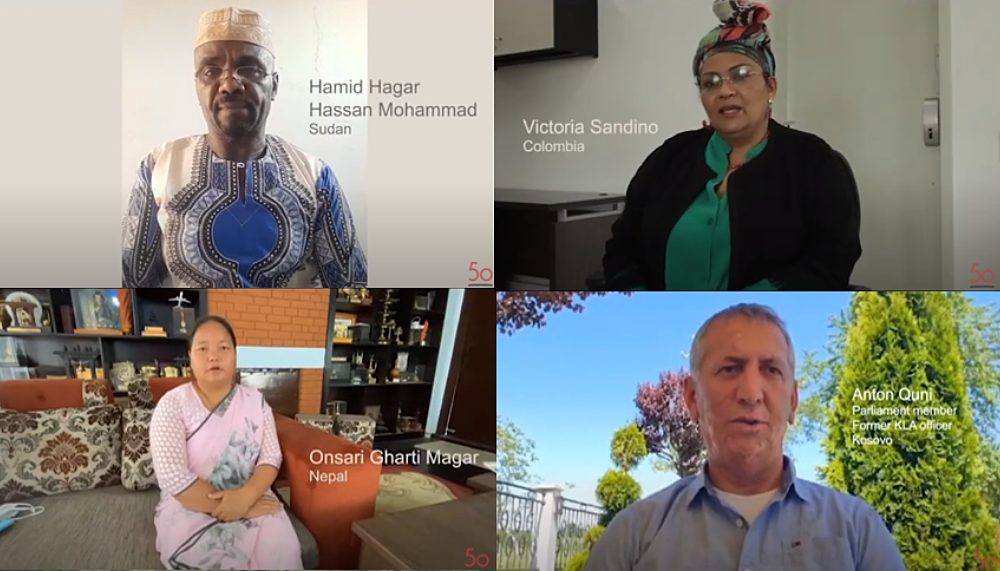 Together with the United Nations we work to improve international support to the transformation of non-state armed groups after war.
Timeframe: 2021 - 2022
---
Together with the United Nations DPO DDR section, we convene events and produce policy documents addressed to mediators, practitioners working in the field of disarmament, demobilisation, and re-integration (DDR), and others involved in peace processes and post-war peacebuilding in order to facilitate effective political re-conversion processes.
The disarmament, demobilisation and reintegration (DDR) of non-state armed groups (NSAGs) are integral components of conflict resolution and peacebuilding. For many armed groups, their political participation in democratic processes is a key condition for their readiness to undergo DDR processes. However, while DDR is a well-established instrument within UN, and other international peace missions, there is little programmatic support for rebel-to-party transitions and the political (re-) integration of ex-combatants. The new module 2.20 of the International DDR Standards (IDDRS) on the Politics of DDR offers a fresh attempt to manage this intersection.
This project aims to support the operationalisation of this new policy guidance by providing expertise and evidence from practitioners, including mediators and former combatants who became political leaders. It will generate and disseminate concrete guidance on planning, designing and implementing DDR processes that are not only reactive to politics but also help shape political environments conducive to sustainable peace.

Together with the United Nations DPO DDR section, we produced videos with personal testimonies from former combatants who became political leaders:
Background
Political aspirations, such as claims to political participation or self-governance, are prominent in the discourses upheld by many armed opposition groups, and represent an important source of mobilisation and recruitment.
In the context of peace processes especially, negotiations with the leadership of politically-motivated armed groups are generally premised on their transformation into an unarmed political entity, in order to bring about a permanent end to armed conflict. Their leaders are not likely to agree to negotiate unless they have the ability to compete in the electoral arena as a condition for their disarmament and demobilisation. Irrespective of the nature of their political claims, most armed groups usually end up taking political positions at the local, regional or national level – with or without international assistance.
International actors can provide strategic and technical support to ensure that the political (re-) conversion of armed groups takes place in the best conditions, facilitating conflict transformation and fostering sustainable peace. External support to the political transformation of NSAGs can also enhance respect for democratic principles, by training their members in paying attention to constitutional policy making, legislative processes, gender parity, inclusive and consensual decision-making, accountable electoral and fundraising practices. Therefore, an integrated approach is required, in coordination between all relevant (UN and other) agencies dealing with peace process support, DDR, and political and governance assistance, including human rights and transitional justice.
Many former armed groups have successfully transformed into peaceful and democratic political parties and their leaders became heads of state, parliamentarians, governors, or mayors. There is a wealth of experience to learn from, and these experienced politicians can in turn provide useful advice for agencies and missions willing to invest in operational support for political reintegration.
This project aims to capitalise on past lessons learnt and best practices in order to improve the design, planning and implementation of political transformation support programmes by UN and other international peace(building) support agencies.
Activities
The project will include the following activities:
Production of video clips showcasing personal testimonies from former combatants who became political leaders.
An expert workshop in Berlin (in December 2021) on the nexus between mediation and DDR, which will explore framework conditions for mediation processes to facilitate effective political transformation, and to pave the ground for a holistic planning and implementation of the security, socio-economic and political dimensions of DDR. Read the workshop report here.
A policy event in New York (in June 2022) aimed at sensitising UN agencies and member states on challenges and opportunities of supporting the political transformation of non-state armed groups during or after armed conflicts.
Publications (primers, workshop reports, policy papers) presenting findings, recommendations and operational guidance to practitioners in the mediation, DDR and political transformation communities.
The project is also accompanied by an ongoing series of webinars in which researchers and practitioners exchange about the politics of DDR, as well as short publications and a workshop in New York (in June 2022), with support from the Swedish Folke Bernadotte Academy (FBA) and the Politics After War Network.
Partners and funding
Our partner is the United Nations Department of Peace Operations (UN DPO), Office of Rule of Law and Security Institutions (OROLSI), Disarmament, Demobilisation and Reintegration (DDR) team.
The project is funded by the German Federal Foreign Office, through a partnership with the Bonn International Center for Conflict Studies (BICC).
Related publications
Publications from this project:
Project lead
Véronique Dudouet
Senior Advisor
email hidden; JavaScript is required
Team members
---
Media contact
Florian Lüdtke
Media and Communications Manager
+49 (0) 177 7052758
email hidden; JavaScript is required