FEATURE | 31 Mar 2020
New insights on Salafi-Jihadism and entry points for conflict transformation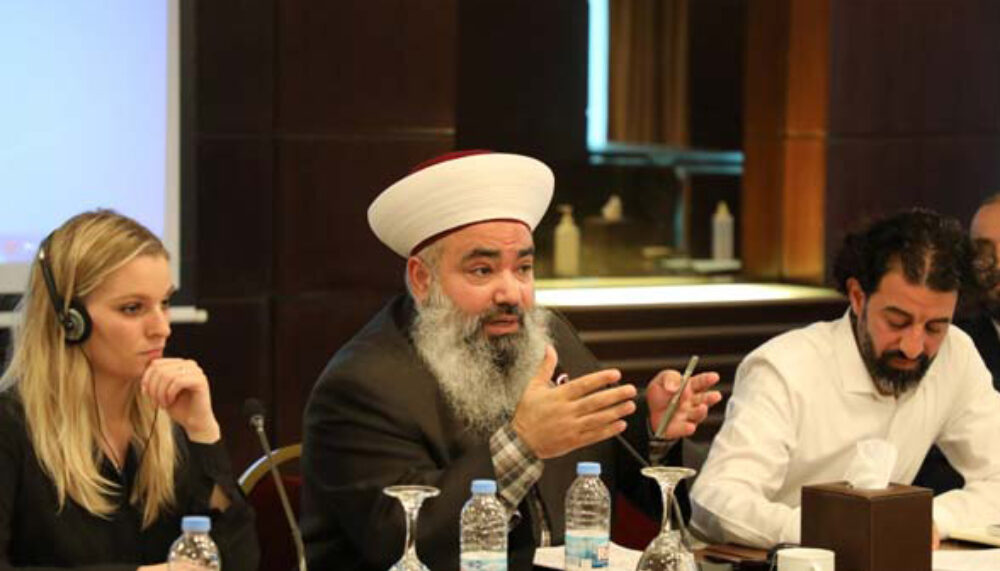 Is dialogue with Salafi-Jihadis possible, or are such talks precluded? Over the past two years, we've explored this question through a research project.
---
Is dialogue with Salafi-Jihadis possible, or are such talks precluded by the very nature of these groups? Over the past two years, the Berghof Foundation has explored this question through a research project on conflict de-escalation and dialogue engagement with Salafi jihadi armed groups.
In December 2019 we launched a research report as well as three case studies on armed groups in Mali (also available in French), Somalia and Syria, and held an expert roundtable in Berlin. The project culminated in March 2020 with the release of two new publications, informed by a policy workshop in Beirut.
The potential for dialogue: recommendations from our research
Based on the expert roundtable held on 11 December 2019 in Berlin, we drew up a Policy Brief and a Workshop Report which offer practice-based analysis and recommendations for policy makers and opinion leaders on avenues for ending violence caused by conflicts with Salafi jihadi actors through dialogue and negotiations.
It is high time to overturn policy myths and misconceptions about Salafi jihadi armed groups...
Key recommendations include:
It is high time to overturn policy myths and misconceptions about Salafi jihadi armed groups – particularly on their perceived homogeneity and on the lack of dialogue prospects. Especially in media and public debates, the discussions must be more nuanced and context-specific.
The focus of dialogue interventions needs to be on reducing violent behaviour and inducing armed actors to pursue their religious and political objectives non-violently through democratic politics, instead of challenging the legitimacy of their ideological narrative.
Salafi jihadi armed groups respond to their social environment. Governments should thus promote, rather than undermine, the space for social interaction and 'bridge-building' with these groups to foster their pragmatic moderation.
Where local governments are weak, international support should strengthen government capacity for service provision and responsiveness to the needs of their people to reduce the popular appeal of Salafi jihadi armed groups.
Lastly, the anti-terror laws are restricting the exploration of dialogue potentials. Policy-makers need to create legal frameworks enabling dialogue efforts with Salafi jihadi armed groups for the purpose of conflict de-escalation and peacebuilding.
For additional recommendations and information on the findings from our two-year research project, check out the full policy brief and other project publications.
Beirut workshop explores Salafi-Jihadism trends, de-escalation opportunities
On 9 March, the Berghof Foundation Beirut and research teams in cooperation with the AHRC's Open Research Initiative (OWRI) and al-Sabah Programme (Durham University) and PSRP (University of Edinburgh) organised and facilitated a workshop to discuss recent trends in the development of Salafi-Jihadism in the MENA region and develop entry points for conflict transformation. The key aim of the workshop was to allow for an exchange of researchers and practitioners to share insights of recent research, discuss possible approaches for engagement and exchange on best practices.
Discussions started with insights from analysis on the origins, discourses and recent trends of Salafi-Jihadism in the MENA region. The panelists and audience looked at the interplay of securitisation, tendencies of militarisation, state policies, weak governance and the erosion of social contracts, which contributed to preparing the ground for the proliferation of non-state armed actors – among these, Salafi jihadi armed groups. Panelists further traced how ISIS and other groups sought to link global mobilisation efforts with locally adjusted recruitment strategies and narratives aiming to capitalise on local grievances by suggesting a sense of agency and solidarity with those oppressed or victimised.
A second strand of discussion compared mobilisation and demobilisation dynamics of Salafi jihadi armed groups, exploring challenges and options for conflict de-escalation through dialogue. Examples drew on experiences with the de-mobilisation and political reintegration of non-state armed groups – often conducted more successfully where engagement in a peace process started unconditionally (for example without prior disarmament). The discussion further looked into the trajectories taken by different Salafi-jihadi armed groups in the MENA and beyond, such as Usbat al-Ansar (Lebanon); Ahrar al-Sham (Syria); Ansar Dine (Mali); and Al-Shabaab (Somalia). While several key elements were identified which seem to be shaping such groups' decision to continue or distance themselves from violent means, discussions also drew on the lack of positive precedents and experiences from Islamist armed actors when considering demobilisation and reintegration pathways. Several discussants argued for opening pathways for dialogue with Salafi jihadi armed groups, yet participants also stressed the importance of defining clearly the objectives and aims of dialogue engagement and identified a number of challenges and limitations.
Other inputs looked into securitisation, counter-terrorism policies and peer-group dynamics in prisons, as vehicles for radicalisation, marginalisation and stigmatisation in the MENA region. Panelists and participants suggested concrete recommendations drawing on dialogue, deradicalisation/disengagement and reconciliation approaches in prisons. They also identified entry points for engagement of wider coalitions of actors, including civil society organisations, religious leaders, lawyers, and former combatants, as well as state and security actors. Organisations representing prisoners and their families should be actively involved and consulted in transformative dialogues as a precondition for reintegration in order to overcome stigmatisation and marginalisation.
Sharing insights from participatory research in the MENA region and the Western Balkans and experiences from practitioners working in Lebanon, panelists placed particular emphasis on the agency of communities in approaches to prevent violent extremism. Municipalities, community leaders and religious leaders can play a major role in raising awareness (by closely exchanging and engaging with their constituencies), supporting community-oriented action and promoting open and tolerant attitudes towards members of communities with various social, religious and confessional backgrounds. Experiences from the Bekaa region in Lebanon suggest that proactively involving youth in initiatives to detect tendencies of radicalization and community work helps to strengthen their agency, by taking their concerns seriously and opening avenues for constructive areas of engagement.
Such initiatives further contributed to strengthening the shared social identity of the community and to bridging gaps between different discourses, generations and respective concerns. Panelists and participants also stressed the role of religious institutions and religious leaders (at the local and national level) in promoting values of tolerance and pluralism – including via religious education – and enhancing their engagement with communities and youth.
---
Media contact
Florian Lüdtke
Media and Communications Manager
+49 (0) 177 7052758
email hidden; JavaScript is required