PAST PROJECT
Incremental inclusivity in peace process design
An effective approach to strengthen the durability of peace in post-war arenas?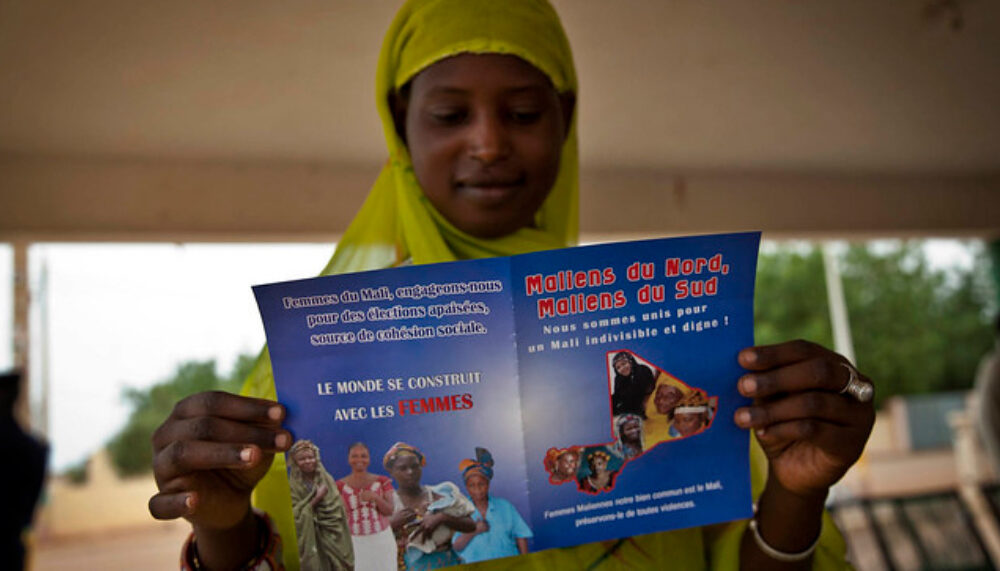 This project analyses the incremental inclusion of non-state armed groups and societal actors during different stages of a peace process.
Timeframe: 2019 - 2020
---
The quest for inclusive pathways to peace has become one of the cornerstones of the international peacebuilding agenda in the past few years. However, due to a lack of conceptual clarity, there is still a huge knowledge gap on what forms of inclusion might help to bring about effective and long-lasting solutions to intra-state violence. These reports contributes to bridging this gap by exploring the intricacies and implications of 'incremental inclusivity' during recent peace processes in Colombia, Mali, and Afghanistan.

In collaboration with four local research partners, we analyzed in particular the timing of inclusion (or exclusion) of various (non-signatory) non-state armed groups and nonviolent social movements during pre- and post-agreement negotiations. By doing so, we inform a strategic understanding on how to design and implement peace processes that are effective in bringing about an inclusive materialisation of political, economic and social transformation, which is widely acknowledged as an important prerequisite for durable peace.
Background
With up to 50 percent of peace agreements breaking down within five years, there is growing awareness that the effectiveness of a peace process means more than bringing about a negotiated settlement. To prevent violent relapse, peace processes need to provide spaces for post-war societies to effectively deal with political, social and economic exclusion, as these are all factors that contribute to conflicts. Therefore, the quest for designing, managing and supporting inclusive pathways for peace has become one of the cornerstones of the international peacemaking and peacebuilding agenda in the past few years. However, while there is an increased awareness that peace processes need to address political exclusion, we still know little about what type of inclusion, of whom, and at what stage of peace processes, would effectively help to bring about sustainable, legitimate and equitable solutions to complex protracted armed conflicts.

At the same time, while process inclusivity seems to be positively correlated with long-term sustainability, legitimacy and structural transformation, the multiplication of actors with divergent interests at the negotiating table may make an initial settlement harder to reach and lead to an unworkable compromise.
This project contributes to bridging both gaps by exploring the intricacies and implications of 'incremental inclusivity' in peace processes, based on a comparative assessment of relevant experiences and lessons learnt from four case study countries: Colombia, Mali, Afghanistan, and Myanmar. More specifically, it looks at the sequencing of inclusion or exclusion of two types of non-state actors during peace negotiation and implementation processes, namely non-state armed groups and key (unarmed) societal stakeholders.
Case selection and Methods
In collaboration with local research partners, the project conducts a comparative empirical assessment of the following recent or ongoing peace/ceasefire agreements:
the Algiers Accord for Peace and Reconciliation between the government of Mali and two coalitions of (pro-state and opposition) armed groups (June 2015)
the National Ceasefire Agreement between the government of Myanmar and eight ethnic armed organisations (October 2015)
the Havana peace accord between the government of Colombia and the FARC guerrilla group (August-November 2016)
the Kabul agreement between the government of Afghanistan and the rebel group Hezb-i-Islami (September 2016)
The four case studies allow a meaningful comparison of the various trajectories pursued by the respective peace negotiation and implementation processes. All four cases represent formal political settlements that are characterised by various degrees of exclusiveness. They are currently in a phase of codification and materialisation of the agreed commitments while trying to (1) broaden horizontal inclusivity to other armed groups that are still active and whose exclusion might derail the implementation of the agreed deal, and (2) broaden vertical inclusivity by involving larger segments of society into the design of structural reforms and reconciliation mechanisms.
For all four case studies, we collaborated with local research organisations or consultants who are closely involved in providing advice to the ongoing conflict transformation processes in their own country, and who have privileged access to relevant decision-making arenas. Depending on the context and stage of the post-accord implementation or follow-up negotiations, the researchers relied on a triangulation of methods, including:
interviews and focus group discussions with negotiators, mediators and experts, as well as with members of non-signatory armed groups and grassroots social movements beyond the primary parties to the peace(building) process;
content analysis of key documents pertaining to the negotiation, codification and materialisation of the political settlements under scrutiny;
participant observation in ongoing implementation and follow up dialogue and decision-making arenas.
Objectives and Outcome
The project provides an empirical examination of the dynamics of inclusion during negotiations and of attempts to broaden the inclusivity of the signed deals to non-signatory armed groups and social movements trough participatory implementation formats. Based on this analysis, the project has produced policy recommendations that allow the research results to be directly transferred to political stakeholders and peacebuilding agencies in each country with the aim to improve their strategic understanding on how to make peace process design more effective in providing long-term peace dividends. The research also provides policy lessons learnt on the influence of third-party actors on peace process design, by analysing the (actual and potential) role of external agencies in influencing the inclusionary or exclusionary practices of domestic actors. The outcome of the research is presented in a comprehensive research report and a policy brief summarizing the main recommendations for local and international mediators and peacebuilding agencies. These documents were presented at four local dissemination events in the case study countries (Colombia, Mali, Afghanistan, and Myanmar).
Partners and funding
This project is carried out in collaboration with:
Afghanistan: Research and Analysis Unit of the Afghan High Peace Council (HPC)
Colombia: Centro de Investigación y Educación Popular / Programa Por La Paz (CINEP/PPP)
Mali: L'université des lettres et des sciences humaines de Bamako (ULSHB)
Myanmar: Pyidaungsu Institute (PI) for Peace and Dialogue
The project is funded by the United States Institute of Peace.
Activities
September 2020: Four local dissemination events in the case study countries (Afghanistan, Colombia, Mali, Myanmar) to present and discuss overall findings and recommendations.
March 2019: Researchers' conference in Berlin
Publications from this project:
Project lead
Andreas Schädel
Advisor, Monitoring and Evaluation
email hidden; JavaScript is required
Team members
---
Media contact
Florian Lüdtke
Media and Communications Manager
+49 (0) 177 7052758
email hidden; JavaScript is required