FEATURE | 17 Mar 2022
Eleven peace education ideas for dealing with the war in Ukraine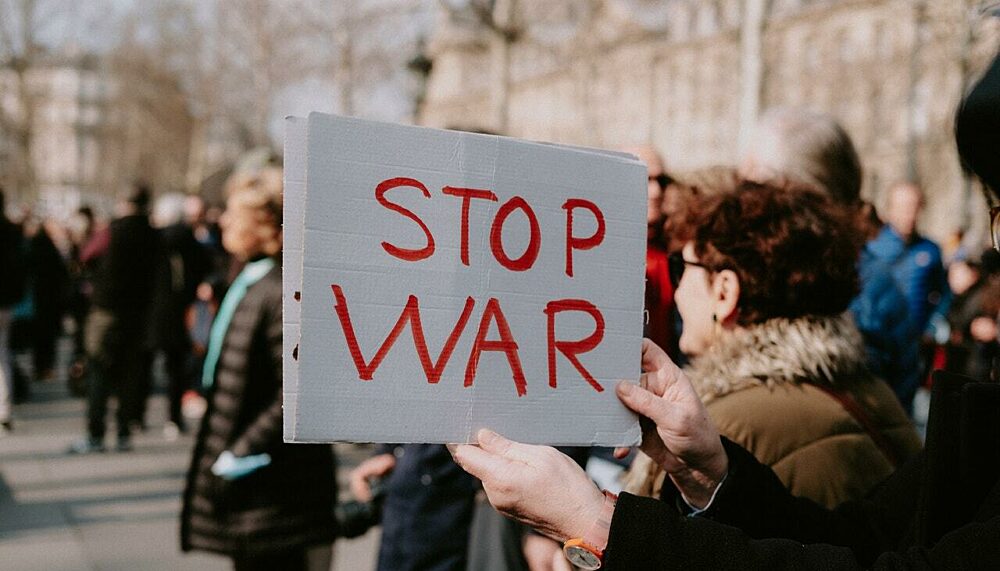 As the war in Ukraine poses challenges to civil society actors, we provide ideas for reflection for all those who are working for a peace-oriented future.
---
The Berghof Foundation is profoundly concerned about the attack on Ukraine. As the war poses challenges to our work as well as to civil society actors, we provide ideas for reflection for all those who are working for a peace-oriented future.

1. Show solidarity and strengthen civil society
Solidarity with all those affected by violence and war is paramount, not only from a peace education perspective, but also with regards to the war in Ukraine. Maintaining and deepening direct contacts with people in war zones is important. But to avoid putting local civil society actors in additional danger, utmost sensitivity and forward-looking action is required. This also applies to relations with people and groups who are campaigning against their own country's war activities. Their courageous actions often place them in danger and their friends and relatives. Therefore, the civil society of a country should not be held jointly liable for the actions of its government. Already, we are seeing civil society relations being prematurely broken off. This must not happen.
2. Accompany refugees and offer support
Especially with people fleeing war and violence, it is important to deal with them in a conflict- and trauma-sensitive way. For this, we should also reflect on our own actions. In direct contact and through active listening, the needs of refugees can be understood in a more context-specific way. Only through respectful and appreciative encounters and dialogue can trust develop. People's own needs, expectations and interests, which underlie their actions, as well as their own role, must always be brought to the fore and critically questioned. That is the only way to allow for needs-oriented support. As ever, all people seeking protection from violence, war and persecution deserve equal support.
Those who want to contribute should join existing groups or institutions in the field of refugee assistance or humanitarian aid. Their experience, professionalism and established organisational structures enable smooth processes and prevent duplication of structures.


Whether in the family, in the neighbourhood or at school: In times of war and oppressive media coverage, dialogue in protected spaces is more important than ever, to acknowledge, feel and express fears.
3. Facilitate conversations, listen actively and change perspectives
Whether in the family, in the neighbourhood or at school: In times of war and oppressive media coverage, dialogue in protected spaces is more important than ever, to acknowledge, feel and express fears. It remains essential to actively listen to each other to establish trust and for insights into others' lived experiences. Doing so will increase the chances for a constructive personal exchange on attitudes and social values. Words that offend or hurt others must be avoided. Opinions and attitudes should be subject to criticism, but not the people expressing them.
4. Questioning information and differentiating points of view
Media reports from war and crisis zones often only offer selective insights, snapshots or reflect subjective perceptions. Now with propaganda and disinformation pervasive, it is therefore important to be critical of one-sided, emotionalising or lurid reports or images, and to question their intention, aims and background. It is important to compare several sources of information. We should recognise and address information distributed with questionable intentions, as well as oversimplified good-versus-bad narratives, and we should not disseminate them further.
5. Analyse war and ask for background information
In view of the brutal reality of war, an impartial conflict analysis is not easy. But it is important to examine contributions from all sides to the escalation of the conflict, such as political, economic or identity-related causes. The war in Ukraine shows how events from the past and the narratives constructed around them can be instrumentalised for war propaganda. Achieving sustainable peace after a war means removing the obstacles to open discussion on its drivers.
6. Reflect on political reactions, expand diplomacy and non-violent alternatives
War is a crime against humanity. The responses of democratically elected governments to acts of war by authoritarian or dictatorial states must show peace-oriented perspectives even in emergency situations. Diplomacy and other approaches to civil conflict management must be pursued and expanded as quickly as possible. Military operations must not become the norm. Particularly in the face of warlike violence, it is important to promote the logic of peace (in contrast to a logic of security) and to make non-violent alternatives more visible.
7. Organise dialogue and seek common ground
Just as talks and negotiations are indispensable as a means of diplomacy at government level, dialogue between civil society actors are of outstanding importance for mutual acceptance and for finding routes out of violence. Rules for non-violent coexistence can only be developed collaboratively and not at the expense of the other. We must focus on what connects people and what can create social cohesion in the future.
8. Make value orientation visible and recognising dilemmas
From a peace education perspective, non-violence and peace should be incremental to the way we feel, think and act. Confronted with violence and war, we are forced to reflect on our own position and standing. We should disclose and exchange individual doubts and conflicts of conscience in order to enable authenticity and credibility, and to open ourselves up to new perspectives. It is part of the approach of peace education to realise and make ourselves aware of contradictory connections between personal and political attitudes. This includes weighing up processes, for example between the value of non-violence and the right to self-defence – personally as well as politically.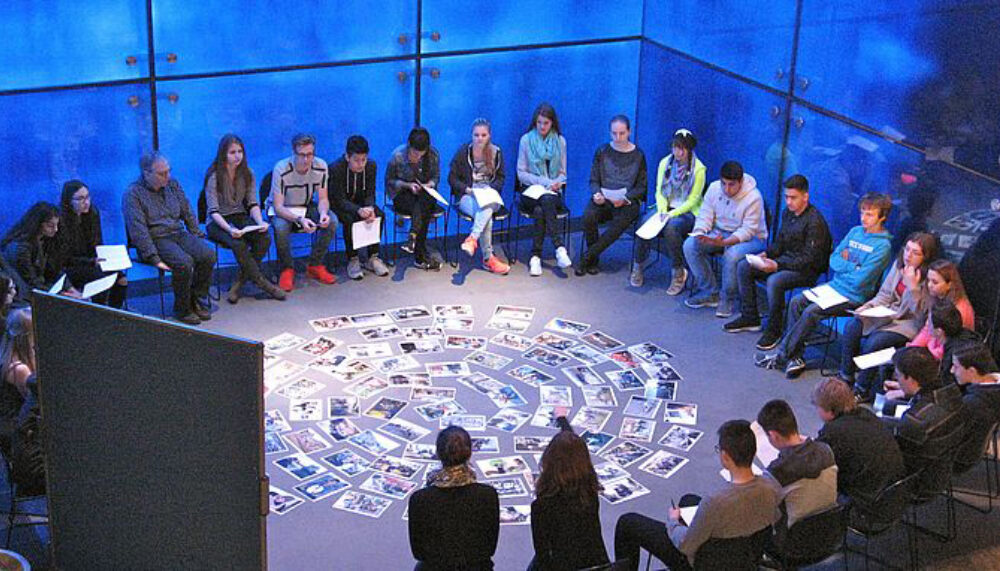 9. Prepare peace and develop non-violent approaches
While people are affected by war and violence, it is difficult to think about ways to achieve peace. But it can also give courage and unlocks potential of reflecting about the question of how we should live together after the war has formally ended. This is about both the reception of refugees arriving in Germany and the continuation of life in the former war zone. It is about relations with civil society in the aggressor country. And it is also about the peace-oriented reform of international order structures or the design of a new regional peace and security architecture. The approaches to civil conflict management at the (civil) societal, national and international levels must be rethought and realigned. The goal is to establish trust, guarantee common security and further develop peace processes.
10. Recognise uncertainties, endure contradictions and protect oneself
Peace education relies on joint and open learning processes, especially in the search for a personal standpoint and one's own attitude in extremely complex, volatile situations. Authenticity creates trust, especially with target groups such as students and young people. No one should put themselves under pressure to have an answer, right or not, to all the questions at hand. We must remember that there often is no right or wrong, especially in dilemma situations.
Direct or mediated confrontation with violence affects us physically, psychologically and emotionally, and requires clear boundaries as well as active self-care and -protection. It is more sustainable to purposefully relieve tension and stress, seek distraction or take time out from engagement than to hang on when we are exhausted from engagement or when we can no longer process all the news.
11. Think of peacebuilding and climate protection together
There are currently many suggestions on how people in this country can save energy in order to reduce the oil and gas revenues that flow directly into the war coffers. These and similar measures are certainly not sufficient to end the war in Ukraine or to prevent a new escalation of the conflict – but at the same time they have positive effects not only on an individual level for personal household budgets, but also on a collective level for joint climate protection. We are convinced that we should think of peace and climate protection together in line with the motto "Peace for peace and peace for the climate!"
Authors: Peace Education Team of the Berghof Foundation.
For questions and suggestions, please contact Uli Jäger, Head of Department Global Learning for Conflict Transformation, email: email hidden; JavaScript is required.
---
Media contact
Florian Lüdtke
Media and Communications Manager
+49 (0) 177 7052758
email hidden; JavaScript is required