BLOG POST | 1 Sep 2020
Dieter Senghaas: Happy 80th birthday!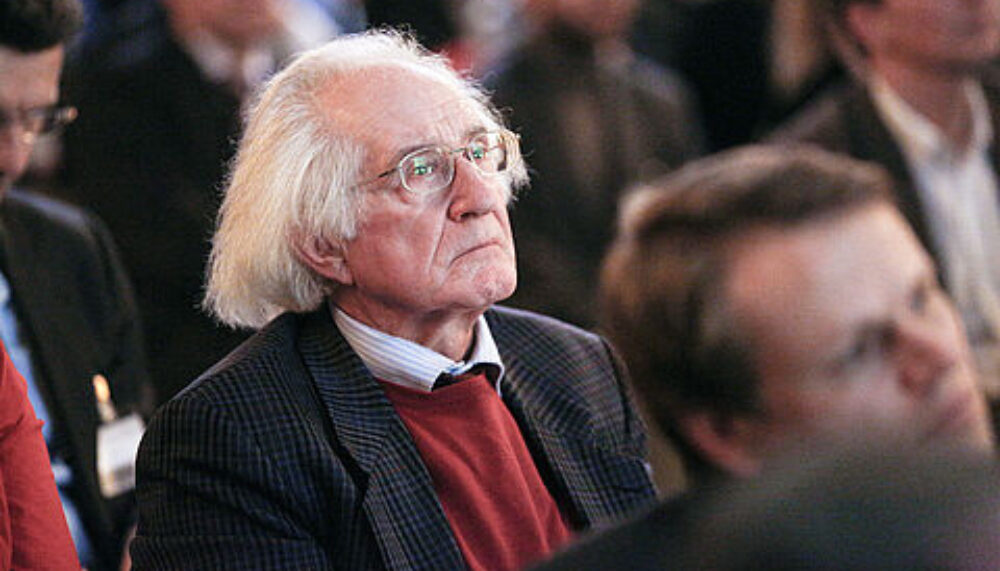 We mark a milestone for the renowned social scientist, peace, conflict and development researcher, music sociologist and cultural theorist, Dieter Senghaas.
---
In August 2020, Prof. Dr. em. Dr. h.c. mult. Dieter Senghaas, Honorary Chair of the Board of Trustees of the Berghof Foundation, celebrated his 80th birthday. Unfortunately, the symposia and events planned in his honour had to be cancelled due to Covid-19 regulations. However, many colleagues and friends sent their congratulations and hope to see him again soon. That is because meeting Dieter Senghaas always was and always is an asset.
Dieter Senghaas accompanied the establishment of the Berghof Foundation for Conflict Research (now the Berghof Foundation) in an advisory capacity from the very beginning at the request of the founder Prof. Dr. Georg Zundel. At the founding meeting in October 1971, Senghaas was appointed the organisation's first Chair of the Board of Trustees. He held this position for 30 years, remained on the Board of Trustees afterwards, and was appointed Honorary Chair of the Board in April 2012. To this day, Dieter Senghaas attends Board meetings whenever possible and prepares himself meticulously, carefully poring over all documents.
As an internationally renowned social scientist, peace, conflict and development researcher, music sociologist and cultural theorist, Dieter Senghaas has systematically analysed developments that threaten and promote peace from a wide variety of perspectives for many years. The Berghof Foundation's long-standing focus on "constructive conflict transformation" would not have been conceivable in this quality and sustainability without Dieter Senghaas.
Dieter Senghaas taught in Bremen until 2005. In his analysis of the historical development of peace in Western societies, Senghaas has identified six necessary conditions:
A monopoly on the use of force
The rule of law
Interdependence and control of affect
Democratic participation
Social justice
A constructive culture of conflict
This scientific model is widely known as the "Civilizational Hexagon". It has been translated into numerous languages and inspires researchers and practitioners around the world to this day. At the same time, no one insists more than Dieter Senghaas himself on the need to continuously review and develop the model further.
In 1996, the Berghof Foundation celebrated its 25th anniversary in Tübingen. Dieter Senghaas ended his lecture ("Intercultural Philosophy in the World of Today") with a remarkably timely conclusion:
The great opportunity [...] lies in the fact that all cultures come into conflict with themselves and become self-reflective about it. Only on this basis can a contemporary, fruitful intercultural dialogue start: less from culture to culture, more between cultural segments across the world.
Dieter Senghaas has also gained a reputation for his work on music and peace. Like he tends to do with things close to his heart, he has also scientifically evaluated and accompanied art. As a contribution to the international UNESCO campaign "For a culture of peace and non-violence", the audio programme "Sounds of Peace" was published in 2001. From the music programme, which was developed based on this publication, the Institute for Peace Education Tübingen developed the CD-ROM "Listening to Peace" and published a second edition in 2009 with the support of the Berghof Foundation.
Ten years ago, the impressive symposium "Promoting a Culture of Peace" took place in Biberach, Baden-Württemberg, to mark Senghaas' 70th birthday. Dieter Senghaas was born in Geislingen/Steige during WWII and attended the Wieland Gymnasium in Biberach from 1951 to 1960. During the event Senghaas particularly enjoyed his encounters with current students at the school. It is not surprising that his "Civilisational Hexagon" has found its way into many schoolbooks and has become part of high school exams in Germany. A symposium in Biberach to mark his 80th birthday was planned and will take place later.
It is self-explanatory that Dieter Senghaas has been awarded many prizes throughout his career. In 1999, for example, he received the Göttingen Peace Prize from the Dr. Roland Röhl Foundation, for his constant interest in a praxeology of peace. Dieter Senghaas has always seen himself as an empirical scientist. His peace science experience was and still is an invaluable asset to the Berghof Foundation. We are delighted every time he attends a meeting of the Board of Trustees and about every new article he publishes. Fortunately, Dieter Senghaas continues to write and share his experience, in the 2020s as well.
---
Media contact
Florian Lüdtke
Media and Communications Manager
+49 (0) 177 7052758
email hidden; JavaScript is required