EVENT
Youth and armed conflict
Aspirations, agency and space for transformation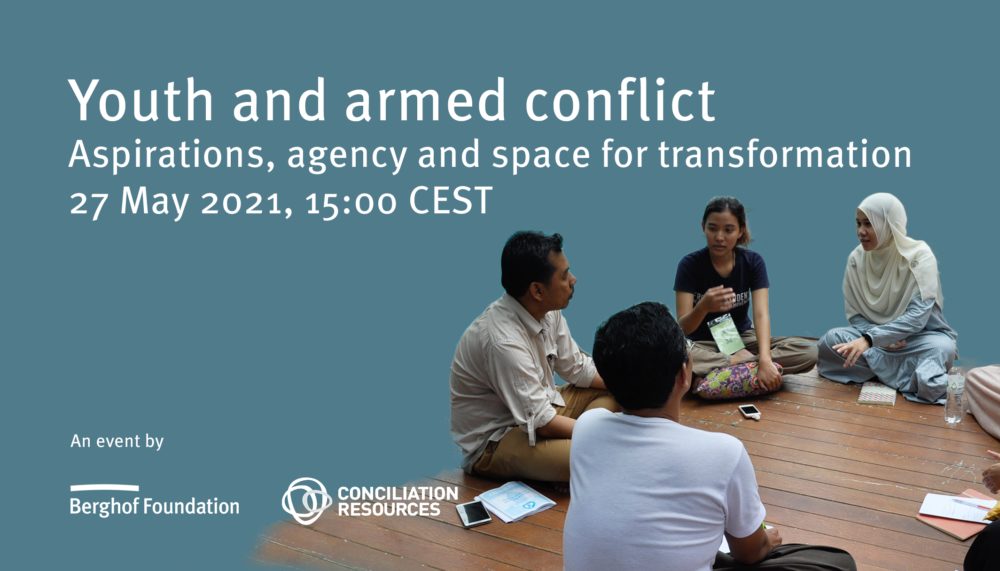 Panel discussion on the trajectories and opportunities for young people in transforming armed conflict.
---
This event took place on 27 May. Thanks to all the participants!
Young people are not just victims or perpetrators of violent conflict. They are key actors in processes of conflict transformation and socio-political change. It is important to understand their aspirations for change and what influences their decisions to take a violent or nonviolent path.
Organised by the Berghof Foundation and Conciliation Resources, this panel discussion brings together young peacebuilders from different conflict contexts to share their experience in dealing with armed conflict.
At this event, we will discuss the challenges and opportunities for young people to respond constructively to violent conflict and the pathways to achieve change more effectively and peacefully – during armed conflict, in transition phases and in post-war reconstruction periods. What makes young people choose either violent or nonviolent pathways for change? How can nonviolent pathways be more effective? What kind of intergenerational engagement would strengthen formal and informal processes of socio-political transition and peacebuilding?
---
Youth and armed conflict
Aspirations, agency and space for transformation
27 May 2021
15–16:30 CEST (ical, ics)
Virtual event (Zoom)
---
Agenda

PANEL DISCUSSION
Juweria Ali, PhD researcher, human rights advocate and community organizer supporting youth involvement in local peace processes in the Somali Region of Ethiopia
Iratxe Delgado, member of the local youth and student movements in the Basque country and member of Ernai, the youth organisation of the Abertzale Left
Mario Alberto Montiel (Johnson Carbonel), Colombian ex-combatant working on the implementation of the peace process at the community level, member of the municipal council
Adam Thang, Program Director of Chin Center for Peace and Reconciliation (Myanmar/Burma)
Moderation by Lisa Heinzel, Conciliation Resources and Tim Jan Roetman, Berghof Foundation.
REFLECTIONS
Graeme Simpson, lead author for the Progress Study on Youth, Peace and Security mandated by UNSCR 2250 and Director of Interpeace USA
We are looking very much forward to involving you into the discussion. Please send us your questions via email hidden; JavaScript is required prior to the event or join our discussion on Twitter.
This event will take place in English and in Spanish with simultaneous interpretation.


50 Years Berghof Foundation
The Berghof Foundation is marking its 50th anniversary in 2021. This event is part of a series of events we are holding throughout the year to reflect on past and current peacebuilding successes and challenges. The events will identify and look at trends in order to develop tactics that will ensure our efforts towards sustainable peace together with our partners remain effective in the years to come. Find out more on our website and sign up for our newsletters or follow us on Twitter to stay up to date about our anniversary programme.
---
Media contact
Florian Lüdtke
Media and Communications Manager
+49 (0) 177 7052758
email hidden; JavaScript is required