EVENT
Perspectives from India
Panel discussion on conflict transformation in a multipolar world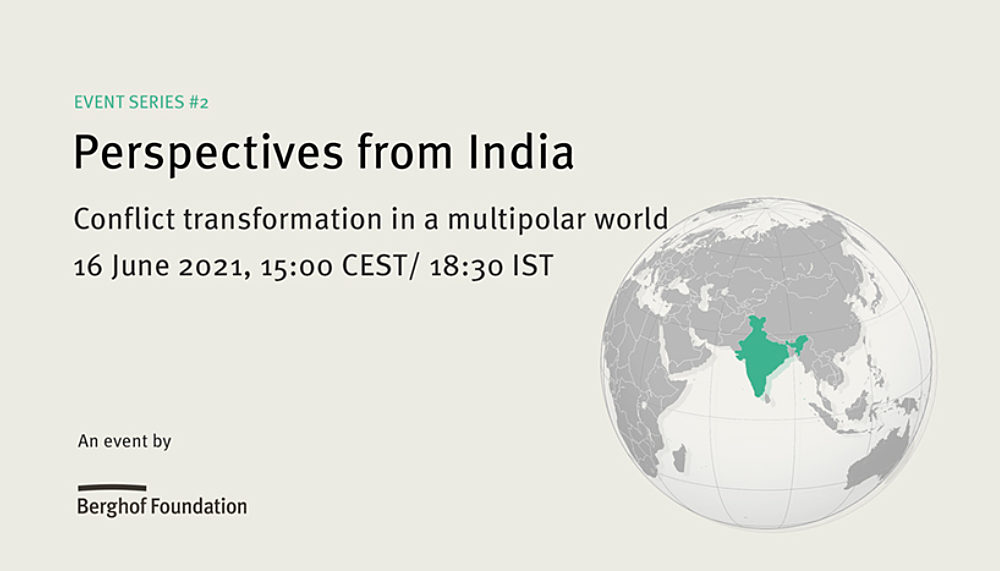 In this free event, distinguished experts and practitioners from India shared insights on India as an actor in the international peacebuilding scene.
---
This event took place on 16 June 2021.
Thank you to our panellists and to everyone who joined the discussion.
With its large population and a great variety of cultures and religious or philosophical beliefs, India has experienced many dialogues between communities. At the global level, India stands for South-South solidarity and peaceful co-existence between states. That is why India's role in international politics has often been framed as a 'moral power on the rise'. In recent years, India has become increasingly involved in multilateral debates on peace and security, while embarking on new foreign policy directions.
In the second session of our series 'Conflict transformation in a multipolar world', distinguished experts and practitioners from India will share insights into current discourses on conflict transformation and share their views on India as an actor in the international peacebuilding scene. Our discussions will revolve around the question of how we can foster mutual learning across peacebuilding communities, to better address future challenges for conflict transformation and peacebuilding.
The Berghof Foundation together with the Freie Universität Berlin would like to invite you to this online discussion:
---
Perspectives from India
Panel discussion on conflict transformation in a multipolar world
16 June 2021
15:00 CEST/18:30 ITS (ical, ics)
---
Agenda
Opening remarks
Dr Karoline Eickhoff, Associate Researcher, Berghof Foundation
Panel discussion with:
Prof. Anjoo Sharan, Professor at Banaras Hindu University, Varanasi
Prof. Priyankar Upadhyaya, UNESCO Chair for Peace and Intercultural Understanding at Banaras Hindu University, Varanasi
Dr Florina Xavier, Return and Reintegration Advisor at Act for Peace, Chennai
Prof. Gladston Xavier, Associate Professor in Social Work at Loyola College, Chennai
Moderated by: Prof. Tobias Berger, Junior Professor for Political Science, Freie Universität Berlin
Reflections
Janel B. Galvanek, Head of Sub-Saharan Africa Unit, Berghof Foundation
This event will take place in English.
We are looking very much forward to involving you into the discussion. Please send us your questions via email hidden; JavaScript is required prior to the event or join our discussion on Twitter.
About the event series
The international actors' landscape in conflict transformation and peacebuilding is changing and becoming increasingly multipolar. The Berghof Foundation aims to explore the implications of this development for our work by inviting peacebuilding and conflict transformation experts from around the world. In this series of panel discussions, we focus on countries with historically and contextually distinct approaches to conflict transformation who are playing increasingly important roles in regional and international peacebuilding.
Please note that the event will be recorded using the cloud-based recording tool within the Zoom.us platform (using cloud servers based in the U.S.), to be published on the Berghof Foundation's website and social media channels for external communications purposes. You can find the Berghof Foundation's data protection notice here. If you have questions, please feel free to contact the Berghof Foundation's Data Protection Officer (data.protection@berghof-foundation.org).
---
Media contact
Florian Lüdtke
Media and Communications Manager
+49 (0) 177 7052758
email hidden; JavaScript is required