BLOG POST | 26 Jul 2023
Peace, and no end to discrimination
Marginalisation of former female combatants continues in Colombia and Uganda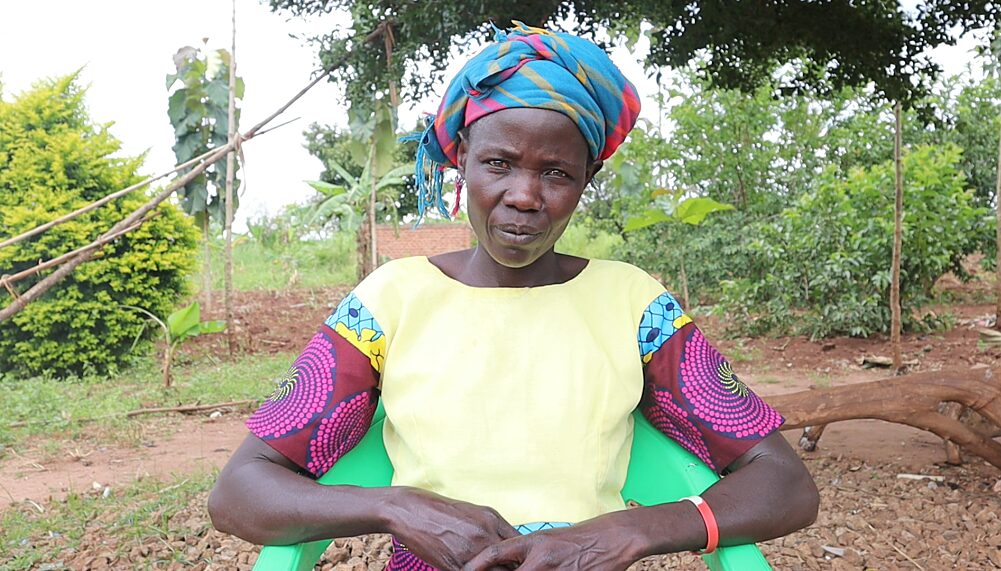 As our documentary project gives a voice to marginalised female ex-combatants, their past and present can teach us about reintegration.
---
When telling the stories of marginalised people, we might be tempted to speak about them rather than asking for their stories. Hearing from them directly can be a powerful experience both for the speaker and listener, changing perspectives and making far-away experiences more relatable – so that is what we did. We worked on a participatory documentary developed, filmed and written not by us, but by former female combatants from the Revolutionary Armed Forces of Colombia (FARC) in Colombia and the Lord's Resistance Army (LRA) in Uganda. It features their experiences during the conflict, the peace and reintegration process and the continuous challenges they face in rebuilding their lives – in their own words.
From female combatants to filmmakers
Using the powerful and intimate method of self-guided filmmaking to interview former female combatants, the Berghof Foundation, in cooperation with our partners Makipura in Colombia and the Foundation for Women Affected by Conflicts (FOWAC) in Uganda, has produced a short film. It is a joint reflection on lessons learned and an analysis of motives and experiences of female ex-combatants before, during and after the armed struggle. We are aiming to shape the policy discourse around the WPS agenda, DDR and inclusive peacebuilding, arguing for the necessity of including female (ex-) combatant concerns and perspectives in peace negotiations and reintegration efforts.
Learn more about the project, read our policy brief on the benefits of using participatory methods and watch the online premiere event.
These women who were formerly associated with armed groups face grave challenges as they return to civilian society, especially once the peace agreements have been signed, the implementation is slowing down, if progressing at all, and the national and international attention has moved on. But it is easily forgotten that successful reintegration of combatants is essential for sustainable peace. As the documentary shows, falling short in this endeavour is a lost chance.
Stigmatisation and reversed progress on gender equality
Despite the vastly different experiences of women and girls who were part of the FARC and the LRA, there are a number of similarities in their reintegration experiences.
In Colombia, despite a focus on inclusion of gender in the 2016 peace accord, the implementation, especially from the perspective of female ex-combatants living in reintegration zones (areas initiated after the peace accord and co-managed by the state and the FARC to help combatants re-integrate), is severely lacking. They continue to face stigmatisation and economic hardship, with very limited opportunities for furthering their education or creating sustainable livelihoods.

Many women joined the FARC to escape from structural and family violence, only to find the same difficult reality again after coming back.
Similarly, in Uganda, although most women who were abducted by the LRA as children returned from the bush many years ago, they still face the consequences of that time daily. Community stigmatisation, lack of economic opportunity and long-term health concerns are ever-present.
Many women joined the FARC to escape from structural and family violence, only to find the same difficult reality again after coming back. Political, social and economic violence, mainly against the poor rural population, which most ex-combatants belong to, has not stopped. Ex-combatants, especially those in community leadership roles, continue to be victims of targeted assassinations.
Women in the FARC took on largely the same roles as their male comrades, sharing cooking, cleaning and also combat duties equally. For the post-agreement period, there is a sense that this progress towards gender equality has been reversed with a majority of female ex-combatants describing a return (or an expectation for them to return) to traditional gender roles, including care work and childrearing, after demobilisation.
Marginalisation and lack of educational opportunities
The biggest concern for most returnee women in Uganda is the marginalisation and lack of educational opportunities that their children born in captivity face. Due to the lack of family ties, these children usually have no claims to land, are not accepted by the clan-based social structure and therefore have no community belonging. This exclusion reduces their economic opportunities, which might drive them to criminal activity, which then again causes more discrimination. Also in Colombia, the children of the post-2016 so-called baby boom are facing a similar combination of societal exclusion and lack of educational opportunities.
Female ex-combatants contribute to reconciliation
Hearing from the women who have lived through conflict directly can teach us, as an international audience and as peacebuilding and conflict transformation practitioners, important lessons for current peace processes and reintegration efforts.
Disarmament, Demobilization and Reintegration (DDR) and more long-term reintegration programmes run by the UN in cooperation with international NGOs have gone through many iterations and have gradually developed to be more context-specific and gender-sensitive. Now, as emphasised by Glaucia Boyer, the UNDP Global Advisor on Reintegration, in the discussion of the film, the focus should be on supporting community-based reintegration approaches. Hence, communities can develop their own solutions and create services for former combatants to return and be accepted.
Where there is a peace agreement, like in Colombia, implementing it in full with sufficient capacity and resources allocated, also for the included gender provisions, is prerequisite for continued commitment of former conflict parties to the peace process and can prevent a return to violence. Reintegration programmes should utilise and value female ex-combatants capacities to contribute to peacebuilding and reconciliation with skills they have developed during their time in the group, e.g. managing conflict in a diverse group of people, building community in difficult circumstances, or pushing for gender equality. Building their confidence and contributing to creating an environment in which they can take on leadership roles in their communities would be one way of doing so.

Everything that connected us has been disappearing, now we are vulnerableVioleta Guetnamova, signatory of the 2016 Colombian peace agreement
Peer-to-peer learning among members of armed movements
The documentary itself can also be a way for women and men who are currently members of armed movements, maybe preparing for peace talks or implementing peace agreements, to hear from others who have experienced similar things whom they would never be able to meet face to face – a kind of remote peer-to-peer learning. Violeta Guetnamova's, signatory of the 2016 Colombian peace agreement, stresses the hardship of ex-combatants adapting to the situation after a peace agreement has been signed: "Everything that connected us has been disappearing, now we are vulnerable." Her main recommendation to other armed groups who are going through peace processes is not to lose the connection to their group and identity in the process as this will be their main support system afterwards.
---
Media contact
Florian Lüdtke
Media and Communications Manager
+49 (0) 177 7052758
email hidden; JavaScript is required