EVENT
Video: Georgian-Abkhaz conflict
How to regain confidence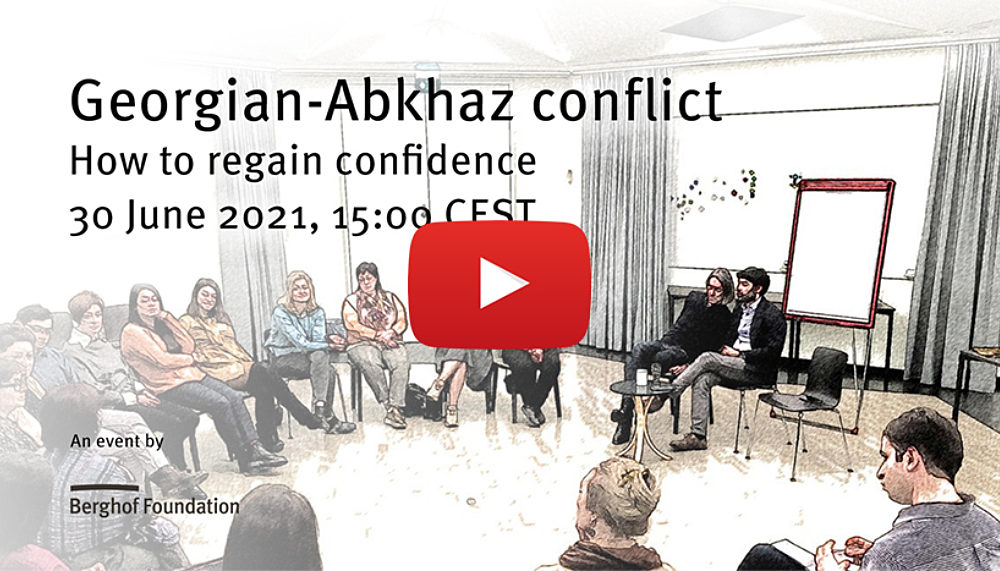 Watch a video of our panel discussion on confidence-building in the Caucasus.
---
This event took place on 30 June. You can watch a recording of the event below.

Thank you to all who could join us and to the discussants for their involvement in this event.
The Georgian-Abkhaz conflict dates back to pre-Soviet times and erupted into various wars in the early 1990s and again in 2008. Since then no major breakthrough has been reached and both sides lack a common understanding of how relationships could be restored. In this situation, we believe, it is vital to build confidence between the different sections of society. We would like to invite you for an expert discussion on this topic:

---
Georgian-Abkhaz conflict
How to regain confidence?
30 June 2021
15:00 CEST (ical, ics)
Virtual event (Join via Zoom)

Classical approaches of confidence-building such as focusing on issues of mutual interest for creating a basis between the parties proves to be ineffective in the Georgian-Abkhaz context. Instead, the Berghof Foundation encourages honest and open discussions about the violence of the past between Georgians and Abkhazians in order create the necessary grounds for confidence.
Looking at Berghof's work in the region of more than 20 years, together with experts of the Georgian-Abkhaz conflict, we want to take this discussion further: What is needed to enhance confidence and what does the future for Georgians and Abkhazians look like?
We are looking very much forward to involving you into the discussion. Please send us your questions via email hidden; JavaScript is required prior to the event or join our discussion on Twitter.
---
PANEL DISCUSSION
Misha Jakhua, local coordinator of the Berghof Project in Georgia; Co-founder and chairman of the Peace Development Center (PDC)
Inal Khashyg, founder and Chief Editor of the independent analytical newspaper "Chegemskaya Pravda" ("Chegem´s Truth")
Ucha Nanuashvili, founder and Director of the Democracy Research Institute (DRI), a think tank based in Tbilisi, and Project Director at the Human Rights Center. Former elected Public Defender (Ombudsman) of Georgia (2012-2017).
Dalila Piliia, local coordinator of the Berghof Project in Abkhazia; Director of the Cultural and Charitable Foundation "World Without Violence"; Assistant Professor at the Department of Social and Political Sciences at Abkhaz State University (ASU);

Oleh Protsyk, UN Peace & Development Advisor for the South Caucasus, UN in Georgia
Moderated by: Dr. Oliver Wolleh, Head of Europe Unit, Berghof Foundation.
Please note that the event will be recorded using the cloud-based recording tool within the Zoom.us platform (using cloud servers based in the U.S.), to be published on the Berghof Foundation's website and social media channels for external communications purposes. You can find the Berghof Foundation's data protection notice here. If you have questions, please feel free to contact the Berghof Foundation's Data Protection Officer (email hidden; JavaScript is required).
50 Years Berghof Foundation
The Berghof Foundation is marking its 50th anniversary in 2021. This event is part of a series of events we are holding throughout the year to reflect on past and current peacebuilding successes and challenges. The events will identify and look at trends in order to develop tactics that will ensure our efforts towards sustainable peace together with our partners remain effective in the years to come. Find out more on our website and sign up for our newsletters or follow us on Twitter to stay up to date about our anniversary programme.
---
Media contact
Florian Lüdtke
Media and Communications Manager
+49 (0) 177 7052758
email hidden; JavaScript is required