EVENT
Video: Beyond men
Challenging gendered dynamics of conflict transformation
Watch a video of our panel discussion on the role of gender in peace and conflict.
---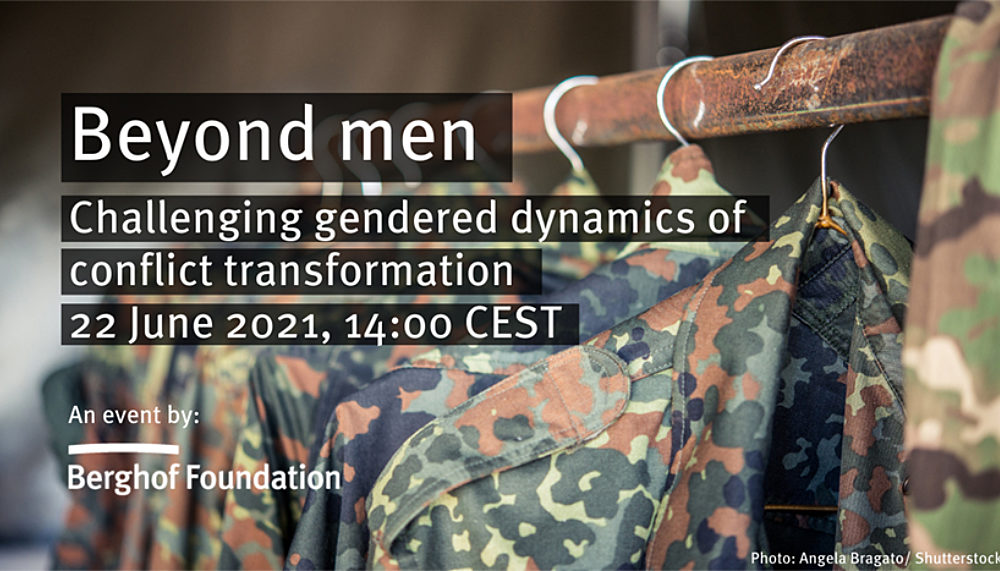 Wars and conflicts are highly gendered phenomena. Men and boys are typically perceived as perpetrators, while women and girls are portrayed as victims. When it comes to peace processes, female voices too often remain unheard.
We want to explore the frequently overlooked gender dynamics of conflict transformation and invite you to join us for a discussion with leading peacebuilders, mediators, negotiators and policy makers on gender and conflict.
This event took place on 22 June. You can watch a recording of the event below.

Thank you to all who could join us and to the discussants for their involvement in this event.
---
Beyond men
Challenging gendered dynamics of conflict transformation
Tuesday, 22 June 2021
14:00 – 15:30 CEST (ical, ics)
Online event via Zoom
---
All too often it is mainly men who participate in high-level negotiations to agree on political arrangements and transitional justice after conflicts. They shape the future of a state and society and they decide whose concerns matter when dealing with the past. As a result, peace and transition processes often lead to the further marginalisation of women and people of diverse sexual orientations and gender identifications.
Female combatants, for example, are often overlooked during negotiation processes as well as when reintegrating into society after conflicts end. Also, the realities, perspectives and needs of people with different sexual orientations and gender identities have been entirely excluded in most conflict settlements.
Looking at examples from Colombia, Indonesia, Nigeria and Yemen, we will explore the following questions: What are the diverse gendered dynamics men and women experience during conflicts and in their efforts for conflict transformation? How can these gender dynamics be challenged and by whom? What can international organisations and donors supporting local actors in conflict transformation do to be more gender-sensitive and -transformative?
Agenda
Opening remarks
Jacqueline O'Neill, Canada's Ambassador for Women, Peace and Security
Panel discussion
Afrah Abdulaziz Saleh Al-Zouba, Former First Deputy Secretary General of the National Dialogue Conference and Constitutional Drafting Committee Secretariat, Yemen
Fatima Ibrahim Musa, Lawyer, Mediator, Member of Young African Leaders Initiative, Nigeria
Shadia Marhaban, Mediator and Regional Peace Leader, Former Free Aceh Movement (GAM) Negotiator, Indonesia, Aceh
Fernando Serrano Amaya, PhD, Assistant Professor at Universidad de los Andes, Colombia
Moderated by: Janel B. Galvanek, Head of Sub-Saharan Africa Unit at the Berghof Foundation
This event will take place in English.
We are very much looking forward to involving you in the discussion. Please send us your questions via email hidden; JavaScript is required prior to the event or join the conversation live on Twitter.
50 Years Berghof Foundation

The Berghof Foundation is marking its 50th anniversary in 2021. This event is part of a series of events we are holding throughout the year to reflect on past and current peacebuilding successes and challenges. The events will identify and look at trends in order to develop tactics that will ensure our efforts towards sustainable peace together with our partners remain effective in the years to come. Find out more on our website and sign up for our newsletters or follow us on Twitter to stay up to date about our anniversary programme.
---
Media contact
Florian Lüdtke
Media and Communications Manager
+49 (0) 177 7052758
email hidden; JavaScript is required