FEATURE | 14 Feb 2023
"Young people have a great potential to drive change"
Interview with Yaroslav Minkin, founder of a Ukrainian youth organisation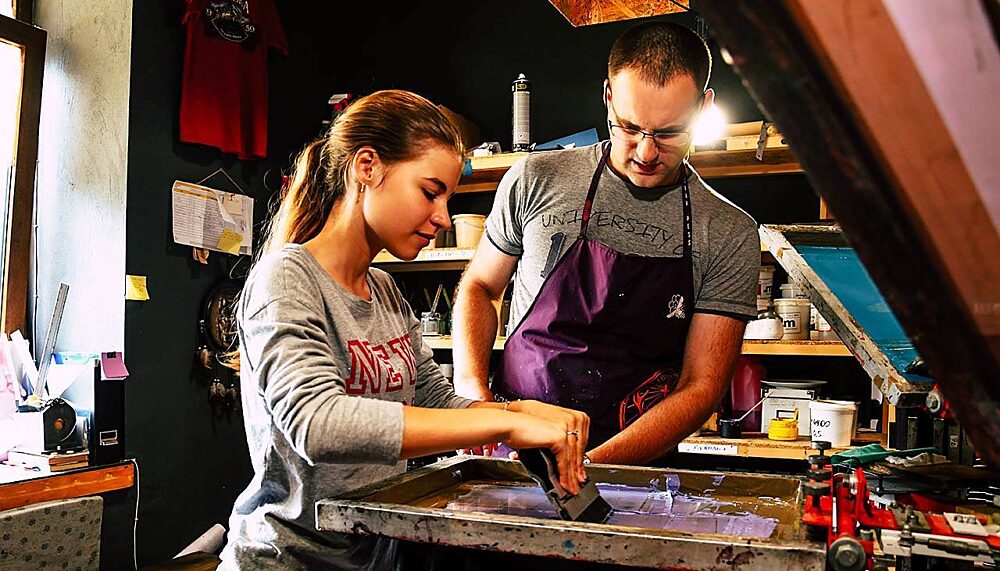 Read how young people can play a decisive role in Ukraine and how best to support them.
---
While the war in Ukraine is ongoing, young people are facing various challenges, but are motivated to drive positive change in their communities. We spoke to Yaroslav Minkin, founder of a Ukrainian youth organisation, about how young Ukrainians have responded to the war and how to support them to become change agents in their communities.
Berghof Foundation: Yaroslav, thank you for taking the time for this interview. Young people in Ukraine are impacted tremendously by the war. What are their coping mechanisms?
Yaroslav Minkin: Their coping mechanisms and needs really depend on the kind of experiences these young people have made during the war. Most young people from the western part of Ukraine have not experienced much fighting or violence first hand, but most of them have relatives or friends who are fighting at the frontlines. They still feel very energetic and get involved in various initiatives: some collect donations and buy bulletproof vests, others distribute information about how to support the military.
The situation is much more complicated for young people from war-affected or occupied regions. Most of them have went through traumatic experiences, but often they do not show it. Some of them are channelling their energy into artistic expression. For example, we had one participant whose father was still living under occupation. Due to security risks she could not say much about her family's situation, but she painted and created art projects to express her feelings.
That is why we focus on offering coping mechanisms based on self-realisation and self-identification, and provide young people with resources and psychological support in a safe space.
Yaroslav Minkin is a cultural activist and human rights defender who founded the youth organisation STAN. As a poet, he created art performances and interventions against anti-democratic tendencies in Ukraine from 2004 to 2014. Originally from Luhansk, he was forced to relocate because of the threats from the Russian army in Donbas in 2014 and now works from Ivano-Frankivsk. Minkin is a trainer and facilitator on human rights, gender equality and non-discrimination, participatory democracy, cultural diversity, and intercultural dialogue.
The youth organisation STAN uses grassroots methods of informal education, emphasising local initiatives and active citizenship, with a particular focus on vulnerable and marginalised groups. Driven by the core values of freedom, respect for human dignity, mutual support, and diversity of cultures and mindsets, STAN's team strives to build an open and peaceful civil society in Ukraine.
BF: What needs to be done most urgently to support young people in Ukraine today? How has the focus of your work shifted in the past year to address the challenges that they are facing in their everyday lives?
YM: Before the full-scale invasion in 2022, our primary focus was on human rights, including work with Belarussian activists, intercultural diversity and the empowerment of youth. We had actually developed an action plan for the possibility of full-scale war, but when the invasion started, we had to shift our focus to immediate humanitarian support. As we opened shelters with Austrian partners and donors, we soon discovered that at least 25-40 per cent of those we hosted were young people. Therefore, we focused on providing them with the support they needed, from psycho-social support to integration measures, resettling them if possible, and organising activities with people form the local host communities. Together with a Czech organisation, we opened five safe spaces for young people where they could receive help and organise events. In addition, we opened safe spaces and two shelters for members of the LGBTQI+ community.
At the moment, I am really proud that we are moving away from humanitarian projects again. We are planning to launch an educational programme to train young internally displaced persons as well as locals to become diversity ambassadors and contribute to greater social cohesion. The programme will include study visits and thematic components, for instance on gender equality and LGBTQI+ rights, on arts and culture, but also on environmental issues, climate justice and post-war reconstruction. At the end of the programme, the participants also get a chance to apply for a small amount of seed funding to implement their own initiatives.

We have to offer young people spaces where they can learn that they can be defenders of diversity.
BF: Why is it critical to listen to young people's voices during and after conflict?
YM: Young people have a great potential to drive change so societies can flourish and evolve. They are very motivated and quickly learn to be change-makers. However, it pains me to see that young people now forget that they are still young. In one of our projects, I met a girl who was 14 years old but she acted as if she was 36. She was very mature, but significantly impacted by the war. That is why we have to offer them a space where they can still feel young, but also learn that they can be agents of change and defenders of diversity.
BF: How can young people be empowered to be active actors in peacebuilding and reconstruction processes?
YM: The main problem is that too often young people are not perceived as active players and they do not get the chance to play an active role in the decisions and processes that affect them. The best method to empower them is by supporting local initiatives and giving out seed funding for small projects that young people will implement themselves. All they need is a basic framework that gives them some knowledge and skills, not through lectures but through hands-on training.
There are also other ways to empower young people. For instance by supporting them to organise their own, youth-led educational programmes, or providing training on social entrepreneurship. And it is important to back initiatives that promote cohesion and mutual understanding, for example through exchanges or study visits to other regions and supporting youth-led grassroots activities in this area of work.
BF: Young people are perceived as a beacon of hope in bleak times. Can you share an example about how young people have made a positive impact in the current situation?
YM: Last year, through one of our projects, we supported 18 youth initiatives with seed funding. One of them was particularly profound and touching for me. In this project, Jana Malyga, a writer from Nova Kakhovka, began to collect personal stories of people who either have fled occupied areas or are now living under occupation, and Masha Vyshedsky who is a young artist from Bakhmut started to paint those stories. By now, they have produced over 200 drawings that have been shown at exhibitions around the world. Through these drawings, young people tell their stories and how the war has impacted their lives. And it is such real stories that help to change people's attitudes.
This article is part of a series in which we want to highlight the voices of Ukrainian civil society organisations and peacebuilding initiatives, and their response to the war.
You can find more articles and our discussions on Ukraine here.
---
Media contact
Florian Lüdtke
Media and Communications Manager
+49 (0) 177 7052758
email hidden; JavaScript is required