FEATURE | 22 Feb 2023
"It will be harder to deny LGBTQI+ members of the military equal rights after they have risked their lives for the country"
Interview with Tetiana Kasian, head of a Ukrainian LGBTQI+ organisation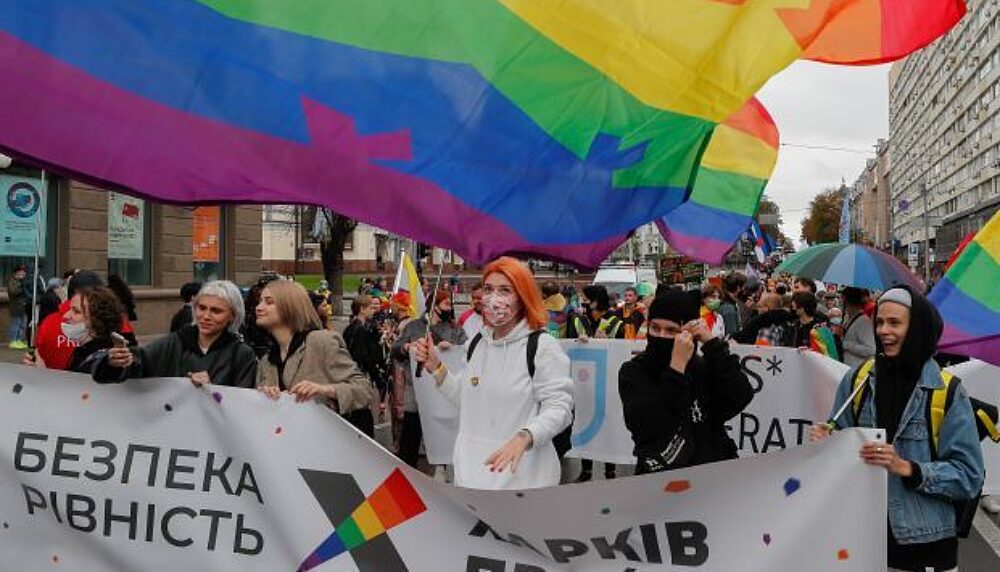 Read how members of LGBTQI+ communities can contribute to peacebuilding and reconstruction efforts in Ukraine.
---
Commitment to the United Nation's Women, Peace and Security agenda has grown immensely amongst peacebuilders and donors over recent years. However, efforts towards greater gender mainstreaming often only focus on cis women and do not include LGBTQI+ voices. We talked to Tetiana Kasian, CEO of Fulcrum, about her work for equal rights, how the war has affected LGBTQI+ communities in Ukraine, and how these communities can contribute to peacebuilding and reconstruction efforts in the country.
Berghof Foundation: Tetiana, what is the situation for the LGBTQI+ people in Ukraine?
Tetiana Kasian: When I started working in this field in 2014, no one spoke about gender-related topics or LGBTQI+ rights in Ukraine. In a survey from 2016, for example, only 20 per cent of Ukrainians said that they supported equal rights for LGBTQI+ people. We have already seen these numbers increase over the past years, but the fact that LGBTQI+ soldiers are now on the frontlines risking their lives for the country is shifting attitudes further. Although reactionary views on equal rights are still voiced by a loud minority who have also been deeply influenced by Russian propaganda on the subject, many Ukrainians now believe that anyone who is willing to risk their life for Ukraine should also have equal rights, regardless of their gender identity or sexual orientation.
At the same time, members of LGBTQI+ communities have been affected by the war in some very unique ways. For instance, Ukraine currently does not allow same-sex civil partnerships. This means that the partners of LGBTQI+ soldiers cannot visit their loved ones in the hospital when they are wounded, or retrieve their bodies when they have fallen. We also know that some trans women were not allowed to leave the country and many trans people had trouble accessing their hormones during the first months of the war.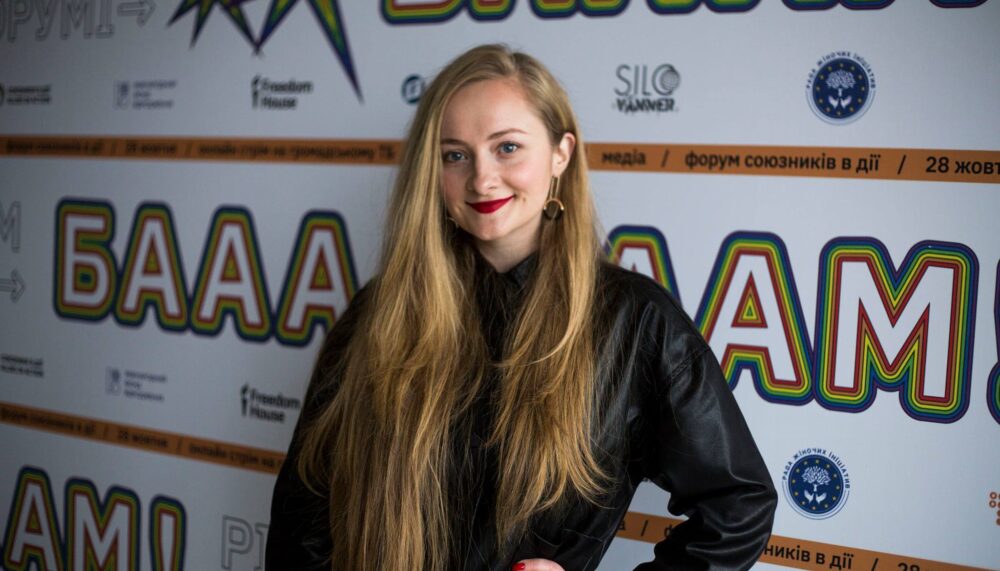 Tetiana Kasian is a journalist turned activist. Throughout her journalistic career, she has highlighted the stories of marginalised groups in Ukraine, such as homeless women, drug addicts and transgender women. In 2019, she joined Fulcrum UA and is now the CEO of the organisation.
Fulcrum UA is an intersectional human rights organisation that aims to ensure equal rights for every person in Ukraine, regardless of their sexual orientation or gender identity. Prior to the full-scale invasion, Fulcrum supported businesses to become more inclusive and diverse work spaces, provided medical support to members of the LGBTQI+ community, and worked with politicians as well as with LGBTQI+ military veterans.
BF: Has the focus of your work changed because of the full-scale invasion? Where do you think you can make the biggest difference as an organisation in the current situation?
TK: At Fulcrum, we had planned to host an award ceremony for businesses that excelled in creating non-discriminatory policies on 24 February 2022, the day the full-scale invasion started. For obvious reasons, this never happened. We immediately shifted gears.
We relocated our operations from Kyiv to Lviv in Western Ukraine and our first priority was to open inclusive shelters for members of LGBTQI+ communities. This was quite challenging simply due to the sheer number of people in need.
One of our shelters was located in a basement football pub that had been closed since the pandemic. It was freezing and didn't have any of the most basic amenities, like a shower. Yet, we managed to provide humanitarian aid to displaced LGBTQI+ people as well as those on the frontlines. Some international donors paid particular attention to marginalised groups and supported our efforts.
In August 2022, our team moved back to Kyiv and we started focusing on more strategic issues again. We provide people with tools to overcome their reliance on humanitarian aid so they can rebuild their lives after the disruption caused by war. Our project 'Start from Scratch' offers English classes, training opportunities, career coaching and psychosocial support to LGBTQI+ people.
We also witnessed the highest number of people coming out in Ukraine on record. So, the number of openly LGBTQI+ people in the Ukrainian armed forces has also risen to an all-time high. They know that they can die any day, so they want to show the world who they are. This is why we continue campaigning for same-sex civil partnerships, which has become more important than ever. Same-sex marriage and civil partnerships are still illegal in Ukraine. This means that LGBTQI+ couples lack basic legal rights. For example, if you are married and your partner dies on the frontline, as a spouse, you will be informed of their passing and the whereabouts of their body. LGBTQI+ couples do not have a legal right to access this information.
BF: Do you think the war will have a long-term impact on LGBTQI+ topics in Ukraine?
TK: This is hard to predict. As Ukraine moves closer to Europe politically and socially, I'm hoping that there will be an increasing focus on human rights and building a country that values them. There have already been some encouraging developments over the past months: Ukraine finally ratified the Istanbul Convention against gender-based violence in 2022 and a new media law forbids hate speech. I also think it will be harder to argue that LGBTQI+ members of the military are not entitled to equal rights after having risked their lives for our country. Perhaps this will serve as a stepping stone to demand equal rights for all LGBTQI+ people.
International organisations are mainly focusing on cis women. I would like to see more LGBTQI+ people included in discussions on the international humanitarian agenda and the reconstruction of Ukraine.
BF: How should the perspectives of the LGBTQI+ community be included in future peacebuilding and reconstruction efforts in Ukraine?
TK: I think diversity and inclusion are extremely important. Inclusion means that every group's needs are heard and accounted for. At the moment, international organisations like the UN are mainly focusing on cis women and we are finding it difficult to put LGBTQI+ issues on the agenda. I would really like to see more LGBTQI+ people included in these critical discussions, for example, on the international humanitarian agenda and the reconstruction of Ukraine. I also think that it will be crucial to think about the inclusion of people with disabilities in the reconstruction, since many people will return from the frontlines wounded and suffering from post-traumatic stress.
BF: To end on a more positive note, in these difficult times, what gives you hope?
TK: I believe in justice. I really believe in justice. I believe that justice will win, reward the kind, and punish those who have done wrong. That is what gives me hope.
The Ukrainian people also give me hope. So many Ukrainians are now creating amazing online content and writing songs and books in Ukrainian. This is a very prosperous time for Ukrainian culture. The psychotherapists and lawyers working with our European and international partners also give me hope. It gives me hope that we are not alone in this. This is a war against the entire democratic world. And it can't lose.
My city, Mariupol, is under occupation and almost completely destroyed. It was so beautiful, particularly in winter. I used to visit several times a year to see my friends and family. My parents are still there, living under occupation. What gives them – and me – hope is the idea that one day, Mariupol will be Ukrainian again. That one day, we can see and hug each other again.
This article is part of a series in which we want to highlight the voices of Ukrainian civil society organisations and peacebuilding initiatives, and their response to the war.
You can find more articles and our discussions on Ukraine here.
---
This article was updated on 23 February 2023 to add a link to one of Fulcrum UA's campaign videos for the legalisation of same-sex civil partnerships in Ukraine.

---
Media contact
Florian Lüdtke
Media and Communications Manager
+49 (0) 177 7052758
email hidden; JavaScript is required