FEATURE | 29 May 2020
Towards territorial peacebuilding in Colombia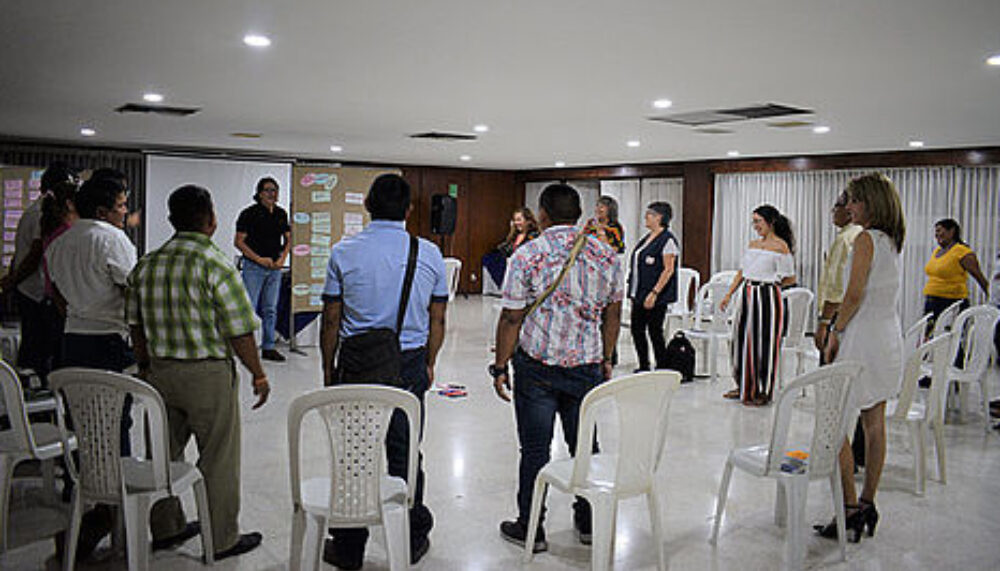 See how our team has been working to foster dialogue, prevent violence, and support Colombia's peace agreement at the local and regional level.
---
After working on the concept of 'paz territorial' (territorial peace) in Colombia since 2015, the local team of the Como-Berghof Consortium has concluded its advice to sub-national actors in three regions: Meta, Norte de Santander and, since 2019, Caquetá. Our support revolved around the design and implementation of spaces and processes for multi-stakeholder dialogue, the prevention of violence, the transformation of conflicts, and the implementation of the Peace Agreement between the FARC guerrillas and the Government of Colombia after more than 50 years of war that resulted in more than 8 million victims and caused the deaths of 218,094 people.
In these particularly conflict-affected regions, unlearning violence and promoting alternative and constructive ways to address different interests at the municipal and departmental level is a task that requires the collaboration of multiple actors. Our colleagues Lorena, Juanita and Roberto designed and conducted various processes that demonstrated the benefit of multi-actor formats. These are based on dialogue in order to promote a collaborative understanding of the different realities and the identification of options to address conflicts and territorial problems.
Take the case of the "Prevention takes priority Programme". This pilot project in Norte de Santander sought to implement a systemic approach to violence prevention that today even includes reflections on the contribution of historical memory. This is one of the achievements of Lorena Fernández documented in more detail in "Who prevents first prevents twice". The report presents both lessons learned during the process and in particular the success factors of a model that promotes intersectoral cooperation in the implementation of public policies and civil society initiatives.
Peacebuilding in Colombia is closely related to the task of strengthening civil society groups so they can become actors of change in their communities.
Peacebuilding in Colombia is closely related to the task of strengthening civil society groups so they can become actors of change in their communities. With this in mind, Roberto Sanabria worked closely with 'Community Action Boards' in developing their capacities for dialogue and conflict transformation. In the document "Strengthening of Community Action Boards in peace-building contexts", key elements are identified that allow counterparts and other institutions to adjust their approach toward working with local civil society groups on the policies, challenges and opportunities that emerge in contexts of transition.
'Territorial Councils for Peace, Reconciliation and Coexistence' are settings for reflection and action involving multiple stakeholders interested in carrying out actions aimed at sustainable peace at the departmental and municipal levels. Within the framework of the implementation of the peace agreement between the FARC and the Colombian Government, these councils take on a greater relevance every day. Some of them have shown strong engagement while others still hesitate to take the next step. "Strengthening the Territorial Council for Peace, Reconciliation and Coexistence (CTPRC) of Belén de los Andaquíes" is a case study that aims to inspire other councils in Colombia. It is one of the achievements of Juanita Méndez, who took on the huge responsibility of opening operations in a new region starting in 2019.
Our team in Bogotá will continue working to ensure that the lessons and learnings from these processes are reflected in the public policy dynamics at the national level.
---
Media contact
Florian Lüdtke
Media and Communications Manager
+49 (0) 177 7052758
email hidden; JavaScript is required