EVENT
Peace education meets religion
A virtual and interactive launch of manual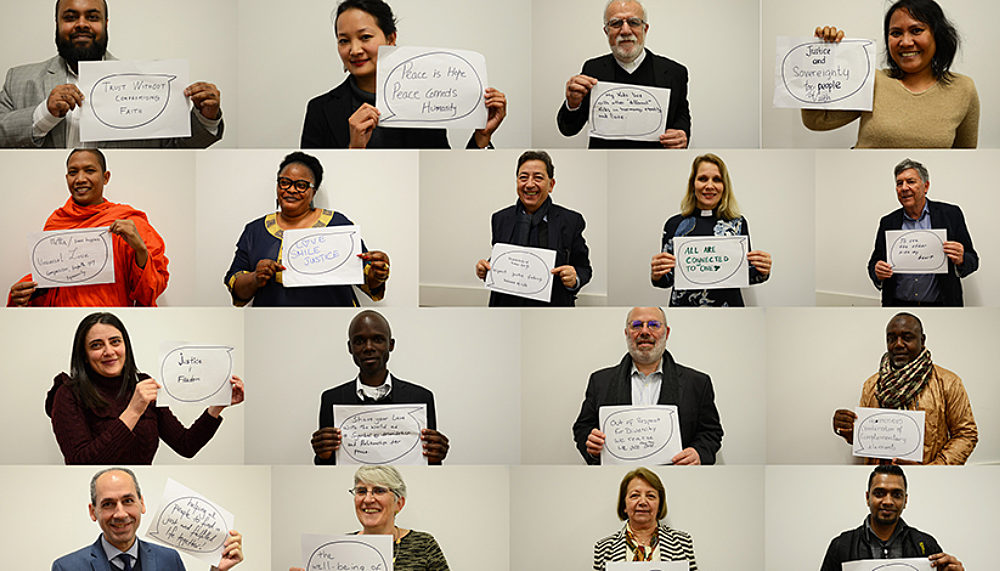 Virtual launch of our 'Peace Education meets Religion' manual with interactive introductory workshop.
---
Religious traditions can play an ambivalent role: in some settings they can foster violence or act as a powerful driver of conflict, while in others they can be a resource for peaceful actions in being a 'connector'. Faith-based actors and institutions have a central role to play in harnessing religion's potential for building peace and transforming conflict.
Aiming to support the efforts of faith-based multipliers, the Berghof Foundation and partners developed and piloted the 'Peace Education meets Religion: Manual for Multipliers' over the past two years.
We invite you to the manual's virtual launch and an interactive workshop introducing some of the manual's specific methods.
---
Peace education meets religion
Thursday, 23 September 2021
12:00 – 15:00 CEST (ical, ics)
Online event via Zoom
---
Agenda

12:00 – 13:00 CEST: Virtual launch of the 'Peace Education meets Religion' manual
Following the opening remarks of the Berghof Foundation's Executive Director, Andrew Gilmour, and Ambassador Dr Berresheim (GFFO), Professor Elisabeth Naurath's (Religions for Peace) short key note will open up and outline the field of peace education and religion.
Partners, who are experts in the field, will then share insights on the development and piloting process of the manual and share experiences from the manual's application in various contexts and with multiple target groups.
Our partners who will join the launch are:
Cheikh Khaled Bentounès (AISA NGO; Muslim Scouts of France (SMF))
Laura Anyola Tufon (Justice and Peace Service Bamenda, Cameroon)
Professor Stephen Lakkis (Protestant Regional Church in Baden, former Director of the Center for Public Theology Taiwan)
Taoufik Hartit (AISA NGO; Muslim Scouts of Germany (BMPPD))
Moderated by Professor Uli Jäger and Dagmar Nolden, Berghof Foundation
13:30 – 15:00 CEST: An interactive glimpse into the method toolbox
Join us as we explore some of the manual's specific methods and their peace education background in a practice oriented workshop.
Facilitated by Cora Bieß and Dagmar Nolden, Berghof Foundation
Please note: You can register for one or both sessions via Eventbrite. With your registration you will receive the access link to Zoom opening 5 minutes before the event.
This event will take place in English and French.
We are very much looking forward to involving you in the discussion. Please send us your questions via email hidden; JavaScript is required prior to the event or join the conversation live on Twitter.

Please note that the event will be recorded using the cloud-based recording tool within the Zoom.us platform (using cloud servers based in the U.S.), to be published on the Berghof Foundation's website and social media channels for external communications purposes. You can find the Berghof Foundation's data protection notice here. If you have questions, please feel free to contact the Berghof Foundation's Data Protection Officer (data.protection@berghof-foundation.org).
Background on the manual
'Peace Education meets Religion: Manual for Multipliers´ offers a collection of 18 basic and in-depth peace education methods for application in and between religious communities around the world.
It seeks to encourage and support experienced (faith-based) multipliers who intend to strengthen the peace potential of religions by inspiring and training interested persons and groups through peace education.
The joint exploration of the three questions below by Berghof Foundation, its partners and the numerous multipliers form the manual's basis and guided its development:
What needs to be considered in theory and practice for integrating religions' peace-oriented values into peace education activities and programmes?
How can peace education provide inspiration and encouragement to faith-based actors around the world for dealing with (religiously connoted) conflicts in a constructive way and for strengthening their action for peace?
What can be done to support the development of a worldwide community of faith-based multipliers who use peace education methods in their respective contexts?
The manual will be available in five languages: Arabic, English, French, German, and Hebrew.
Read more about the project.
The manual and project were realised with the support of the Religion and Foreign Policy Division of the German Federal Foreign Office.
50 Years Berghof Foundation

The Berghof Foundation is marking its 50th anniversary in 2021. This event is part of a series of events we are holding throughout the year to reflect on past and current peacebuilding successes and challenges. The events will identify and look at trends in order to develop tactics that will ensure our efforts towards sustainable peace together with our partners remain effective in the years to come. Find out more on our website and sign up for our newsletters or follow us on Twitter to stay up to date about our anniversary programme.
---
Media contact
Florian Lüdtke
Media and Communications Manager
+49 (0) 177 7052758
email hidden; JavaScript is required