FEATURE | 21 Jul 2022
The future of transitional justice
How the field can remain effective in challenging times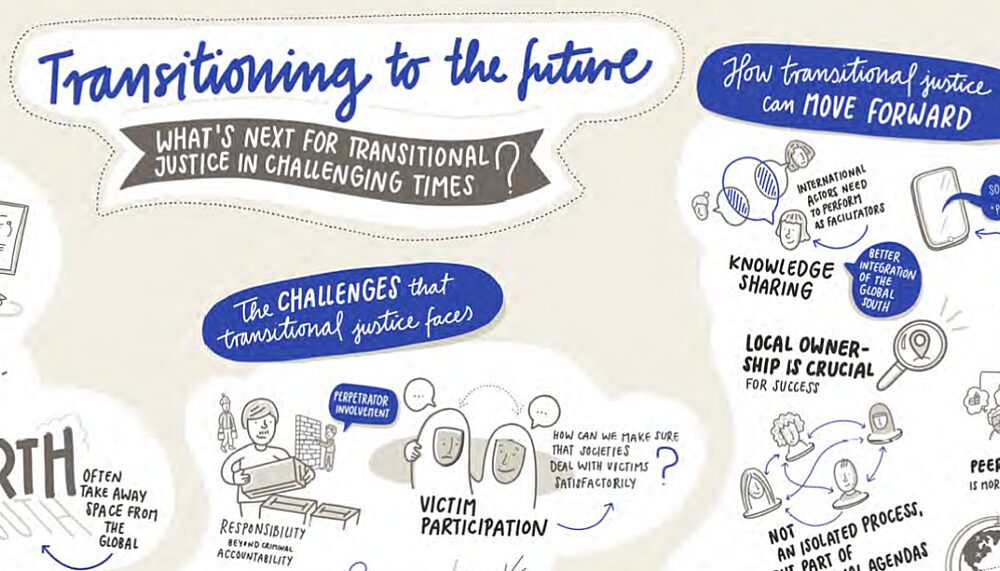 During our first 'dialogue on transitional justice' we addressed how practitioners can effectively respond to the many challenges transitional justice faces today.
---
Russia's invasion of Ukraine has been a stark reminder that many authoritarian regimes continue to perpetrate large-scale human rights violations. At the same time, recent years have seen countries around the globe attempting to confront their violent and colonial pasts, albeit with mixed results. This makes transitional justice processes – aimed at acknowledging, addressing and transforming such injustices – as relevant as ever.
Yet, despite having made significant progress in the past three decades, the field of transitional justice still faces many challenges, from finding ways to ensure effective victim participation, ensuring local ownership and context-sensitivity to ideological divisions at the multilateral level. How can and should the field of transitional justice move forward to remain relevant and to adequately respond to challenging contexts? On 5 July the Global Learning Hub for Transitional Justice and Reconciliation, a joint initiative of the Berghof Foundation and the German Ministry for Economic Development and Cooperation, invited Pablo de Greiff, Mô Bleeker and Habib Nassar to a dialogue on this question.
The participants identified several issues that the field of transitional justice urgently needs to address. Mô Bleeker pointed out that better ways of dealing with the perpetrators of human rights violations still need to be found. "How can we ensure that perpetrators, be it collective or be it individuals, fully acknowledge the facts and take responsibility", she asked, "without only relying on criminal accountability?" Habib Nassar critically reflected on the booming "transitional justice industry", through which actors from the global North have taken over the field. This comes at a cost for local actors, who often lack the funding and space to operate successfully.
According to Mr. Nassar, transitional justice risks becoming irrelevant for locally affected communities. Ms. Bleeker concurred, stressing that transitional justice actors are often not sufficiently attuned to local needs, fail to integrate traditional or indigenous approaches to justice, and rely on "one-size-fits-all" solutions. Pablo de Greiff argued that a key obstacle to the success of transitional justice is the selectivity of countries in implementing international legal obligations. For instance, Mr. de Greiff observed that "some of the Northern countries that are so enthusiastic about accountability in Ukraine are more than lukewarm with respect to accountability concerning crimes that they themselves may have committed".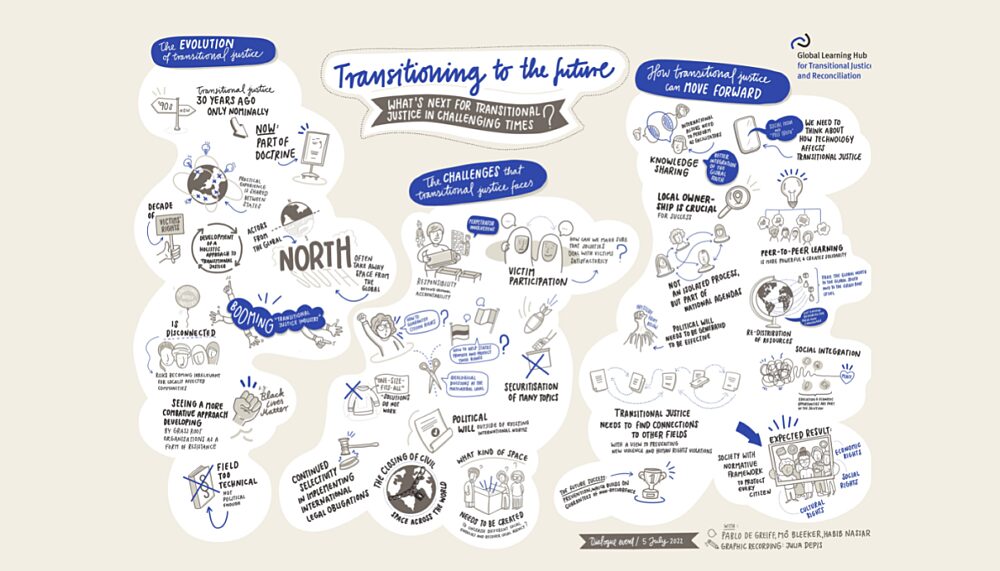 In light of these challenges, some key recommendations on how to move transitional justice processes forward emerged. Mô Bleeker highlighted that political will needs to be generated for transitional justice to have a positive impact, which is most effectively achieved by bottom-up pressure from grass root movements. She also urged international transitional justice practitioners to act as facilitators rather than experts, for instance by promoting dialogue between victim groups and civil servants. Similarly, Habib Nassar contended that knowledge-sharing and mutual learning between the global North and global South is essential. "There is a need to incorporate in any knowledge-sharing project all the knowledge that is being created at the grass roots level" Mr. Nassar emphasised.
Pablo de Greiff furthermore urged transitional justice practitioners to pursue connections to other fields, such as sustainable economic development, civic education or security policy . Ultimately, he argued that the future of transitional justice depends on realising a holistic notion of prevention that "includes not just technological fixes, that does not exclude the very important preventative role of civil society organisations and that includes political, cultural and personal dimensions".
If you want to learn more about this event and how transitional justice can successfully move forward, you can access the full video recording of the event, as well as a graphic recording summarising the main arguments.

---
Media contact
Florian Lüdtke
Media and Communications Manager
+49 (0) 177 7052758
email hidden; JavaScript is required