EVENT
Video: Gender-climate-conflict
Key considerations for sustainable peace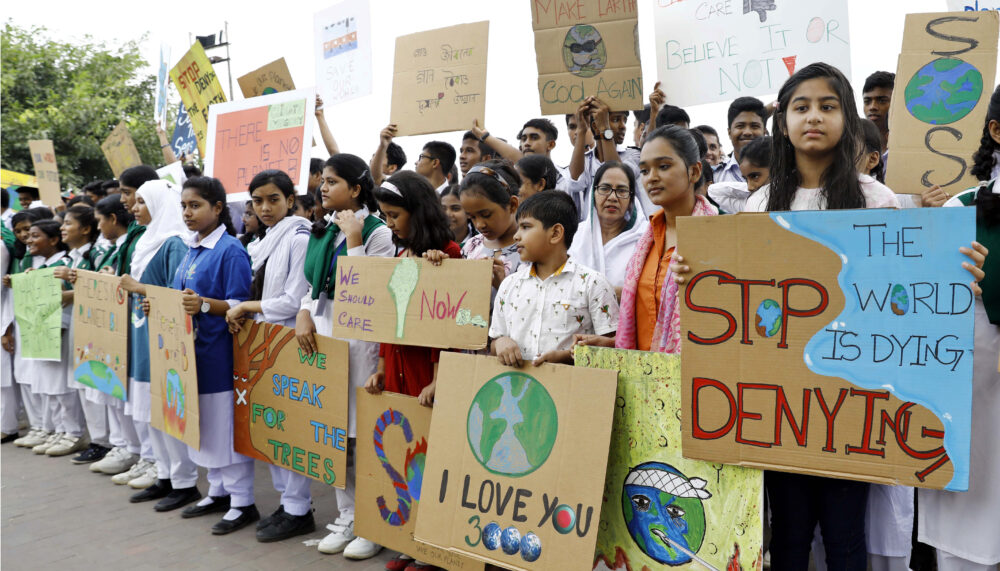 Watch a video from our online panel on the triple nexus and the role of international organisations.
---
Why does gender matter when looking at climate change and conflict? Why is it so often overlooked? What can international organisations do to ensure this nexus is part of their programming?

These questions remain, especially when considering climate challenges in conflict contexts, despite, the women, peace and security (WPS) agenda clearly spelling out the important role of women and girls in conflict transformation. In addition, United Nations Security Council Resolution 1325 takes into account which gendered dynamics come into play in violent conflicts and why female peacebuilders are necessary to create sustainable and inclusive peace processes. There is also a growing need to better understand how climate change – from global warming, desertification and extreme weather events to rising sea levels, forest and agricultural degradation – affects security, prosperity and demography in conflict-affected and post-conflict areas. Particular attention needs to be paid to how climate change affects the ability of women and girls to participate in peace processes. By considering these topics together, our event wants to shed light on the role of gender amid climate change and conflict.

This 'triple-nexus' of gender, climate and conflict is often overlooked when responses to environmental challenges in conflict-affected areas are being developed. Inspired by the theme of this year's International Women's Day – "Gender equality today for a sustainable tomorrow" –, we are inviting a line-up of international experts to discuss how peacebuilding organisations can better address these complex challenges and how we can reach a comprehensive gender and climate sensitive approach to conflict transformation.
---
Gender-climate-conflict
Key considerations for sustainable peace
Wednesday, 30 March 2022
15:00 CEST (ics, ical)
Online event via Zoom

---
Welcome remarks: Hannah Neumann, Member of the European Parliament, Member of the Advisory Council of the Berghof Foundation and Andrew Gilmour, Executive Director, Berghof Foundation.
Speakers:
Sofia Calltorp, Swedish Ambassador for Gender Equality and Co-ordinator of the Feminist Foreign Policy
Fidaa Haddad, Forestry Officer, Dryland Program, Food and Agriculture Organization of the United Nations
Ubah Hussain Dhiblawe, Minister of Women and Human Rights Affairs in Galmadug State of Somalia
Chantal de Jonge Oudraat, Fellow at Woodrow Wilson International Center for Scholars, Member of the Board of Directors of "Women In International Security"
Manana Kochladze, Co-founder and Chair, Green Alternative
Moderation: Evelyn Pauls, Berghof Foundation.

50 Years Berghof Foundation

The Berghof Foundation marked its 50th anniversary in 2021. The special event series we were holding throughout the year to reflect on past and current peacebuilding successes and challenges, is continuing in the year 2022. The events will identify and look at trends in order to develop tactics that will ensure our efforts towards sustainable peace together with our partners remain effective in the years to come. Find out more on our website and sign up for our newsletters or follow us on Twitter to stay up to date about our anniversary programme.
Please note that the event will be recorded using the cloud-based recording tool within the Zoom.us platform (using cloud servers based in the U.S.), to be published on the Berghof Foundation's website and social media channels for external communications purposes. You can find the Berghof Foundation's data protection notice here. If you have questions, please feel free to contact the Berghof Foundation's Data Protection Officer (data.protection@berghof-foundation.org).
---
Media contact
Florian Lüdtke
Media and Communications Manager
+49 (0) 177 7052758
email hidden; JavaScript is required