EVENT
Video: Exploring pathways to peace for Ukraine
Options for peacebuilding in the context of the ongoing war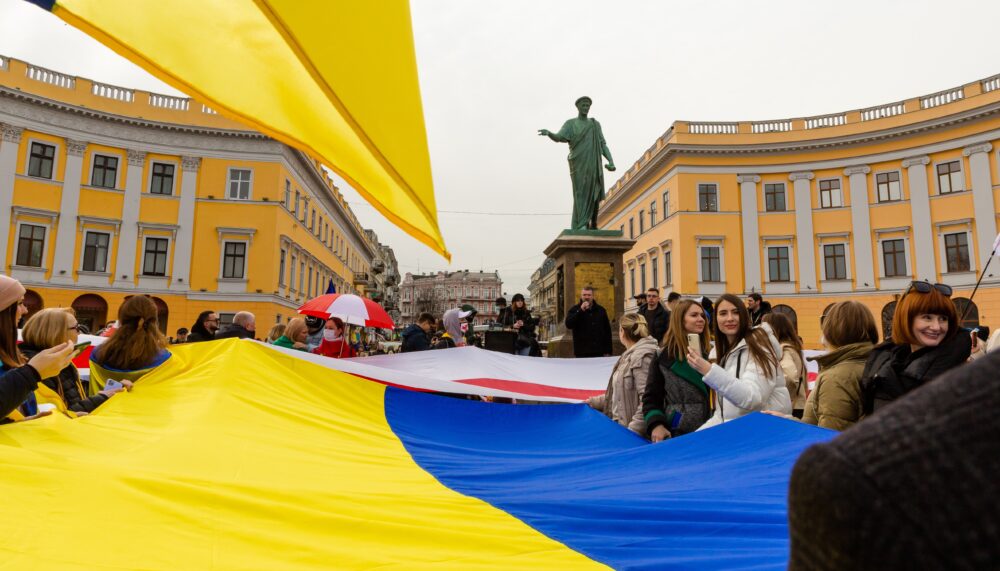 Watch our online discussion on possible solutions for the conflict in Ukraine.
---
The Russian invasion of Ukraine at the end of February constitutes one of the most violent aggressions in Europe since the 1940s. It has been condemned by large parts of the international community and resulted in significant policy shifts in Germany and other European countries. Negotiations between the Russian and Ukrainian governments have so far remained without tangible results.
To support the people in Ukraine and to find peaceful solutions, it is vital to identify entry points for conflict transformation.
At this event, we aim to gain a better understanding of how peacebuilding approaches can contribute to an improvement of the current situation. How can conflict transformation contribute to de-escalation and how should peacebuilders respond to the rapidly increasing militarisation? What are the options for a peaceful settlement and what are their implications for Ukraine, Europe and the world? How should peacebuilding actors approach work in Ukraine in the short, medium and long term? These are just a few questions that peacebuilders should keep in mind in their response to the war in Ukraine. At our event, we aim to deepen the discussion on these important issues.
---
Exploring pathways to peace for Ukraine
Options for peacebuilding in the context of the ongoing war
Thursday, 07 April 2022
15:00 CEST (ics, ical)
Online event via Zoom
---
Online discussion with:

Kateryna Busol, Lawyer specialised in International Humanitarian Law, Fellow, Leibniz Institute for East and Southeast European Studies


Lamberto Zannier, former OSCE Secretary General

Jörg Lau, Foreign Editor, Die Zeit, German Newspaper
Nataliya Gumenyuk, Founder and CEO, Public Interest Journalism Lab
Moderation: Andrew Gilmour, Executive Director, Berghof Foundation

50 Years Berghof Foundation

The Berghof Foundation marked its 50th anniversary in 2021. The special event series we were holding throughout the year to reflect on past and current peacebuilding successes and challenges, is continuing in the year 2022. The events will identify and look at trends in order to develop tactics that will ensure our efforts towards sustainable peace together with our partners remain effective in the years to come. Find out more on our website and sign up for our newsletters or follow us on Twitter to stay up to date about our anniversary programme.
Please note that the event will be recorded using the cloud-based recording tool within the Zoom.us platform (using cloud servers based in the U.S.), to be published on the Berghof Foundation's website and social media channels for external communications purposes. You can find the Berghof Foundation's data protection notice here. If you have questions, please feel free to contact the Berghof Foundation's Data Protection Officer (data.protection@berghof-foundation.org).
---
Media contact
Florian Lüdtke
Media and Communications Manager
+49 (0) 177 7052758
email hidden; JavaScript is required