EVENT
Vídeo: Chile constituyente
Panel sobre experiencias internacionales de diálogos y procesos constituyentes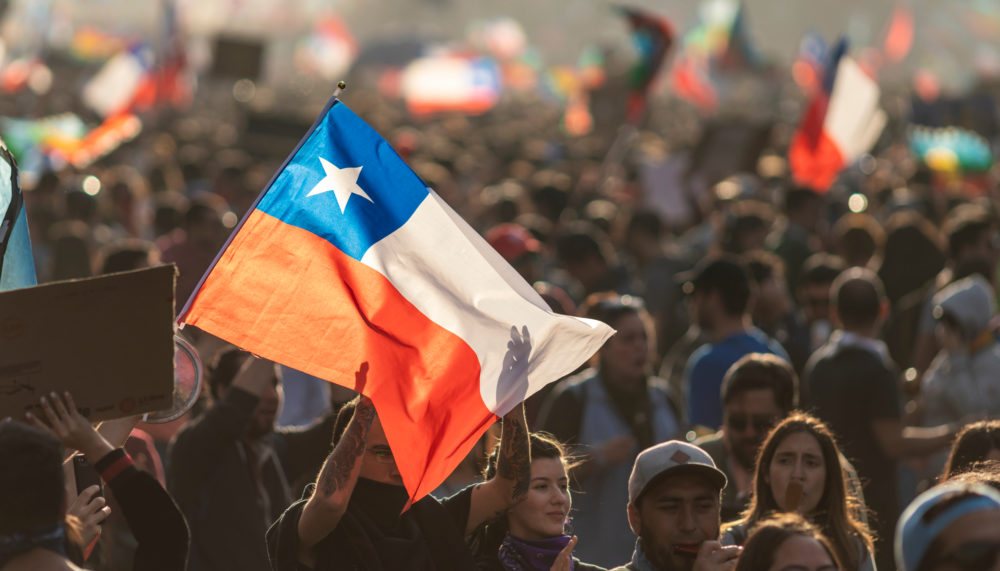 Un intercambio de pares sobre los procesos constituyentes con el Centro Nansen.
---
EN: Due to technical isssues, this event will take place in Spanish only. An English video of the event will be made available shortly after. We apologise for the inconvience.
ES: Este evento se celebrará únicamente en español. Poco después se pondrá a disposición un vídeo en inglés del evento. Haga clic sobre "ES" para obtener una versión en español del texto del evento.
El proceso constituyente de Chile es histórico y único, y hay experiencias de otros países que pueden servir para reforzar su éxito. El Centro Nansen y la Fundación Berghof invitan a un panel internacional para contribuir e inspirar a las y los convencionales y personas interesadas a un intercambio de experiencias con expertas y expertos de países que han tenido procesos similares.
---
Chile constituyente
Panel sobre experiencias internacionales de diálogos y procesos constituyentes
17 de Junio 2021
12:00 CLT (Santiago de Chile) | 18:00 CEST (Berlin)
Virtual event (Youtube Stream)
---
Panel

Dos panelistas comparten sus experiencias en ser parte de procesos constituyentes, no solamente en su país, sino también de otros procesos alrededor del mundo:
Dhamir Mannai, Túnez. Fue diputado de la Asamblea Nacional de Túnez y del Parlamento Árabe. Como miembro de la Asamblea Nacional Constituyente, participó en la redacción de la nueva Constitución, en la que introdujo dos artículos sobre el clima, participó activamente en los procesos políticos transformadores y en el Diálogo Nacional de Túnez. Ha sido parte de esfuerzos de paz y diálogo nacional en Ucrania, Afganistán, Etiopía, Sudán del Sur y Siria. En la actualidad, es el responsable de la Estrategia Nacional de Ciberseguridad de Túnez.

Christina Murray, Sudáfrica. Fue parte de un grupo de siete expertos que asesoraron a la Asamblea Constitucional de Sudáfrica en la redacción de la Constitución de este país entre 1994 y 1996. Es miembro del Equipo de Apoyo a la Mediación del Departamento de Asuntos Políticos de las Naciones Unidas y es profesora emérita. Se enfoca en las constituciones y el reparto del poder. En cargos anteriores, asesoró sobre Yemen, Sudan y Lesotho, fue miembro de la Comisión Constitucional de Fiji, miembro del Comité de Expertos de Kenia nombrado por el Parlamento de ese país para redactar una nueva Constitución.
El evento es presentado por Alfredo Zamudio, Centro Nansen y Barbara Unger, Fundación Berghof.
50 Años Berghof Foundation

La Fundación Berghof está conmemorando su 50 aniversario en el año 2021. Este evento es parte de una serie de eventos que se organizarán a lo largo del año para reflexionar sobre los éxitos y los retos pasados y presentes en la consolidación de paz. Estos eventos tienen como objetivo identificar y analizar las tendencias existentes que nos permitan continuar nuestros esfuerzos en la implementación de una paz sostenible y efectiva conjuntamente con nuestros socios. Puede descubrir más sobre nuestras diferentes iniciativas en nuestra página web y suscribirte a nuestra newsletter o seguirnos en Twitter para estar al día de nuestro calendario de eventos para el aniversario.

---
Media contact
Florian Lüdtke
Media and Communications Manager
+49 (0) 177 7052758
email hidden; JavaScript is required