3 Nov 2015
The Paradox of Peace in Sudan and South Sudan: Why the Political Settlements Failed to Endure
IPS Paper No. 15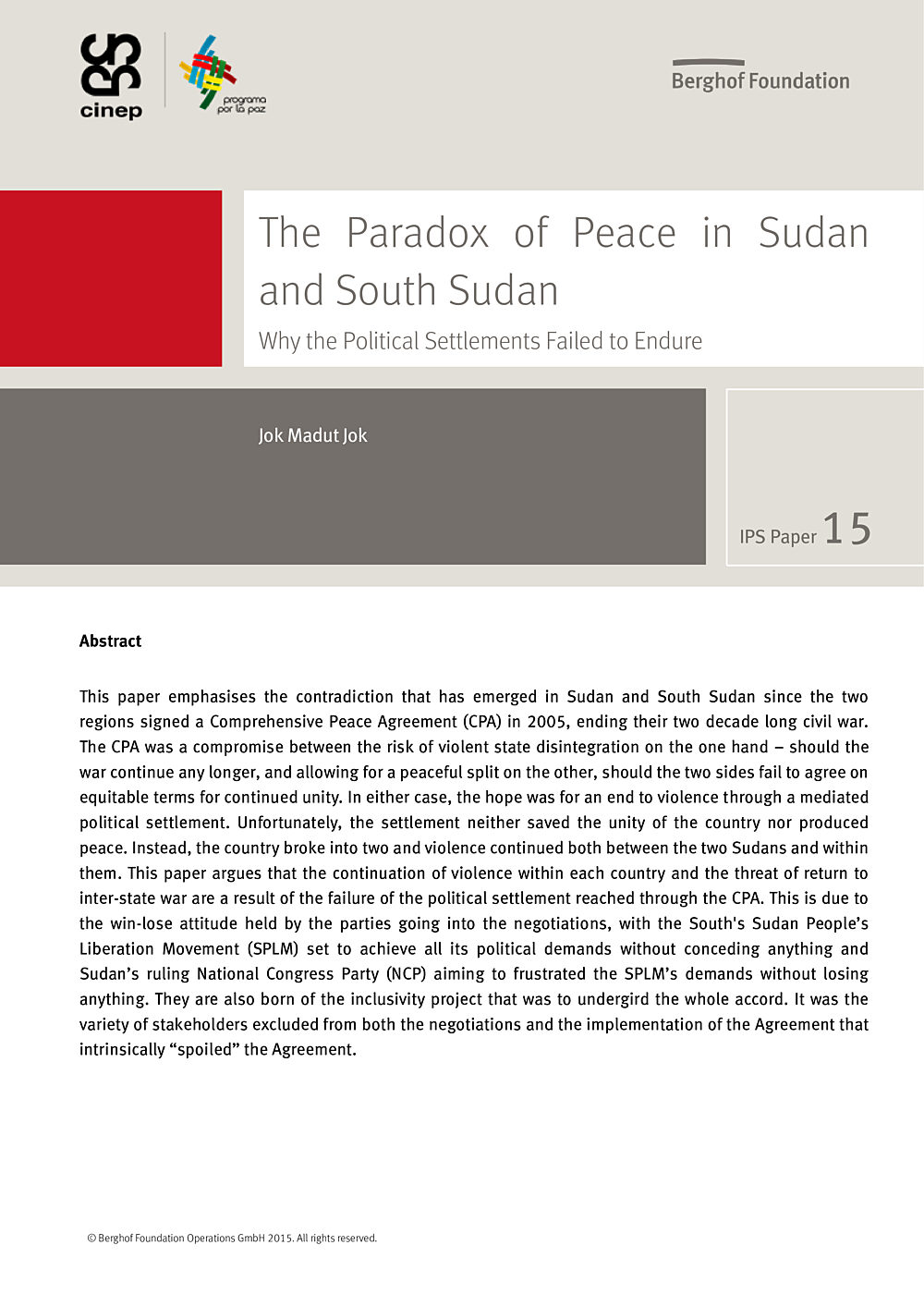 This paper emphasises the contradiction that has emerged in Sudan and South Sudan since the two regions signed a Comprehensive Peace Agreement (CPA) in 2005, ending their two decade long civil war. The CPA was a compromise between the risk of violent state disintegration on the one hand –should the war continue any longer, and allowing for a peaceful split on the other, should the two sides fail to agree on equitable terms for continued unity. In either case, the hope was for an end to violence through a mediated political settlement. Unfortunately, the settlement neither saved the unity of the country nor produced peace. Instead, the country broke into two and violence continued both between the two Sudans and within them.
---
Authors
Jok Madut Jok
This paper argues that the continuation of violence within each country and the threat of returning to inter-state war are a result of the failure of the political settlement reached through the CPA. This is due to the win-lose attitude held by the parties entering into the negotiations, with the South's Sudan People's Liberation Movement (SPLM) set to achieve all its political demands without making any concessions and Sudan's ruling National Congress Party (NCP) aiming to deny the SPLM's demands without giving up anything themselves. They are also born of the inclusivity project that was to undergird the whole accord. It was the variety of takeholders excluded from both the negotiations and the implementation of the Agreement that intrinsically "spoiled" the Agreement.
Thanks for your interest
If you find this publication useful, please consider making a small donation. Your support enables us to keep publishing.