8 Sep 2016
The (Not So) New Challenge of Responding to Armed Social Violence with Peacebuilding
Berghof Handbook Dialogue Series No. 12 - comment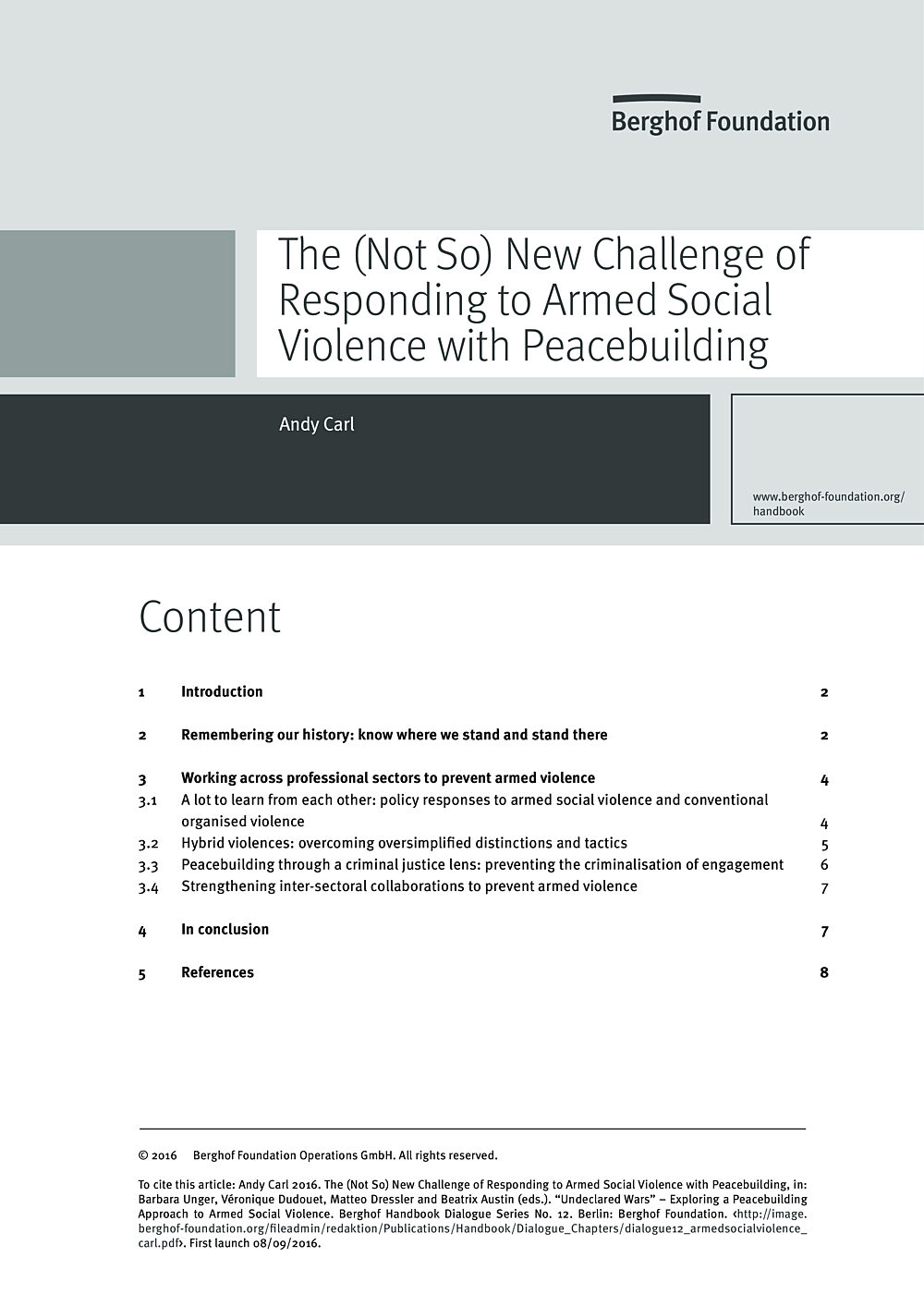 Reading the excellent article by Bernardo Arévalo de León and Ana Glenda Tager on armed social violence felt like a long walk in the mountains: challenging, invigorating – and definitely worth the effort. The three strands entwined in their rigorous discourse assert that armed social violence (including criminal and inter-communal violence) is a phenomenon distinct from conventional armed violence and different again from individual and terrorist violence – although they choose not to say much about these latter spheres. The second strand in their argument is that our developing field of peacebuilding has relevant experiences to offer to complement traditional criminal justice responses. Then they move to a call for a different strategic, systemic and operational response, one that fundamentally engages with the complex natures of social and conventional armed conflicts.
---
Authors
Andy Carl
As an old timer with over twenty years of experience in the relatively new professional field of peacebuilding, I commend the authors for helping to bring to our sector more considered attention of such innovative practice. I agree with their main arguments; however, I question the premise of the relative "newness" of such engagement for the field. Both endogenous and international organisations focusing on preventing, ending and resolving violent conflicts have always been faced with complexities. The multiple and overlapping domains of violent conflict have long posed response and mandate challenges. How to better meet these challenges is indeed the prime operational task ahead.
Thanks for your interest
If you find this publication useful, please consider making a small donation. Your support enables us to keep publishing.