13 Mar 2019
Strategic thinking and conflict transformation: A reflection on and from the Basque Country
Transitions Series No. 14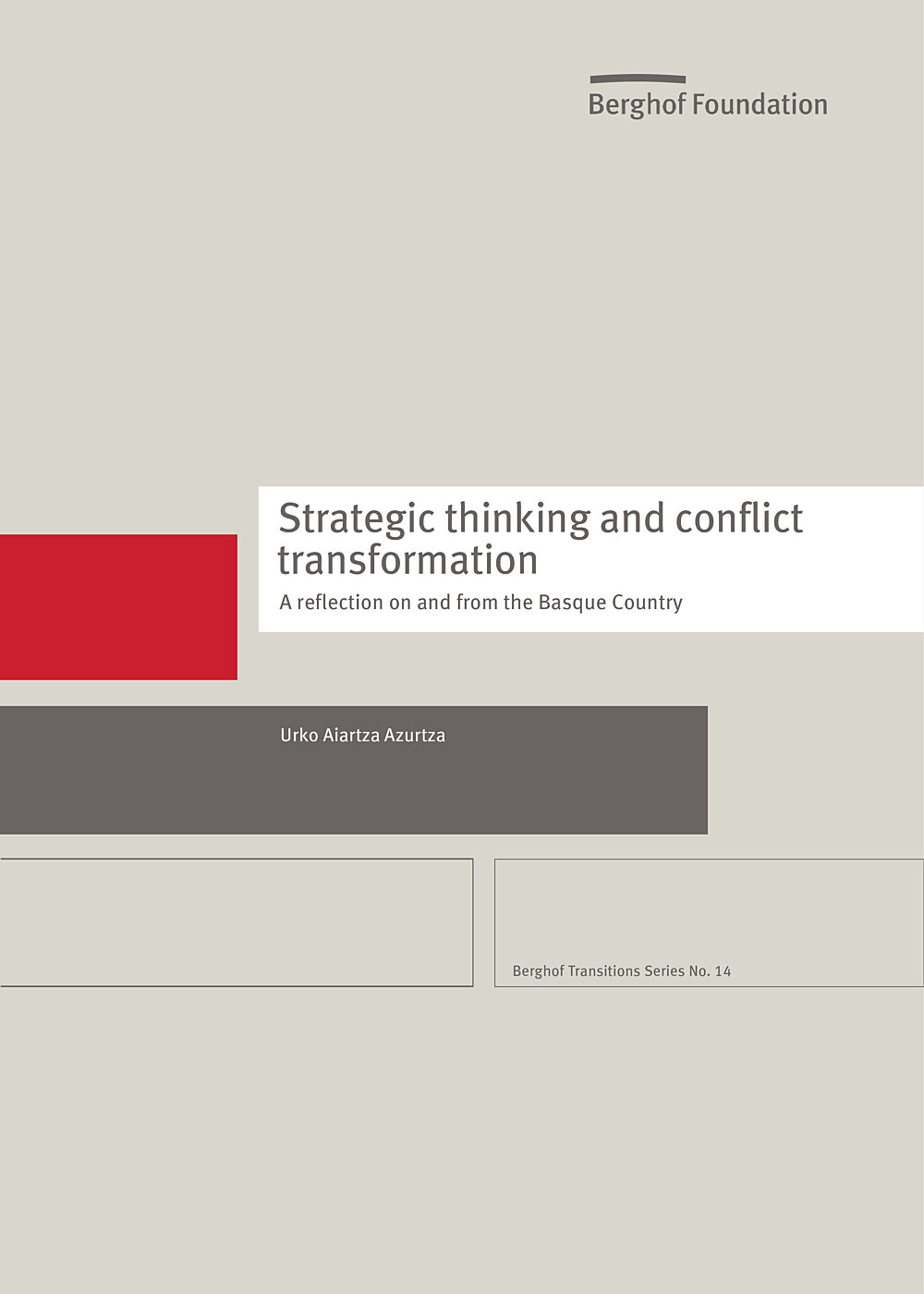 The disarmament and dissolution of the Basque separatist group Euskadi Ta Askatasuna, better known under its acronym ETA, is a unique example of a creative and unilateral transition to end armed conflict. After the collapse of the negotiation process between the Spanish government and ETA in 2006, an internal debate within the Basque pro-independence movement led to a change of strategy. The new direction eventually resulted in the disarmament and dissolution of ETA in May 2018. How did it come about and what lessons can be drawn from this case for other conflicts? This report looks at these questions in detail, based on in-depth interviews with actors who took part in this democratic transition process as well as on the direct involvement and experiences of the author himself. Urko Aiartza previously coauthored another Transition Series report on the Basque peace process, covering the 1958-2007 period and the various attempts at negotiation between ETA and the Spanish Government (Aiartza and Zabalo 2009).
---
Authors
Urko Aiartza Azurtza
This report updates it, while concentrating more specifically on internal strategic decision-making, and highlighting the innovative aspects of the current peace process. Following an introductory section describing the need for creative, strategic thinking to resolve so-called intractable conflicts, Section 2 briefly references the collapse of the 2006/07 negotiation process between ETA and the Spanish Government, as this period is analysed more deeply in the aforementioned work. Section 3 focuses on the internal debate and the paradigm shift promoted by the Abertzale Left and its consequences. It describes the idea of unilaterality and its potential capacity to transform interparty dynamics.
Section 4 focuses on the consequences of the previous strategic shift, mainly the end of the armed campaign and the opening of a possible scenario for talks. Section 5 analyses the stalemate that the transformation entered after the arrival in Government of the conservative Popular Party. It also analyses the ability of the Abertzale Left to try to overcome this stalemate through the opportunities opened by the new paradigm, and reviews the role of civil society in this new scenario. Section 6 focuses on ETA's decision to end the armed campaign and the latest developments, as logical final steps of the paradigm shift. Finally, in Section 7 the author highlights some relevant lessons that can be learnt from this unique process.
Thanks for your interest
If you find this publication useful, please consider making a small donation. Your support enables us to keep publishing.