8 Sep 2016
From War-Making to Peacebuilding? Opportunities and Pitfalls of an Integral Approach to Armed Social Violence in Mexico
Berghof Handbook Dialogue Series No. 12 - comment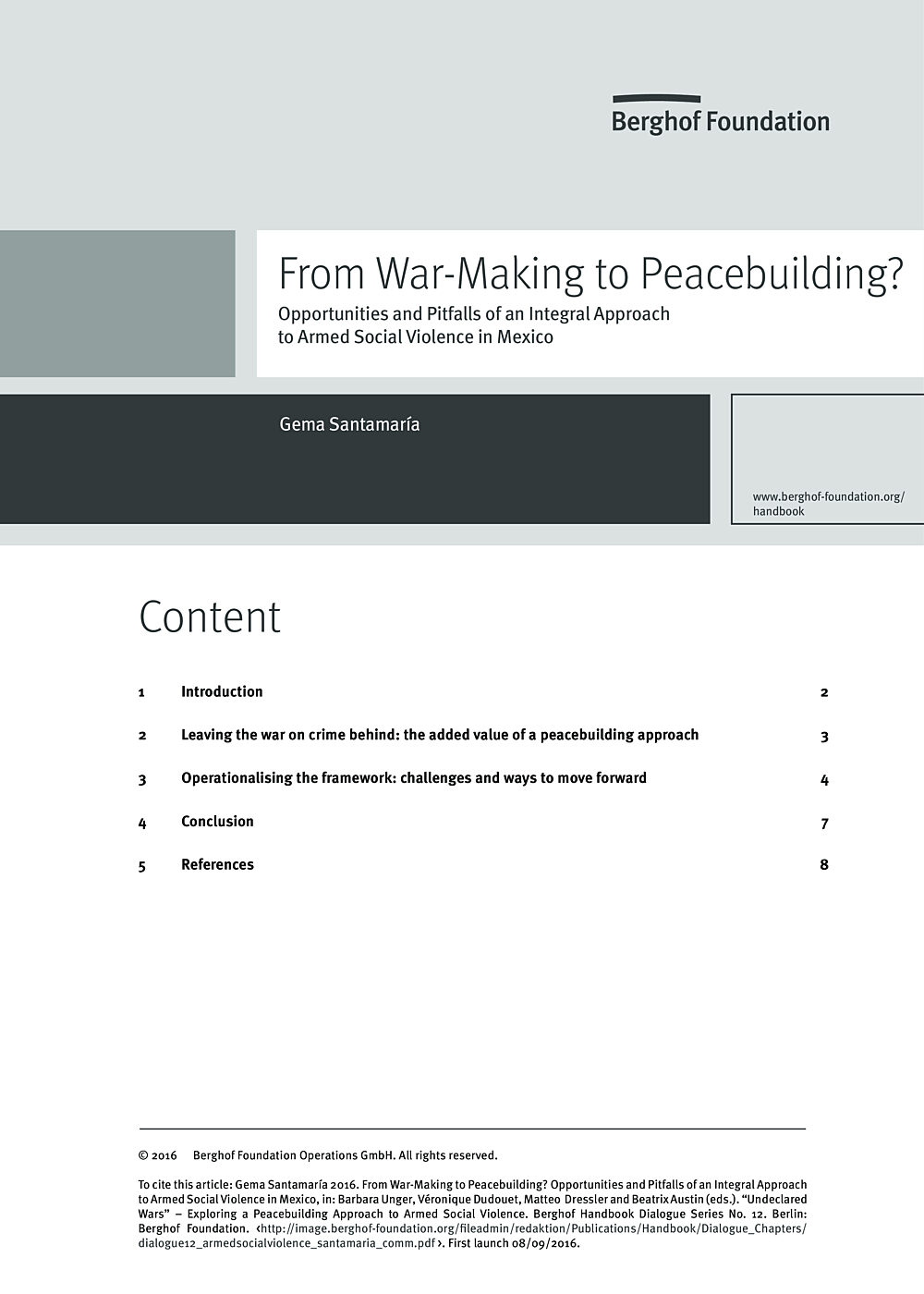 The essay by Bernardo Arévalo de León and Ana Glenda Tager constitutes an important and welcome contribution to a much-needed dialogue on alternative ways to address non-conventional armed violence in Latin America. It offers a critical reference point to move away from the militarised and repressive strategies that have been privileged by most Latin American countries, towards an integral approach that aims to create the necessary conditions to build peace in a feasible and sustainable manner (Arévalo de León/Tager 2016, 20-21). The following response is based on my own research dealing with the sociological and historical underpinnings of armed social violence in Mexico and Central America. It also builds on my experience as a practitioner working within a citizen security framework geared towards the adoption of more integral and sustainable approaches to violence in Latin America.
---
Authors
Gema Santamaría
In this response I argue that the peacebuilding approach suggested by Arévalo de León and Tager provides a valuable framework to think about the pertinence of adopting holistic, multi-sectoral, and participatory approaches to address the root causes of armed social violence. It represents a step up from a citizen security perspective that tends to focus on protecting individuals and their communities from violence and crime, rather than on the means to rebuild the social and institutional fabric of communities impacted by non-conventional armed violence. However, I argue that this approach is limited in terms of its capacity to provide a working roadmap to operationalise and strategise these ideas on the ground. This limitation may be both necessary and intrinsic to a peacebuilding approach that seeks to be context-specific – as opposed to generic – and that envisions itself as the end result of a participatory and dialogic process amongst different actors on the ground. It is, nonetheless, a limitation that may hinder this approach's ability to move from the theoretical to the practical, i.e. the operational level.
Thanks for your interest
If you find this publication useful, please consider making a small donation. Your support enables us to keep publishing.