13 Sep 2022
Attentive, assertive, supportive
EU support to nonviolent movements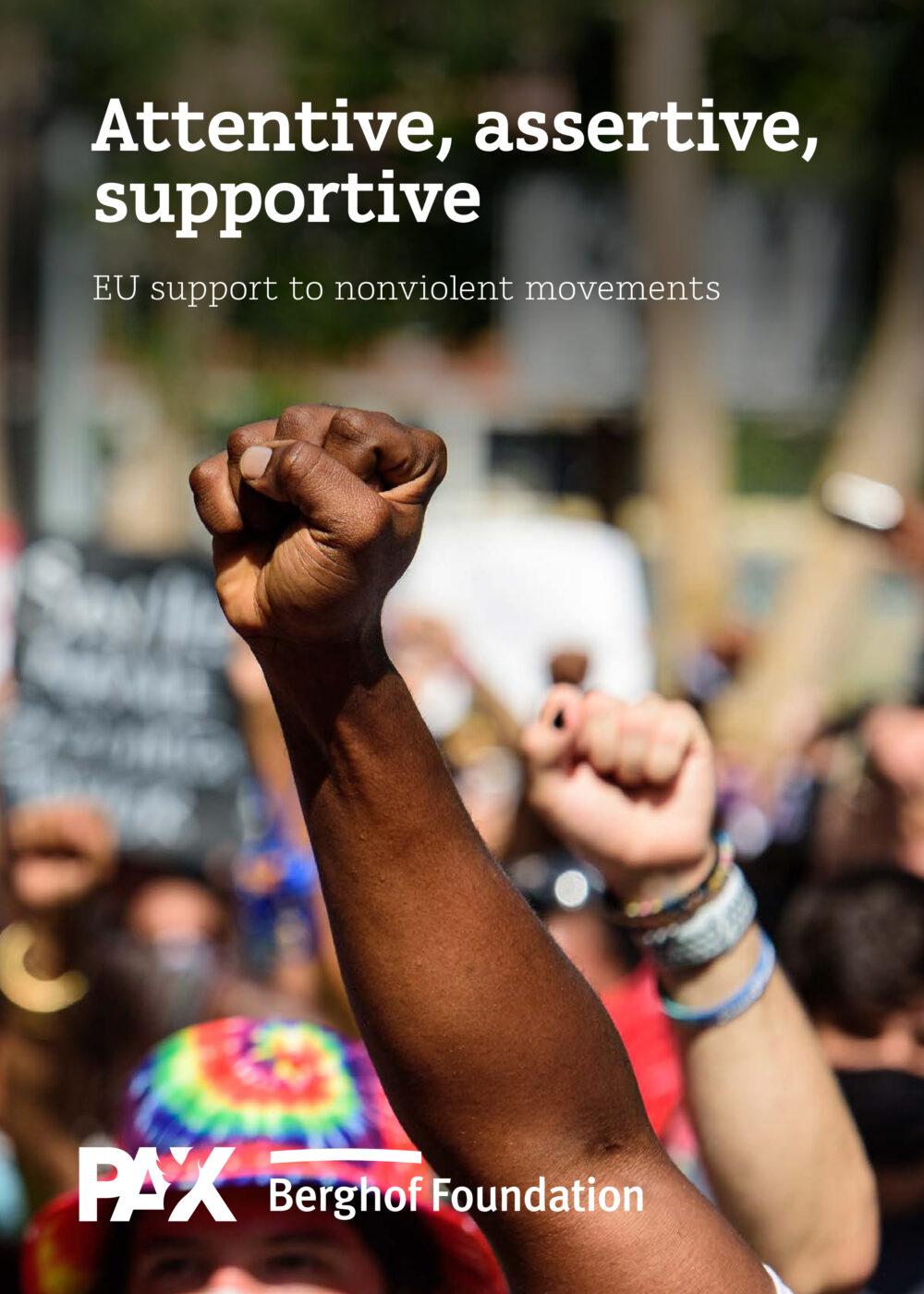 Recent years have seen a dramatic increase of mass nonviolent movements around the globe, taking the street and the online space to demand radical reforms towards greater democracy, justice, peace or equal rights. External support to nonviolent movements can help prevent violent escalation, mitigate repression, protect civic space, facilitate conflict transformation and foster sustainable peace. In a global context where the shrinking of civic space is coupled with the proliferation of protests, the European Union needs to develop a strategy to deal with nonviolent movements consistently and effectively. This paper explores the role that different EU institutional actors can play in supporting nonviolent movements and puts forward some basic recommendations to develop a more coherent conceptual framework and factor peaceful protests into the EU's external action.
---
Authors
Sergio Rodríguez Prieto
Editors
Nico Plooijer, Véronique Dudouet
Over a decade ago, in 2009, the European Parliament commissioned a study to review the range of EU instruments available to support nonviolent civic movements. The study, called 'Nonviolent Civic Action in Support of Human Rights and Democracy', advocated for EU policies and instruments to become less state-centric and to improve their 'toolbox' for promoting 'democratisation from below'. Since then, much has happened in the field of nonviolent action, both as a field of research and its practical application by grassroots social movements worldwide - from the Arab revolutions and other pro-democracy uprisings to transnational mobilisations for gender equity or climate justice. On the other hand, the institutional and policy architecture of the EU had also evolved, opening new windows of opportunities for diplomatic, technical and financial assistance to civil society actors in third countries. Therefore, Berghof and PAX commissioned this report to take stock of these developments and start a policy dialogue process on effective ways for the EU to engage with and support nonviolent movements.
Thanks for your interest
If you find this publication useful, please consider making a small donation. Your support enables us to keep publishing.