30 Nov 2015
Recalling South Africa – Memory Work across Time and Space
Berghof Handbook Dialogue Series No. 11 - comment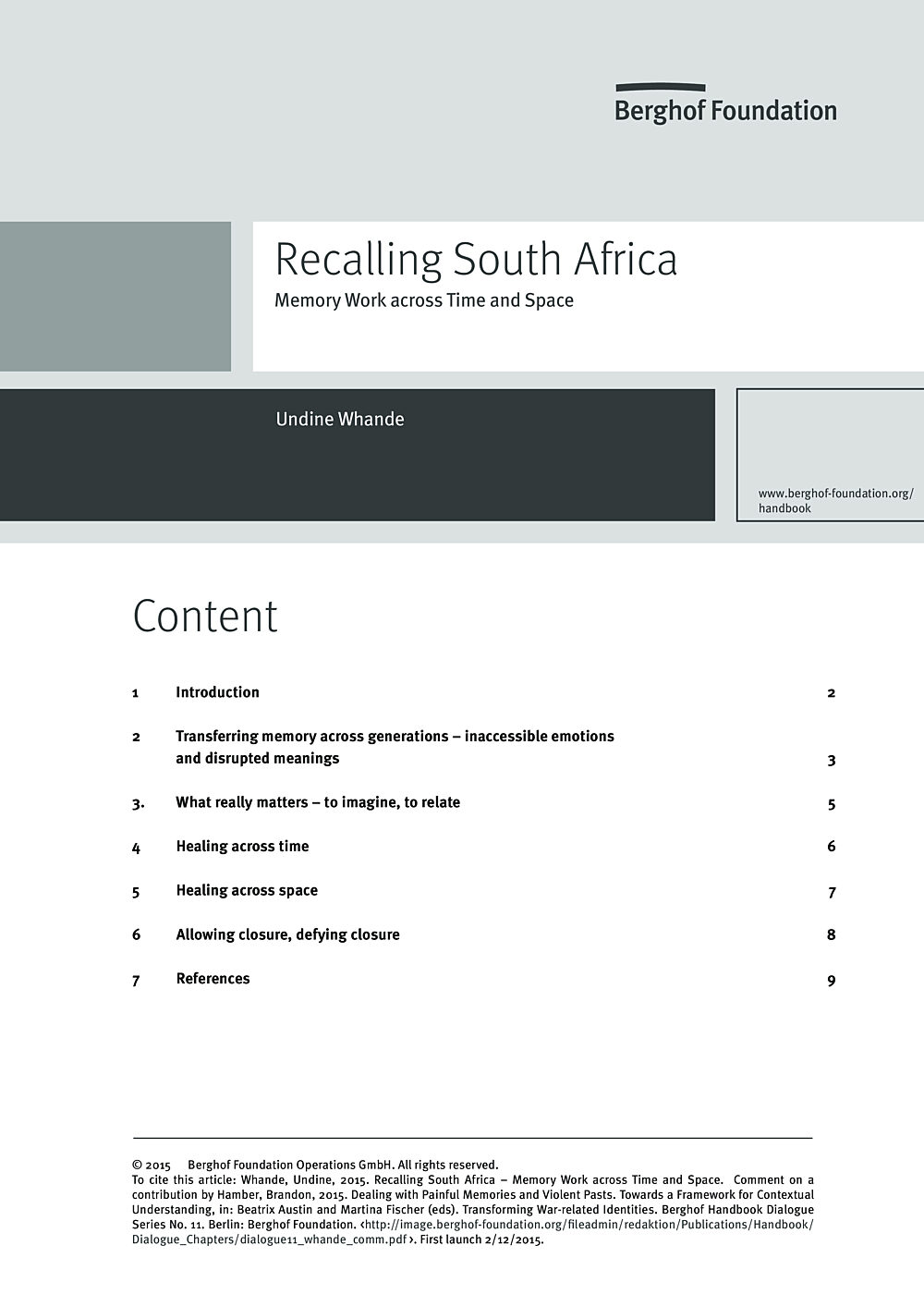 I remember well the time of the Truth and Reconciliation Commission (TRC). I had come to South Africa a few months before the start of the first hearing, as a "bright-eyed and bushy-tailed" twenty-something enthusiastic about witnessing and partaking in this time of transformation in the country. At that time I only knew South Africa from my youthful times of rebellion in the German anti-apartheid movement. I loved the sincerity and courage with which South Africans approached the task, even though it was clear from the start that this would be a tremendously painful exercise. I recall going to one of the first hearings of the TRC and being warmly welcomed when I shared my interest in memory work based on my experience of having led youth exchange visits to concentration camps in Poland and inter-generational dialogue projects in Germany.
---
Authors
Undine Whande
In a short space of time I came to know a set of widening circles of the people leading, working in, contributing to, and accompanying the TRC process. It was much the same people who stuck with it until the end and who patiently kept engaging in conversation with the never-ending stream of researchers and visitors coming in and out of South Africa at the time, wishing to somehow capture a piece of this extraordinary moment and process. Brandon Hamber was one of these dedicated contributors to the TRC process, and I have appreciated his work ever since because it stimulates questions that continue to intrigue me too, about how individuals' healing processes link to broader societal transformational agendas. I recall a number of conversations and seminars at the Centre for the Study of Violence and Reconciliation (CSVR) in which we debated how communities could be more involved, what a genuinely safe space would look like for telling stories of great harm, and how to stay out of "rescue mode" while being present to people who had lived through the enormous brutality of apartheid policy and practice.
Thanks for your interest
If you find this publication useful, please consider making a small donation. Your support enables us to keep publishing.