2 Dec 2015
Dealing with the Past in the Georgian-Abkhaz Conflict: The Power of Narratives, Spaces and Rituals
Berghof Handbook Dialogue Series No. 11 - comment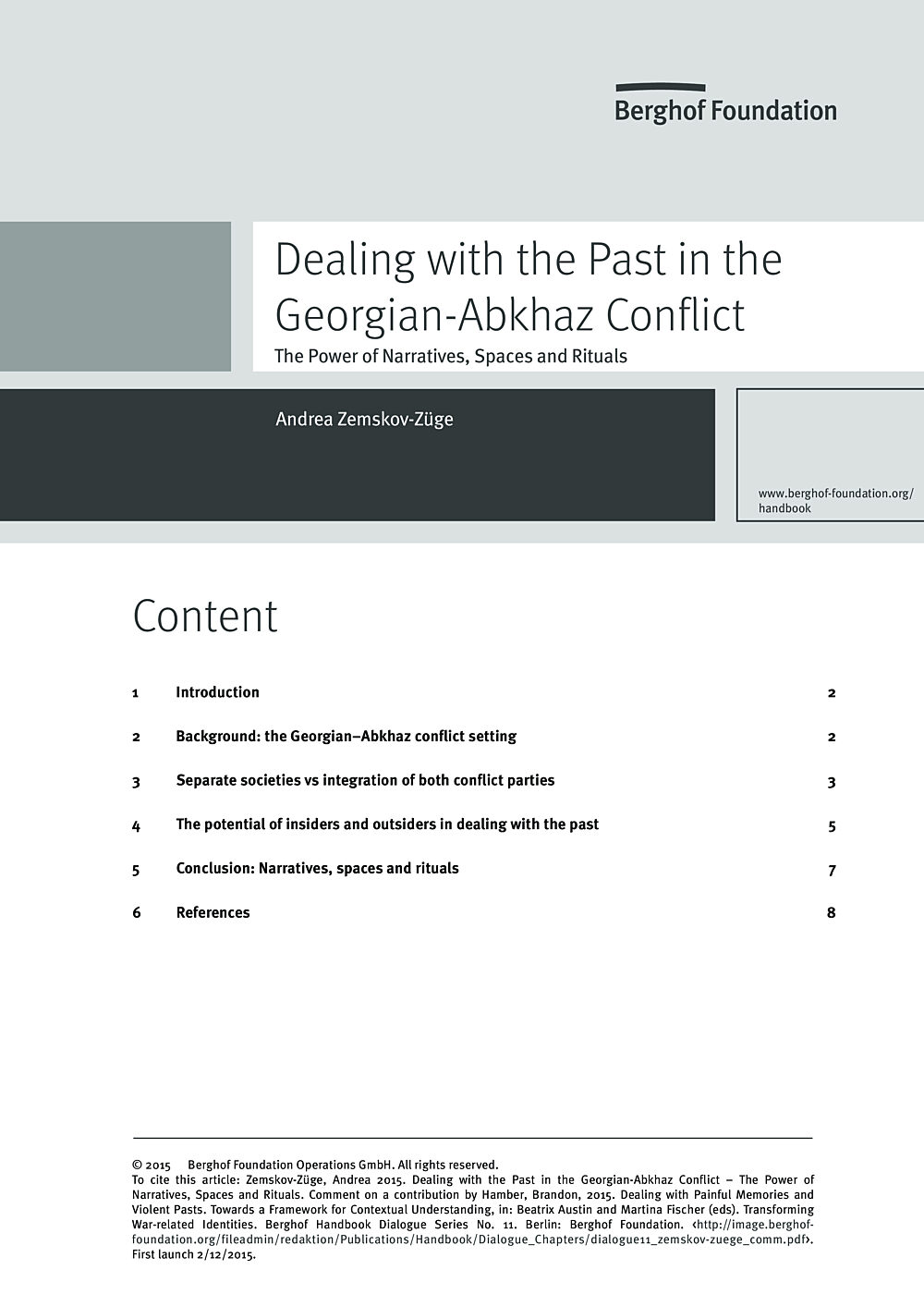 Brandon Hamber's essay addresses two important questions: "What is the role of different approaches for dealing with painful memories and violent pasts?" and "How do the different dimensions – interpersonal and intergroup relations, memories, and identities at the individual and collective level – relate to one another?" (Hamber 2015, 2). These questions open up a universe of additional topics related to the cultural context, societal preconditions and obstacles to dealing with the past in post-war societies. I read his remarks against the background of my field of work in the South Caucasus. Here I engage as a historian, having specialised in Soviet and post-Soviet war memory, and as a dialogue practitioner striving to make use of scientific concepts and findings for establishing a sound and resilient peacebuilding system in the region.
---
Authors
Andrea Zemskov-Zuege
Hamber's text inspired me to critically reflect on my own assumptions and preoccupations, and on the particular circumstances and political situation that frame my work in Georgia and Abkhazia. My comment will be developed in four steps. In the following – second – section I will give a short introduction to the Georgian–Abkhaz conflict setting. In the third section I will examine two main differences between Hamber's and my fields of work. One concerns the setting of peacebuilding work: whether perpetrators and victims have to live in close proximity to each other, or whether they live largely apart or even completely separated from each other. The other difference concerns the roles and repertoires of insiders compared to the potentials of external actors. I will outline some differences in the scope and reach of these actors. In the fourth section I will address several emerging issues that are useful for the practice of dealing with the past regardless of regional specifics and draw conclusions in the fifth and final section of this comment.
Thanks for your interest
If you find this publication useful, please consider making a small donation. Your support enables us to keep publishing.