3 Dec 2020
Creating Clarity in Conflict? Integrating Organisational Development into the Peacebuilding World
Handbook Article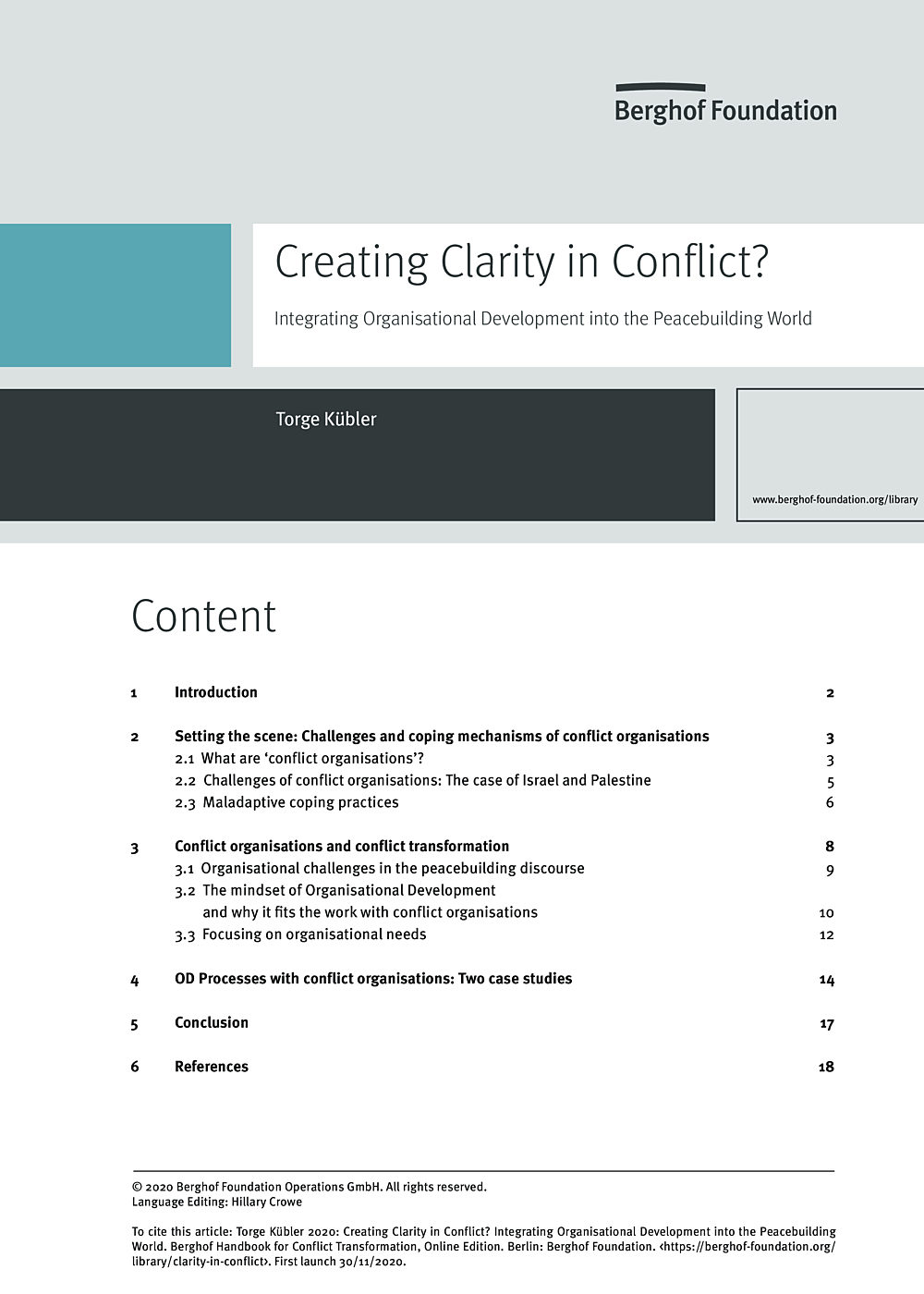 Organisations working in and on conflict face unique challenges that can impact their work and approaches on peacebuilding and conflict transformation. Do we know how to deal with them?
To improve the development of mechanisms and processes that suit the complex nature of peacebuilding endeavors, this article examines how Organisational Development (OD) can contribute to strategies that help to overcome organisational challenges.
---
Authors
Torge Kübler
When it comes to organisational aspects, the literature on peacebuilding voices some profound criticisms: that organisations working internationally in the field of peacebuilding are not taking into account local capacities or local needs, are incapable of learning, are bureaucratically structured and superimpose Western systems on societies and organisations in conflict (Autesserre 2014, Goetze 2017, Campbell 2018). Against this backdrop, tools created for organisational capacity development follow a linear understanding of development that is ill-suited to the complex nature of peacebuilding undertakings, demanding quantifiable outcomes that are measured against clearly defined goals and processes.
This article argues that Organisational Development (OD) is a useful conceptual supplement to conflict transformation and peacebuilding process, for three reasons:
OD processes take into account the entire system and the interrelatedness of all stakeholders within it, paying attention to all their needs.
Organisational change processes, particularly in conflict environments, are complex endeavours where the outcomes cannot be clearly defined beforehand, and the process of determining the goal is already part of achieving it. It therefore requires an approach to organisational challenges that allows for process orientation rather than measuring the performance of organisations against an objective yardstick.
OD is based on a value system that puts human beings rather than organisational efficiency at the centre of any change process.
Thanks for your interest
If you find this publication useful, please consider making a small donation. Your support enables us to keep publishing.